Riding into the ring, the last rider of nearly 80, with your team's podium position hanging in the balance, is enough to make any normal human crack under pressure.
Not Laura Graves.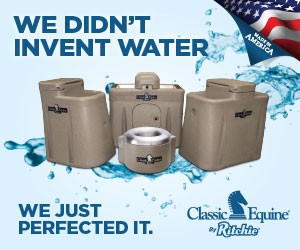 It was an intense day of Grand Prix team dressage competition in Tryon, N.C., at the 2018 FEI World Equestrian Games, and it all boiled down to one last ride. Throughout the day, heavy weights such as Sweden and the Netherlands duked it out for a coveted podium finish, with three out of four team scores counting towards the final total. As the final, anchoring group's ride times neared, all eyes turned to the medal standings.
Two teams – Sweden and Great Britain – stood ready to overtake the United States' position in silver. The Americans were bolstered by a strong Thursday ride from fresh-faced Kasey Perry Glass and Goerklintgaards Dublet, who earned a 76.739%. Steffen Peters, riding his alternate horse Suppenkasper, had ridden a solid test on Wednesday, and Adrienne Lyle had also held up her end of the bargain with a lovely ride aboard Salvino for a 74.860%. But, it wasn't quite good enough to float on those three scores – and that's why U.S. chef d'equipe Robert Dover entrusted the pressure cooker that is the anchor position to Laura Graves. She needed a minimum score of 78% to hold the U.S.' position – a lower score would jeopardize the possibility of finishing on the podium at all.
Watch Laura's test on NBC Sports here. 
Most dressage followers know the story: The now 16-year-old Verdades, a difficult horse (for all intents and purposes), was perhaps not destined for this fate. As a mere six-month-old foal, he required several handlers, but his natural balance attracted Laura. And while she likely questioned her choice to bring home the unruly foal whose first instinct was to buck when afraid, she persisted. Now, after all the time, the money, the sweat, the tears, the second-guessing, it's clear that this is where this pair belongs. For Laura, who at one point entertained the idea of going into cosmetology instead of pursuing her riding goals, it's been a practice of quiet belief. After her fifth-place individual finish at her first WEG in 2014, she was no longer a shadow. And just as with anything that gets better over time, she and her quirky partner continuously deliver the goods.
There is just something special about watching really good riding. Yes, every rider who has reached this level rides at a level depressingly higher than myself, but there is just something about watching the greats. Laura is one of those. In only her second World Equestrian Games appearance, she bested her Grand Prix qualifier score from 2014 by nearly seven percentage points. As "Diddy" reached effortlessly into the two-tempis, then the one-tempis, it was like watching poetry in slow motion. That's the thing about the really good riders: everything is done on purpose. Methodical, like a metronome. Each footfall, on purpose.
Their score of 81.537 was right on par – on average, slightly better, than their usual Grand Prix score – and more than enough to solidify a silver medal and a Tokyo Olympics qualification berth. Part one down, two more to go.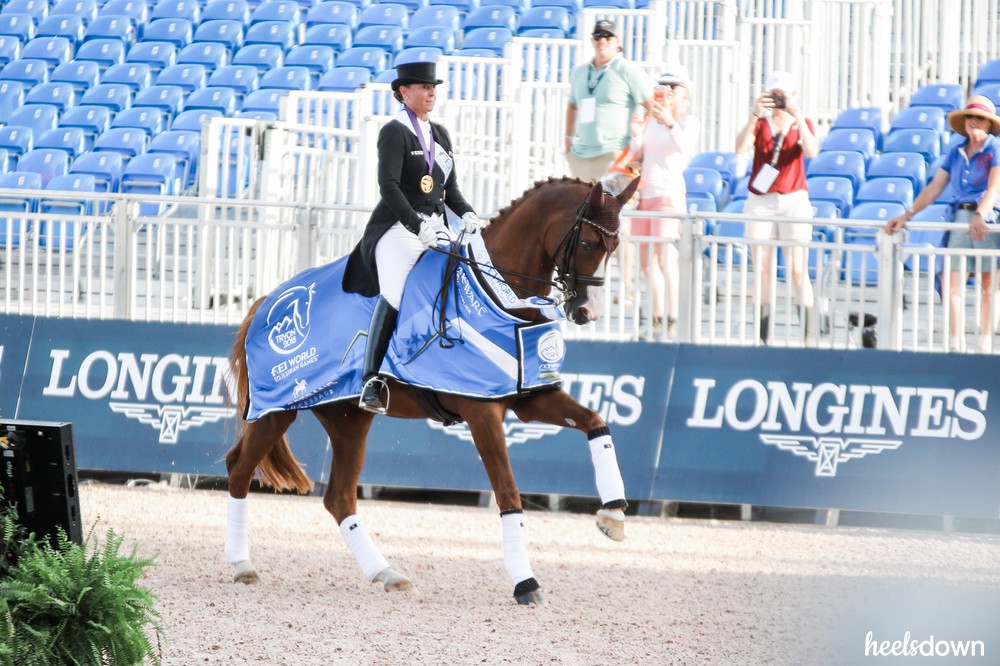 In case you needed more reason to follow what has been a highly charged Games thus far, now this: Isabell Werth wiped tears from her eyes at her final salute with veteran Bella Rose – they'd go on to take the top honors in the qualifier and secure another team gold for Germany. But it was risky, Isabell admitted in the mixed zone, bringing her 2014 gold-medal winner back this year. "After four years…back to the World Championships, with this performance, with this horse – it's very special," an elated Isabell said after her ride.
Watch Isabell's post-ride interview here. 
The now 14-year-old Westphalian mare had been sidelined for nearly four years after an injury and had only just made her comeback to competition earlier this year. And it wasn't just any winning score – Bella Rose's 84.829% is her career-best Grand Prix score (excluding freestyles). Talk about the comeback of the century – and a perfect reason for the emotions that Isabell could not hold in.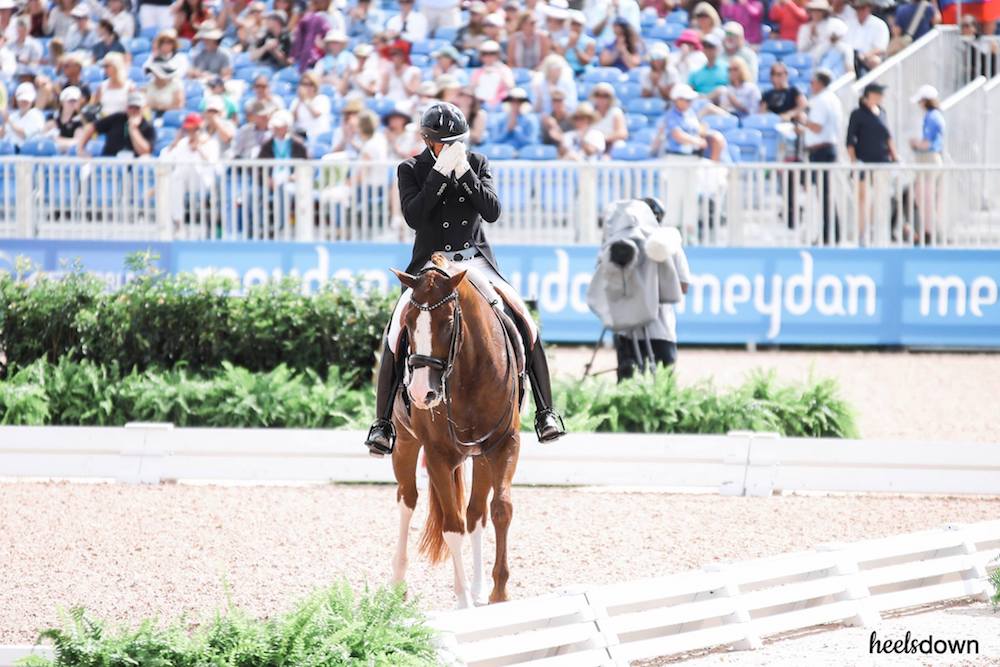 We were already running high on emotion after watching Ecuador's Julio Mendoza's emotions run high after his test with Chardonnay. "Before I went in, I was thinking, 'Wow this is the moment.'," Julio said. "All I wanted to do was have my horse finish happy, and he finished happy. That is all I could ask for. Chardy is my hero, he is my boy."
And so, day three of competition begins and we're already out of tissues. Grab an extra box at the store, and stay tuned for more hot takes, fresh from Tryon.