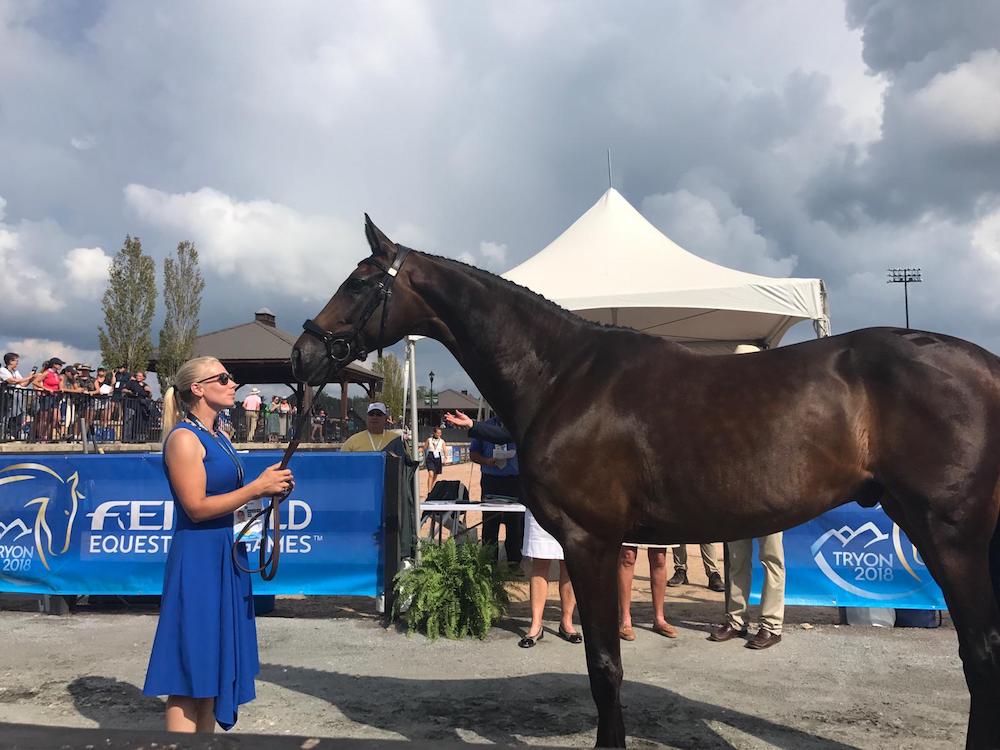 Not all riders competing at the FEI World Equestrian Games have full financial backing from their home-country federations. For some, the task of getting to North Carolina required a bit of creativity.
Event rider Pauliina Swindells of Finland found herself in this position once she received the call to represent her country at her first world championships. She had to come up with £10,000 for the trip herself.
"Finland is a smaller federation, so there is not quite as much financial support," Pauliina, who goes by Polly, explained. "They do what they can, but I had to think of how to make this trip happen."
The trek to Tryon was a long time coming for Polly, who has had her 13-year-old Polish warmblood gelding, Ferro S, since he was a gangly three-year-old. She wasn't going to miss out on the chance to ride at WEG with her horse of a lifetime. But Polly didn't want to simply start a fundraiser asking for money.
"I might be poor, but I'm proud," she laughed. She wanted to give her supporters something in return for their help. So with the help of some close friends, she came up with a unique way to raise the money needed for the trip: she wrote a children's book.
"Ferro S: The Horse That Jumped Off the Moon," was the result of Polly's creativity and inspiration. Polly started a Kickstarter campaign to raise funds, setting a goal of £15,000. Originally, the idea had been born out of the ultimate goal of representing Finland at the 2020 Summer Olympics in Tokyo, but when the opportunity came up to go to WEG, Polly knew it was go time.
Polly got word that she'd been selected to compete at Tryon in June, which prompted her to move up the production of her book so that the Kickstarter could get underway sooner. Laura Dansone stepped up to beautifully illustrate the book. It was a whirlwind process. But it was worthwhile in the end.
The outpouring of support for Polly's book was immediate, and the Kickstarter successfully raised over £17,000 in just 25 days, securing Ferro's ride to America and a berth on the global stage.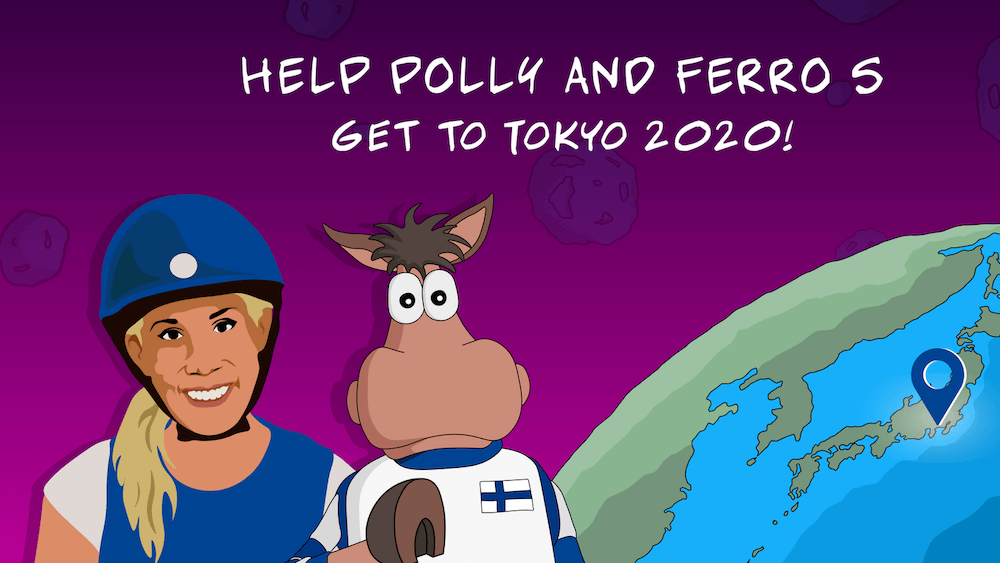 Ferro S, a handsome dark bay gelding, came to Polly as an unbroken, intact three year old. Polly spent the bulk of her riding career buying and selling horses to make ends meet. She sold the good ones as a way to fund the next ones, and eventually found herself an upper-level mount. She had competed through the two-star level up to that point. The day she found Ferro, she had originally gone to the seller's yard to look at a five-year-old mare. But a gentle youngster caught her eye instead.
"He was just so beautiful," she recalled. "I knew nothing about breeding, but he has a good amount of Thoroughbred blood and I suppose I just got lucky."
From there, Polly moved from Finland to the U.K. in order to take advantage of more training opportunities, and has worked with Chris Bartle and Lizzel Winter. She landed a job managing a family yard – her boss, Sharon Graves, is a prominent character in Polly's book. Brick by brick, she chipped away, persisting with her talented horse and producing him slowly. Polly doesn't come from a particularly horsey background, so she's had to carve her own path and create her own opportunities.
And nearly a decade later, that opportunity brings her here. For all of us who have a diamond in the rough, who slave away day in, and day out, for minimal gain – Polly is one of us. This week she laid down a 33.3 score in just her second ever CCI4* dressage test, shaving over a point off of her previous four-star score at Luhmuhlen earlier this year.
It's been a week charged with emotion already, as Polly got to watch Mount St. John Freestyle, Charlotte Dujardin's newest ride, put down a lovely Grand Prix test yesterday. Polly used to work for the Mount St. John stud, and Freestyle is a horse that she helped start.
"It was quite emotional, seeing her out there with Charlotte," Polly said. "That mare was always so trainable and willing – she couldn't have a better partner in Charlotte."
As she looks ahead to Capt. Mark Phillips' cross-country course tomorrow, Polly is calm and aware. The humidity, she says, is a factor she's still getting used to, but she knows her horse well, and she feels well prepared. She credits her groom, Elliot Griffiths, who took time away from his full-time job to come and help her this week, as well as her husband, James, for their hand in making this trip possible.
"He's doing better in the heat than I am," she laughed. "I'm not taking any pressure. I just want to come here, do what we know we can do."
Photo by Francesca Bowden-Graves.