Hugs, Tears, Trembling: The Spirit of Eventing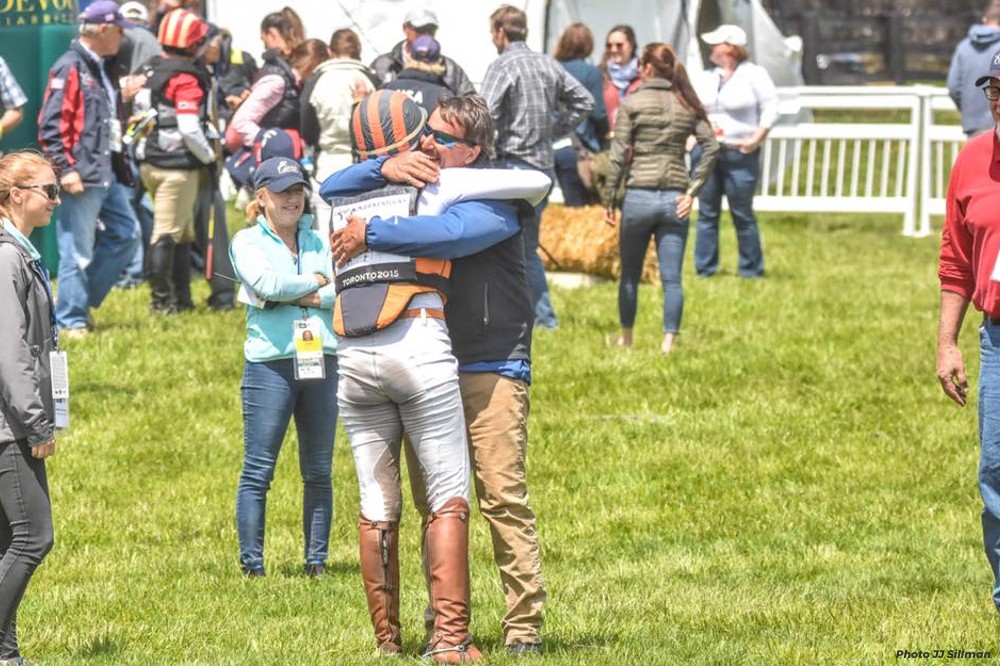 'This is the only sport I can think of where competitors help each other out. Riders are competitive. They want to win. But eventing is dangerous and they also don't want to see each other get hurt.'
LEXINGTON — It's just after 1 p.m. on cross-country day at the Land Rover Kentucky Three-Day event, and Lainey Ashker can't stand still.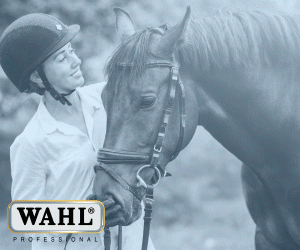 She watched Elisa Wallace warm up with her off-the-track Thoroughbred, Simply Priceless. She gave her friend and fellow competitor a few words of encouragement to pump her up. She cheered and hollered for her as the clock at the start box counted down. Three. Two. One.
Elisa and her dark horse tear off from the gate, over the large tree trunk of fence one, and fade out of view to the cheers of the crowd at the sidelines.
Back at the start box, Lainey is still pacing. She freezes every time the announcer mentions Elisa's progress. "Elisa and Simply Priceless clear fence 14 and gallop off…"
"Come on girl, come on girl," Lainey mutters under her breath. She clenches at the cuff of her light blue "Wallace Eventing" coat that has her name embroidered on it.
"What's the time?" She calls back to volunteers in the vet box.
Lainey isn't a groom. She's a professional rider who has competed at the four-star level in Kentucky herself. She isn't riding at this event. She came solely to support her friend, Elisa.
Michael Jung also hangs in the background waiting for his student, Polish rider Pawel Spisak, to cross the finish line. As Pawel hops off the back of his horse, Michael claps him on the back in the way of celebration and grabs the reins of his horse.
Michael may have been No. 1 on the leaderboard that day, and would ride on to a second place finish in Kentucky, but he wasn't above walking out another competitor's horse to cool him out.

This collaborative, uplifting camaraderie among the world's best of the best in three-day eventing often gets lost in the headlines of scores and spills and penalties.
But it's a community unlike any other in horses.
"This is the only sport I can think of where competitors help each other out," said Tik Maynard, an advanced-level eventer who is married to Sinead Halpin, whose competed at the four-star level in Kentucky and elsewhere. "You'll see the No. 2 rider talking out strides with the No. 5 rider during the course walk. Riders are competitive. They want to win. But eventing is dangerous and they also don't want to see each other get hurt.

Beyond the finish line, veterinarians are examining horses while teams of people work together to cool them after a vigorous gallop around one of the most challenging cross-country courses in the world. In a nearby tent, competitors watch the current riders on course from the screens of a half-dozen TVs. They clap, they cheer and they boo for each other as they watch team after team attempt to conquer the course.
"A lot of people hang out in the box at the finish line to watch, as long as they're not going in the next hour," said Doug Payne, a four-star eventer who's rocketed around the Kentucky Horse Park several times before. "A lot of people go in there to see the entire course on the live feed. When people are nervous, they respond in different ways. Some people get quiet, some talk like mad. The barn is filled with all sorts of stuff happening."
On dressage and stadium jumping days, friends walk down the chute into the international arena, squeezing a boot-clad leg in the stirrup to show support and give the horse a good luck pat on the shoulder. Some cry. Some jump up and down and scream at the end salute or over the last fence on course. Most hug each other.
Sara Gumbiner, who competed at Kentucky for the first time this year, couldn't hold off the tears that spilled the second she saluted at the completion of her first ever four-star dressage test.
The atmosphere is electric with emotion.
"In this sport, it takes so long to get to this level and to create a horse at this level," Lainey said. "And the hundreds of thousands of dollars in debt to get to this level."
It's the team of people who stand behind you, as a rider, that understand "a little bit" of that struggle, she says. "It takes a village."
"With success comes a large amount of struggle. We've all seen it. Riders understand that whole struggle to get here. That's why I'm here," Lainey added.
Elisa crosses the finish line with a big, but tired smile on her face. Lainey runs to reach them in the vet box and is the first to wrap her arms around her friend as she dismounts. Lainey is quick to get to work helping the grooms. After facing blow back from pushing along a tired horse to the finish line last year, Elisa made it a point to ride confidently but conservatively this run. Simply Priceless crossed the finish line strong and with plenty of stamina still in him. Elisa is beaming from ear-to-ear from their effort.
"It's a wild experience," described Doug about riding cross-country in Kentucky. "The thing that struck me the first time going is the wave of sound that follows you around the course. It's pretty cool, there are very few events in the world where that happens."
"All of that support, that's really a special thing," he added.