Chris Kappler is an Olympic gold and silver medalist with a storied career in the show jumping ring. After a successful junior equitation career, Chris transitioned to the senior levels of show jumping, picking up several Gold Cup and Invitational wins en route to his Olympic success in 2004. Chris now focuses on training of both horse and rider, and was in attendance as a coach at the $225,000 Split Rock Jumping Tour Kentucky CSI3* Invitational, run in conjunction with the Land Rover Kentucky Three-Day Event.
We caught up with him after he watched some of the eventing cross-country.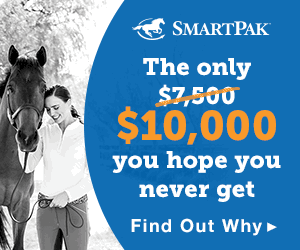 On eventing horses:
"I have a lot of respect for what they're doing. Those horses are like the Navy Seals of horses – they're amazing, and they're tough and they're hardy. I was really impressed with the riding (on cross-country).
There are so many factors that are completely different (from show jumping). The exhaustion level of the horse, for one. Cross-country day requires such a brave mentality from the horse. There are fences with brush out there, and now (the rider) somehow has to figure out how to get over these fences on Sunday.
Not to mention, these horses have just galloped a few miles, and they're so strong – so being able to get your rideability back really calls for an incredible test from both the riders and the horse."
Read this next: Hugs, Tears, Trembling: The Spirit Of Eventing
On walking a cross country course versus a show jumping course:
"I just can't imagine how much more difficult these tracks can be, if not on size than on sheer technicality. The level of accuracy here is so different because of the terrain, the solid obstacles, and the need for an exceptionally brave and bold horse."
Like this article? Try: This Legally Blind Eventer Is Still Chasing Her Dreams
On three-time Kentucky Three-Day winner Michael Jung:
"I've known Michael for a few years now, and I've seen him interact with his horses and have seen and talked with him at (horse auctions) and at his barn. I have a lot of respect for how he handles himself.
For him to feel like he wants to master every aspect of eventing – that is something that I think everybody needs to feel when they're riding. You have to feel this incredible, burning desire to learn and to develop. And I don't care where you are in the sport, there is always something to be learning. And if you aren't learning it, the horse is teaching it to you.
He wants to master the sport, and he's got a really humble approach. He's a great model for all of us."