No Saddle December, Because 'Ain't Nobody Got Time for That'

This fall was a whirlwind. Each weekend was cram-packed with some sort of tribal ritual centered around pumpkin-flavored everything. I'd barely shoved the last of the Halloween candy (thank you co-workers who hauled in child's excess to the office) when daylight savings curled its dusky fingers around the few hours of evening light.
Within the autumnal chaos, I rode a handful of times, most of those sessions being brief jaunts in the field to check on the cows. So unceremoniously, I skipped "No Stirrup November" and went straight into what I like to call "No Saddle December".
When you clock out of work at 5 p.m., race to the barn, change clothes, wrangle on your boots and chaps, catch your horse from the field, and tack up, the sun has slithered below the tree line, and you find yourself wondering if you can affix flood lights to the browband. Should you brave the evening shadows, you find your kick-along, drool-in-the-crossties mount from the summer turn into an equine jack-in-the-box. My solution? No Saddle December, because "ain't nobody got time for that".
Read this next: Learn to Speak Equestrian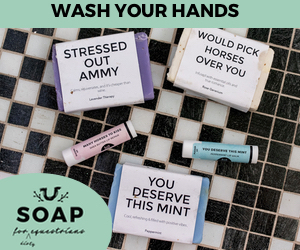 Shorten your tack time by a solid 15 minutes! That's 15 minutes of half light added to your ride, and 15 minutes of mild spooking as opposed to outright bolting. Additional benefits of going bareback include, but are not limited to:
– Respect from peers. They'll think you're half-crazed or hardcore.
– Flexibility in your riding attire! No need for breeches, that winter coat and dander makes excellent grip on work chinos.
– Heated seat! Your hands may turn to ice, but your bum is toasty.
– Increased ability to sense your horses tension before he shies away from the garbage can's shadow.
– An excuse to jump the small things and not feel like a wimp.
– Upper body workout trying to scramble on top in one smooth movement.
– Desensitize your horse so that next summer when your little cousin visits you can just toss her on without a care.
– Added experience to your stunt double resume.
Countless more benefits await you when you participate in No Saddle December. Make the movement happen: #NoSaddleDecember!