Nine-year-old Kyra Barrett is your typical speed-hungry young eventer. She loves cross-country with a fiery passion, and hates dressage.
"It's the only thing about riding I don't like," she says firmly. She rides Mia, a 16.3h schoolmaster owned by her coach, Sara Sellmer, in Kamloops, B.C. The mare certainly knows her job a little too well, and would much rather jump the Pre-Training obstacles, rather than the tamer Starter level counterparts. Which can be challenging, as Kyra is legally blind.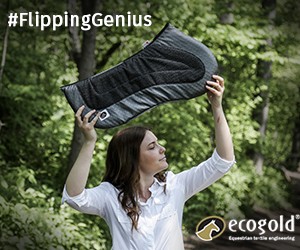 Kyra competing au concours this year at the Campbell Valley Horse Trials in Langley, B.C., was the result of not only her own grit and determination but the collective ingenuity, creativity and generosity of her family, 'barn family,' and the eventing community. Though Kyra started riding when she was a toddler, finding her place within the sport took some trial and error. While jumping, she uses an audio earpiece so that her mother, Haley, can help her navigate from the sidelines. When competing at hunter/jumper shows, there were complaints that Kyra had an 'unfair advantage,' because she was getting 'outside help'.
"Which is ironic," Haley stated drily.
Luckily, Kyra's spirited, stubborn nature fit right in, in the eventing world. "Sara was brave enough to take her on. Her team has been 100 percent supportive, and the eventing community has been insanely welcoming," Haley enthused. "The people at Campbell Valley Equestrian Society were so helpful – they were bending over backwards for us and had lots of ideas."
I want people to see her ride, and be surprised when she gets off and grabs her cane. I want her to kick ass.
Of Kyra, her coach Sara says: "I don't think I would have been able to get her where she is if she didn't have the attitude she does. She's extremely determined and brave."
As would be expected, cross-country presents a great many challenges for Kyra. She has trouble deciphering which jump is hers when there's more than one close together, especially when she's moving at speed. She walks the course the five or six times to learn it properly. Taking photos of each jump to blow up on a bigger screen and study afterward has helped, too.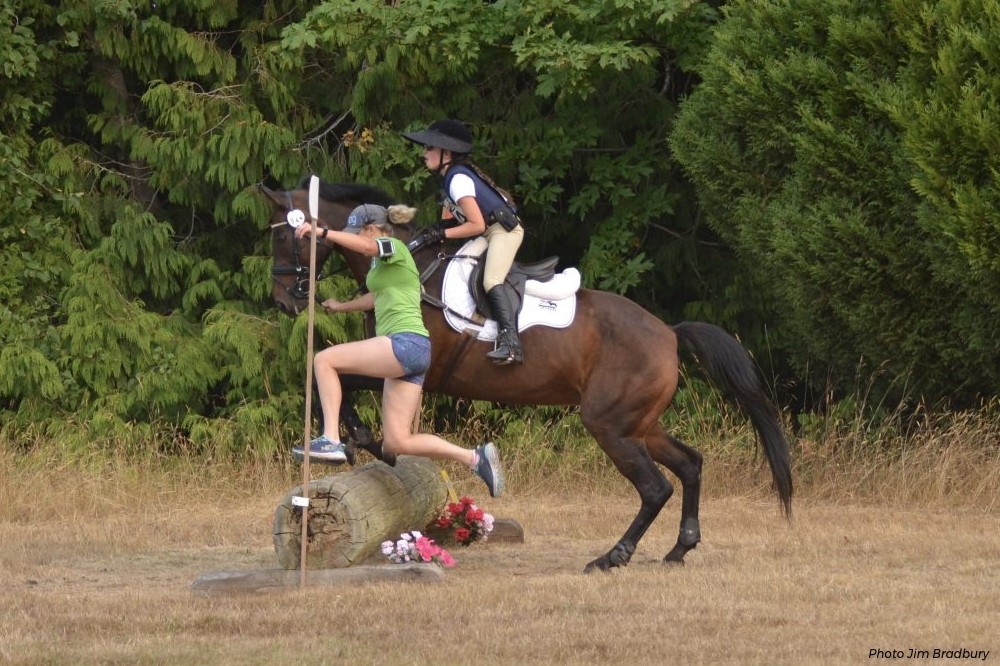 Lauren Hall, who was riding in the Pre-Training division herself, volunteered to run beside Kyra for her entire course. On top of walking and riding her own course, she also walked Kyra's course four times before running it beside her. When you think of how many kilometers of walking and running and riding that involved in one day – that act certainly redefined the term 'sportsmanship.'
"Every mom, dad and boyfriend were out there cheering her on," Haley said.
After her round, the tiny Kyra, who is small even for her age, was grinning ear to ear. "We've created a monster," Haley joked, and then added more seriously: "I want her vision to take second. I want people to see her ride, and be surprised when she gets off and grabs her cane. I want her to kick ass."
Creating an optimal system for Kyra to continue her eventing journey will require more work and research, as the rulebook unsurprisingly does not include regulations for blind eventers. A new horse has already been secured for Kyra, as well as a lead horse for Sara to ride with her for the next show season.
And what does Kyra think of eventing so far? "It feels like flying," she says brightly. So she is a 'typical eventer' after all.