Chelan Kozak has never had an accident related to the many silver rings, dangling bracelets and ornate necklaces she wears while riding.
The Canadian eventer wears jewelry to the barn every day because it's a definite part of her personal signature. She'll tell you that she literally wear through the rings though, after decades of riding multiple horses a day.
Chelan, a 49-year-old professional four-star rider who has represented Canada at the Olympic Games and the World Equestrian Games, walked Heels Down Magazine through the significance of each piece she wears, and it was evident that they went beyond being just chunks of metal. They are a part of her story, identity and personality.
"This bracelet, with the celtic infinity knot, was given to me by my parents for Badminton in 1996," she explained.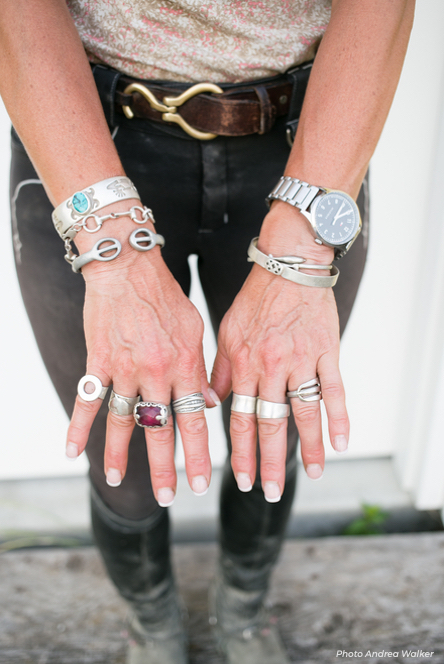 Then she points to another bracelet. "And this one was given to me by a friend who said I could have it if I went clear in stadium at that same event."
One of her necklaces was a friend's family heirloom, originating in Mecca, Islam's holiest city, in a desert valley in Saudi Arabia. "We were drinking wine one night, surprise surprise, and she told me she wanted me to have it," Chelan said. "The stone is said to possess certain properties, and honestly I can feel it." Chelan disregards one of the many unspoken rules of equestrian dress code. Traced back to safety, there is an innate fear that a ring caught on a halter buckle could cause a catastrophe.
"Occasionally, a green horse might get spooked by my bracelets jingling," Chelan admitted. "I just pull my sleeve over them."
Her rings will also wear through gloves, which is why she uses $2 mechanics gloves from Home Depot when riding at home.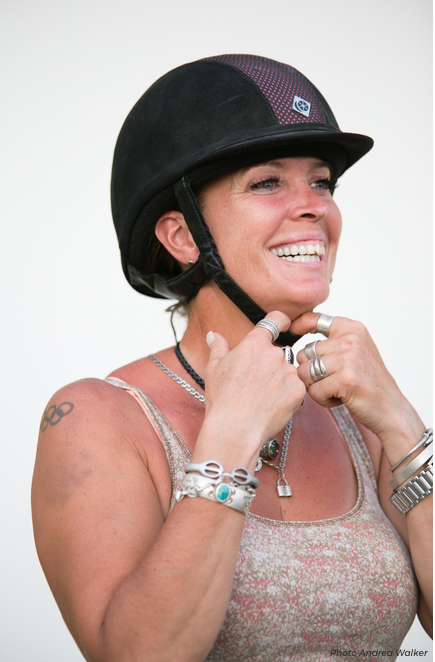 Does she ever get backlash for her jewelry choices? Sometimes.
"Mostly it's people asking me questions about it though," she said. For her Level III coaching exam, she simply let the examiners know that "you guys have seen me wearing all this all the time." They ultimately allowed her to keep it all on.
Eventing and show jumping reside on the conservative end of the spectrum when it comes to dressing for equestrian sports. On the other side of the scale would be some of the western disciplines – when the concept of "bedazzled" extends for beyond personal adornment and into clothing and tack. Instead of being viewed as "vain," appearance is an integral part of the overall performance.
The middle ground would house saddleseat, dressage and hunter riders, for whom matching pearl necklace and earring sets provide a sartorial cherry on top to a well turned out horse and rider pair. I think that endurance riders would prefer to be excluded from this evaluation – and I say this with utmost respect. They don't have time for jewels, they're too busy riding hundreds of miles over mountains and such.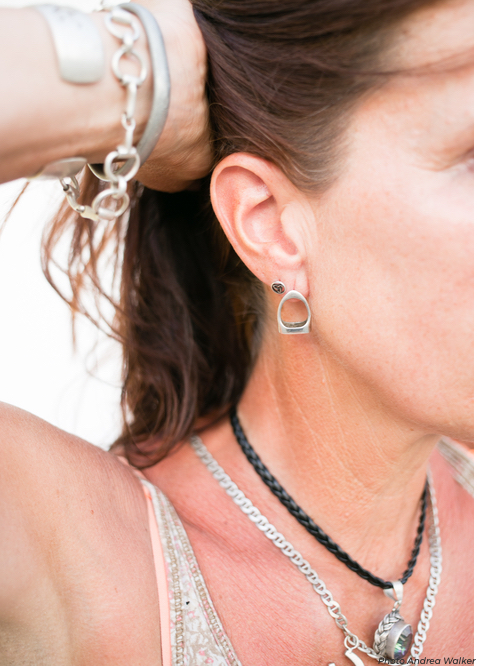 With each discipline comes a preset culture and expectations about dress. What happens when your personal style does not match that of what your peers, trainers and judges expect? While Chelan's accessories may lead to peg her as a "wild child", she still respects the understated and classic traditions of equestrian apparel.
"There should be a line," she said. "I wear pink for cross-country, but I'm not totally decked out in it. I like seeing little details, like trim on tall boots or collars on show jackets or an interesting stock tie." If you see her riding at an event, it's mostly white and black with small flashes of pink, like the piping on her saddle.
Whether you're competing in western pleasure classes and find the massive rhinestones tacky, or are a bejeweled eventer like Chelan, an important fact to remember is that at the end of the day, it's you and a horse. Nothing else should matter.
"It's about comfort levels – everyone's is different," Chelan said.