There's a good chance we've all experienced this situation at one time — you're sitting in the tack room or barn aisle and you overhear someone express that they want to breed their mare. Instantly your ears perk up and you glance over at the mare standing in the crossties.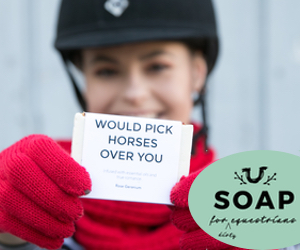 She's a maiden mare, meaning she has never had a foal before. You can see her conformation is not ideal for breeding purposes, and overall her personality does not make her the most willing or easiest horse to work with. The mare does not exactly possess traits that would ideally want to be passed onto a foal.
Like This Story? Try: How Bruce Davidson Starts Young Horses
The owner also has little-to-no knowledge of equine reproduction, but expresses they want to have a foal because "they are cute". Sure, it may be sensible to advise your barn friend about this decision, but often people don't want to hear the reasons why they shouldn't breed their mare. Or they simply do not understand what they are about to get into.
There are so many facets to equine breeding and so much to learn. Responsible breeding needs to begin with smart, sensible, educated decisions. We owe it to our horses and this industry.
It is alarming that almost anyone can decide to breed their horse, even if they may lack the correct education and have not done the adequate research.
To put it bluntly, responsible breeding begins with research — a lot of intense research. Several factors must be taken into account such as choosing a stallion, nutrition, conformation, athletic ability, temperament, overall health of both the mare and stallion, fertility rates, age, fencing, pasture availability, and expenses. The list goes on and will continue to grow the further down this road you go. It's also a great idea to have a veterinarian helping you every step of the way — ideally a veterinarian that specializes in reproduction.
Once the owner has done the research, they need to do some soul searching to determine if they are capable of handling and caring for a foal. Will a trainer be involved? Who will halter break the foal? How often will the foal be handled? Who will wean the foal, and how, as well as when? What will life look like for this foal? What is the ultimate goal? Without evaluating and interpreting all of these questions, irresponsible breeding can become the inevitable.
Read This Next: A Big Heart For The Smallest Horse
Several horses are available for adoption or are often "free to a good home", and many times it is due to lack of knowledge or experience. An estimated 130,000 horses in the U.S. were sent to slaughter in Mexico and Canada in 2015, according to PETA, and irresponsible breeding unfortunately plays a role in that. With responsible breeding, these numbers hopefully do not have to increase more than they already have.
There is nothing wrong with having the goal or dream to breed your mare and having your own homebred. It is an incredible achievement when it is done well and done right. Education and research should always be the backbone of breeding.
It is alarming that almost anyone can decide to breed their horse, even if they may lack the correct education and have not done the research. Make the correct, educated decision for yourself, your mare, and the foal that will be the ultimate result. The breeding industry has so much to offer, but first we must educate ourselves so that we can better serve our horses — it's what they deserve.