How To Get On Your Barn Manager's Nerves In 6 Easy Steps

Not all horse owners are lucky enough or equipped to own and manage their own farms. Most of us with competitive goals board our horses at facilities where we have access to arenas for training and dedicated instruction.
Because of this, we're relying on others to help care for our horses and maintain the property and amenities we get to use.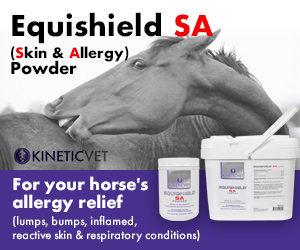 At every barn there's at least one manager. This person can be the owner, or family, or hired help. Either way, they're usually the one steering the ship. We love this person, because without them, sh*t would literally hit the fan.
Coexisting with other horse people under one roof doesn't come without its ups and downs, however. We get on each others nerves. But if there's one person in the barn you really don't want to tick off, it's the barn manager.
We asked one super barn manager, Courtney Carson, who runs the show at Payne Equestrian, home of professional eventers Jessica and Doug Payne on what drives her crazy. So try NOT to do these things.
Follow them around aimlessly.
Instead of attempting to appear helpful by following your barn manager around all day, actually do something productive. You don't have to wait for someone to bark orders to figure out what your manager might need help with, or what could be picked up and put away in the barn aisle.
Outward facing snaps.
Think about it. Any snap – on the throat latch of a halter, on hanging buckets in the stall – even on blankets – that faces outward is dangerous. A snap that a horse can rub on a wall and crack open means it can get caught on something and create a moment of potential injury. Remove this threat of disaster by simply making sure all snaps in and around the barn (or on your horse) are facing inward – like toward the wall, or against their belly or against their cheek. Easy peasy.
Using a lead rope with a chain shank improperly.
Lead ropes with chain shanks tend to be long. That's because you're supposed to use the chain piece over the horse's nose. Never ever thread the chain through a loop in a halter and snap it back to itself, Courtney stressed. That can be quite dangerous if the horse steps into the looped chain and gets its hoof stuck. Leave it long or wrap the chain around the nose, as its designed.
Leave a horse turned out by itself.
There's always that one horse that panics when it's the last one to come in from pasture. Even if your horse is turned out by himself, never leave him in a pasture where he can't see other horses over the fence or nearby, Courtney said. When it's time to bring in horses from the pasture, enlist the help of another warm body to bring in the last two at one time, instead of leaving one out to panic and run the fence line.
Sharing sponges or grooming mitts.
If you're treating fungus on the leg of one horse, don't use a sponge. Apply the shampoo or medication with your hand instead. By using a sponge or grooming mitt, the risk of the fungus spreading to other horses in the barn just shot straight up.
Undoing belly straps on blankets first.
Ever had a horse get loose? We all have. Imagine the scenario where you're undoing the blanket straps on a fresh horse one cold morning and he spooks. You started with the belly straps. Now the horse has taken off, and straps are flying everywhere. *facepalm* Courtney stresses to always start with the chest straps when putting a blanket on. When taking it off, start with the leg straps (if there are any), then the belly, and finally, the chest.
Editor's note: A previous version of this story incorrectly stated the order of undoing blanket straps. It has been updated with a correction.