Coaches. Love 'em or hate 'em, most of us wouldn't get too far without the influence of at least one coach at some point in our riding career. You can't throw a crop in a warm-up ring without hitting eight trainers jockeying for position to coach nervous students. It's a part of the tapestry that is equestrian sport.
But what happens when you're in an area that is less inviting to horse folk? Maybe you live in a part of the country where barns and trainers are few and far between, or maybe you just haven't found a good fit from the options nearby. Perhaps you've taken up residence in an area where there are plenty of coaches for other disciplines, except the one you prefer to compete in. Whatever the case may be, forward thinking coaches such as Laine Ashker have a solution for you.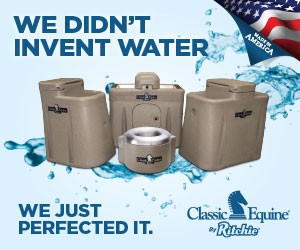 Laine saw a need for riders who didn't have access to regular coaching – or riders who had participated in clinics or lessons previously, but who weren't local – who were in search of something virtual. A social media follower of Laine's sent the link to a virtual coaching app that opened up a whole new world.
"I received a random email from a girl in Indiana who told me she was an amateur who didn't have much help in her area," Laine explained. "She told me that she would love to get some insight on her riding, and sent me the link to an app that she'd had friends in other sports use."
Laine took a look, and the ideas began to form. "We as a sport have to figure out how to use social media to our benefit," Laine said. "I saw something here that is unique and is a way for us as professionals to grow the sport and reach people who we might not otherwise find."
Like This Story? Try This –  Laine Ashker: Don't Give In To Doubt. Keep Fighting.
Video and technology have become a part of most riders' practice. "I know from experience how I've had lessons where I've gained a ton of help but because I didn't have video access to them the lessons I learned get forgotten or put to the wayside," Laine commented. "With this app, you can't lose these videos as they're in a cloud and there is no more forgetting what the takeaway from the lesson was. It's concise, to the point and helps get to resolutions quicker."
The way Laine's new "virtual" lessons work is riders send in short, high-quality clips of themselves riding. Laine then takes the time to review the video and use voiceover and mark-up to help point out opportunities for improvement. These virtual lessons, Laine says, have become an overnight sensation, quickly filling up her (limited) spare time.
Of course, Laine says, there's nothing quite like in-person coaching. But what if this were a viable option to help fill in the gaps? And really, riders should be learning to think and ride independently, which this can help with.
"I think there are pros and cons (to the virtual coaching)," she explained. "Yes, it's great to have instant feedback, but I do think we as a country are a bit over-coached. When you go to Europe, you don't see a million coaches in the ring. They are there to add advice. Here, you have a coach with you every step and I almost feel it can take the feel out of riding a bit."
Laine recommends her virtual option to capable riders who can ride on their own, but who maybe need a bit of help or "eyes on the ground." She isn't there to replace a regular, on-site coach, she says, but this is a great way to do follow-up after a clinic, for example.
"I tell you what to fix, and you sort of learn to work through it based on that," she said. "In turn, this helps you learn to 'feel'. I do think many riders get so dependent on listening to their coach that they forget to ride what they feel. Yes, it's important to have eyes on the ground, but this is another option."
Read This Next – A Rare Bird: Laine Ashker Is Unapologetically Herself
So we tried it! Heels Down Media Director, Justine Griffin, sent in a clip of her riding her young off-track Thoroughbred, Magic Mike, in a recent show. Take a look:
"I knew where a lot of our weaknesses were, but Lainey's eye opened up a completely new perspective on what I should be focusing on going forward with my horse," Justine said on her virtual lesson. "She was able to physically 'draw' on the videos to show how my position was contributing to my horse's ability. Seeing it on the video just as she described it was an eye-opening moment for me. I've already implemented many of the tips she suggested based on our video, and am seeing better results with my horse at home."
As the virtual side of Laine's teaching business continues to evolve, she's looking forward to developing the process and to have the ability to reach more riders seeking advice and help. "This is a personal touch, and I really do enjoy helping riders achieve their goals," she said. "If this means I reach someone who otherwise would have no one – and help create a more independent rider with a good feel in the process – that makes this whole thing worthwhile."