When renowned Italian boot maker, Fabbri debuted an all-vegan pair of tall boots last year, Luca Proscia wasn't so sure if the industry would embrace it.
Fabbri spent years designing the product, from determining which materials to use, to making sure the durable, sleek boot would live up to the traditional Fabbri standards. In this case, an antimicrobial formula made up of apple skin and cotton fiber passed every test.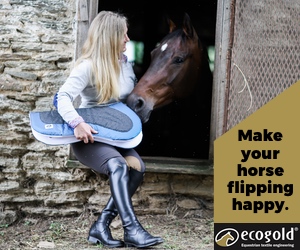 "We wanted to be part of the future," described Luca, the CEO of Fabbri. "We are seeing major sustainable changes happening in our lifetime, from meatless burgers to relying less on the use of leather and other animal products. We wanted to be part of that movement."
But sometimes change doesn't come easily. Leather has long been the lifeblood of equipment in horse sports. And it still is, in most instances. What would it take to change that?
Like This Story? Try: "Those Aren't Real Riding Boots!" Why Do We Get So Mad When Equestrian Style Crosses Over?
The leather industry is facing a dilemma, explained Katelyn Woodburn, a fashion designer and the owner of Street & Saddle, an equestrian streetwear company based in Vancouver. Cow leather which is generally speaking, the most commonly used leather, is a by-product of the meat industry.
"The value of a hide is a very small percentage of the total value of a cow (the most being meat), which means that it would be totally senseless to kill a cow just for their hide," Katelyn said. "But people are changing their eating habits, especially how much beef they consume. Over time, this is going to drastically change the price and availability of cow leather."
But the alternative, aka "artificial leather" isn't always perfect, either.
The artificial leather we know today is a petroleum-based product, or "pleather", Katelyn described.
"When the vegan food movement became popular, fashion brands borrowed the term in order to add value to pleather," she said. "To be clear, 'vegan leather' and 'pleather' are the exact same material. Pleather is still an almost exclusively petroleum (plastic) product, which means that it does not biodegrade. The two most commonly used plastics are PVC and polyurethane, both of which generally use chemicals that are harmful to humans and animals both as they are being made, and released when they get to the landfill."
"People can be resistant to change, but only time will tell."
But there are some – like Luca at Fabbri and Robert Dover's "Robert Squared" line of vegan tack – who are exploring other options. Just like the Fabbri VEG boots that use apple skin, Katelyn has seen some brands experiment with pineapple and mushroom to create a true vegan-based leather alternative.
"This would be classified as true 'vegan leather' because it is made from organic materials and would therefore biodegrade," she explained.
See Also

Luca said people were intrigued by the boot in the beginning, but it's taken some time to catch on. However, once riders get their feet in them and climb into the saddle, they quickly become believers. Among those riders are show jumpers from Lillie Keenan to Ben Maher.
"One day maybe, it'll be only vegan products," Luca predicted. "People can be resistant to change, but only time will tell."
Read This Next: Riders Were 'Sustainable' Before It Was Hipster
Riding boots, generally speaking, must stand up to a lot of stress. From sweat to dirt, to rain and other elements, finding the right kind of faux-leather product that would last wasn't an easy endeavor.
"Physically, the VEG boots are easier to care for. All you need is water to clean them," Luca said. "They stretch so nicely. With real leather, no piece is exactly the same. We never treat our leather, but it's always a little different every time. With the vegan product, it's always perfect."
While it may be slow to catch on, Katelyn sees these types of plant-based products as the future of leather.
"As technology advances, I predict that vegetable-based leathers will eclipse all other alternatives," Katelyn described. "And even though I am a die-hard fan of the traditional horsey smell of leather, I welcome it with open arms."