Home » These Two Show Jumpers Are Trying To Save The Ocean
These Two Show Jumpers Are Trying To Save The Ocean

Photo Curtis Schaffer
https://www.instagram.com/p/B0TjM6tpctr/
Hannah Patten was at her peak.
She was wrapping up a successful week at the Kentucky National Horse Show, where she won nearly every class she entered. Hannah described her current line of show jumpers as some of the best horses she'd ever had the chance to compete in her lifetime. But as she sat on her tack trunk in the barn aisle, looking at her horse standing in the crossties, she decided this show would be her last.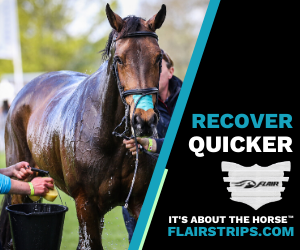 "It was one of the hardest decisions I ever had to make," said Hannah, who is a senior at Rollins College in Winter Park, Fla.
She was feeling pressure from her family to take her last year of college seriously, and to begin planning for what came after. Hannah wanted to do right by her horses and her trainer. If she was going to continue to ride, she had to give it her all. She said she quit because it wasn't fair to do it any other way.
"I realized there was life after horseback riding," Hannah explained. "I wanted to do it on my own terms and not my father's, who was funding my horses. I knew I couldn't keep doing it at the level I wanted, and I could come back to it at a later time."
At just 21 years old, Hannah is already a proven entrepreneur. She ran her own social media marketing brand and spoke at leadership conferences. But her next journey, she knew, had to make a difference in the world.
So she spent a semester in Boston interning at Mass General Hospital. It was there she became close with Christina Firestone, another former show jumper, and the two took up scuba diving.
"She got me hooked," Hannah said. "I was diving every day, sometimes in 30-degree water, looking at seals. But I remember being so sad at all the garbage and plastic I saw. I'd cry in the boat after diving in a sea kelp forest with plastic bags stuck in it."
She told Christina, "we have to do something."
The two brainstormed ideas, and came up with Hülya Swim (pronounced hoo-l-ee-a). It's a swimwear company with a sustainable mission behind it.
Christina, 23, researched fabrics that were good for the environment, and found something called "ECONYL" yarn made by a company in Italy. The material is 100 percent regenerated nylon yarn that is derived from waste. Industrial fishing nets, which kill thousands of sea animals a year, are repurposed into the material Hülya Swim uses to create its swim suits, instead of lingering in the ocean or ending up in a land fill.
"These huge fishing nets can be up to 70 pounds. When they're lost at sea, it can entangle turtles, dolphins and sail fish," Hannah explained. "Not all of them are made of plastic, but the ones that are add to the amount of microplastics in the water. It's just really bad for the ocean."
By using this material, Hülya Swim is supporting the Healthy Seas Initiative, a joint mission between businesses in the fishing industry committed to keeping pollution out of the ocean. Hülya also doesn't waste any fabric – leftover scraps are used to make the tags and even hair scrunchies.
See Also

Home » These Two Show Jumpers Are Trying To Save The Ocean
Hülya, which is a Turkish word that means "daydream", is still very much in its infancy. But Hannah and Christina have big plans for the swim suits.
"Christina comes from the Johnson & Johnson family, and my dad founded two companies that were on the New York Stock Exchange. Both families chased the American dream," Hannah said. "Their dreams came true, and now we're chasing our dreams."
The swim suits, available in two-piece bikini options for women, are available for sale online.
"I don't want people to think we're just trying to push a product. This is about creating a movement and mission," she said. "When people think of Hülya, I want them to think of eco-friendly. When they wear our suits at the beach, I hope they're thinking of ways on how they can do better for our environment."
As for horses, Hannah is calling this period of her life a "temporary retirement."
"I wouldn't be as motivated as I am without horses," she described. "It taught me to take care of something else before I took care of myself."
Photos by Curtis Schaffer