Home » It's Time To Ban Plastic Water Bottles At Horse Shows
It's Time To Ban Plastic Water Bottles At Horse Shows

It's a routine part of my horse show prep: pack the trailer, bathe the horse, fill the cooler.
Living and showing in Florida year round means I'm no newbie when it comes to preparing for competition in the heat and humidity. Staying hydrated is key. But it's disappointing to see so few horse shows in my region doing anything to help reduce the amount of plastic bottle waste that can be so rampant around the show grounds.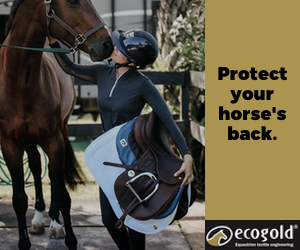 It's fairly common knowledge at this point that single-use plastic bottles are not good for the environment. I try to bring my reusable water bottle wherever I go, but I admit, horse shows aren't the easiest place to use it. For one, there's rarely any place to refill it, unless you're willing to use the hose back at the stables.
One local horse show venue, Fox Lea Farm in Venice, Fla., is great at stationing five-gallon-plus water jugs filled with ice water at every ringside, the kind of jugs you see on the sidelines of football games. The water is available to everyone, from spectators to staff to competitors.
"I try to bring my reusable water bottle wherever I go, but I admit, horse shows aren't the easiest place to use it."
But that's just one venue. It's 2019 and it's time to be better.
Most of the horse show circuits around me lease the facilities from private or local government owners. That means their hands are tied when it comes to making improvements like installing water fountains. But isn't there a happy medium we can find – something where we could stop relying on plastic water bottles all day?
We are seeing more horse shows stepping up their sustainability efforts. Olympia, the London International Horse Show, eliminated 83 percent of single-use plastic and packaging in 2018. Spectators get discounts for bringing their own reusable coffee mugs. All plastic straws and cutlery have been replaced with recyclable alternatives like paper and bamboo. The Upperville Colt & Horse Show, in Upperville, Va., launched a new recycling program this year also aimed at reducing waste. In 2017, the Helsinki International Horse Show in Finland began delivering all manure from the show grounds to a nearby power plant, where it's turned into energy.
See Also

Home » It's Time To Ban Plastic Water Bottles At Horse Shows
While these initiatives at big rated shows are great, there's so much more work we could be doing at the local level – the grassroots level.
There are a lot of things that we can't control, like driving a trailer requires a truck, which probably isn't the best vehicle for the environment. We use a lot of water to fill buckets and cool down the horses. But recycling is an area where we can step it up.
What we can do
We should be educating U.S. Pony Club and 4-H kids who love horses on sustainable ways they can help around the farm and the horse show. We need to make this conversation top of mind, so that maybe one day, it's second nature for the kids in these programs now, as they grow up to be horse-loving adults.
The time to speak up is now. Ask your local show circuit what you can do to get a recycling program started, or even just to find a place to refill a bottle with drinking water. And be mindful of your own practices – think of ways you can help cut down on your own plastic use or waste, before buying that 24-pack of bottled water and throwing it in the cooler for the weekend.