Photo by Kevin Sparrow
Once upon a time, in a galaxy far, far away, a young girl called Charlotte went for a lesson with a Jedi Master – sorry, dressage Master, called Obi Wan Hester (aka Carl). She never left. He taught her the ways of the Force, gave her the gift of a Millenium Falcon (aka Valegro), and she went on to defeat the Empire and become famous across the globe.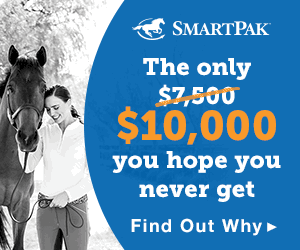 And then what? Valegro retired, and Charlotte disappeared… Only to be found many years later living halfway up a mountain, wearing a weird cloak and growing a beard.
Okay the last part isn't strictly accurate – unlike the rest of the story, which is completely factual and not exaggerated in the slightest. It is true that Charlotte and Valegro bowed out of the championship scene after last year's Rio Olympics, following a record-breaking run of domination that hasn't been seen since the Rebels blew up the Death Star. She was sorely missed at this summer's Europeans, when the Brits came home empty handed for the first time in nine years. In Charlotte's absence, the rest of the dressage Empire struck back.
But thankfully Charlotte hasn't taken to hermit-style mountain dwelling yet. Instead she's been building an army of horses, and it's surely only a matter of time before one of them steps up to fill the very significant shoes of Valegro.
At Britain's recent LeMieux National Dressage Championships, Dujardin destroyed the competition, taking home an incredible 10 titles. Far from being a one-hit wonder, this girl has got some serious ammunition up her sleeve.
Among the insanely good highlights of the four-day championships were coming first, second and third in the TopSpec Medium Gold Championship with mares Mount St John VIP and River Rise Nisa, and chestnut gelding Gio respectively. There were 32 horses in that final, and Charlotte's three rides took the top three places. One judge had VIP on a score of 80.14%, and Charlotte won on a score of 77.73%, nearly three percent clear of her nearest rival (herself). The six-year-old daughter of Vivaldi is a serious threat for the future.
Charlotte also did the one-two-three in the Saracen Horse Feeds Intermediate I Gold Championship, winning with Mount St John Freestyle, coming second with En Vogue and third with Mount St John Kom Fairytale. Her top two in that class also claimed the best podium places in the Fairfax Saddles Prix St Georges Gold Championships, with Freestyle winning on 78.03%.
In the Intermediate 1 Freestyle Gold Championship, Charlotte yet again finished in the top spot on Mount St John Freestyle, retaining the pair's unbeaten record. Yes, Freestyle won the Freestyle – a commentator's nightmare but a dressage fan's dream. The majority of the judges put her above the 80% barrier to finish on a score of 81.5%. Could this be another future record-breaker?
In the Equine Construction Advanced Medium Gold Championship, Charlotte had a one-two with her mentor Carl's Ekitof and the ridiculously pretty grey Florentina VI, with just over half a percent dividing the two. She repeated the one-two feat in the Childeric Elementary Gold Championship, with the diminutive Gio, whom she bought from the USA, and River Rise Nisa. Once again, there was less than one percent between them.
Then there's Hawtins Delicato, the only one of Charlotte's current string who has been competing at international level this season, having scored Intermediate I wins at Hickstead and Hartpury CDIs. At the Nationals, the nine-year-old gelding claimed the Monarch Equestrian Intermediate II Gold Championship, and he is another likely contender for Charlotte's Next Big Superstar™.
She has a number of horses knocking on the door labelled Grand Prix, as well as others coming up through all the lower ranks. In the Young Horse classes, VIP – another horse bred by the Mount St John Stud – took the final of the Shearwater 6yo Championship, with Hawtins San Floriana claiming the 5yo division. Now that's what you call strength and depth. The force is indeed strong in this one.
As an aside, have you noticed how many of Charlotte's top horses are mares? More girl power than Princess Leia and Padme Amidala combined.
Of course, not all horses make the leap to Grand Prix or have the same levels of success at the top level as they did coming up through the ranks, but Charlotte is proving herself a master at producing great horses. Developing into a top Grand Prix horse can take time, though don't forget Valegro made his international debut at this level in March 2011 and won his first European team gold just five months later.
With so many mega-talented rides in Charlotte's armoury, it surely won't be long before she's making her presence known on the championship stage once again. It's not just a New Hope – prepare yourself for the Return of Du-Jedi.