The old adage says "one step forward, two steps back," and more often than not it proves to be true. In this instance, however, let's take a look at the opposite side of the spectrum — what happens when you purposefully take a step back in order to make a leap forward?
Competitive equestrians are goal oriented by nature. Pursuing those goals is always an exercise in patience, however. Horses have their ways of letting us know that they need to approach something differently or take a break, and it's our duty to be able to listen to those.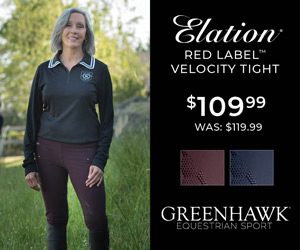 "I have really had to learn to be patient," event rider Auburn Excell Brady said. "It's the hardest thing to do when you are goal oriented and have things you want to achieve. But I've found that by surrounding myself with the right group of people, I have truly been able to work on mastering the sport."
Eventing is a sport of three disciplines, and while some riders may subscribe to the "Jack of All Trades" notion, Auburn prefers to work on mastering each discipline individually in order to become a more well-rounded and successful rider as a result.
"Our sport is three disciplines, and I don't want to be the master of none. (At my home base in San Juan Capistrano, California), I have had the opportunity to partner with Joie Gatlin and Morley Abey for my show jumping as well as Wilma Blakely for my dressage skills.
By working individually on each discipline that makes up eventing, Auburn has also been able to be more in tune with her horses. "You have to ride each horse as an individual," she explained. "You can't ride them solely on your timeline, but rather the timeline that develops organically. And that is hard; I come out at the beginning of the season and I look at what I want to do, and I start my horses on that timeline but I have to be aware of what schedule is best for them."
Auburn used the example of one of her competition horses who made the step up to Preliminary earlier this year. "The dressage judge commented on my test that he lacked engagement," she said. "In the show jumping, he was really impressed and spooky so I scratched before cross country because I knew it would be too backwards. It was really hard for me to not feel like a wuss or that I was giving up, but I had to realize that I was taking my time and listening to my horse. I'm so glad I did that because he's more confident than ever now and putting that extra work in is giving him a good foundation."