When it comes to horse welfare, social media is a blessing and a curse. Spotted a neglected or abandoned horse? Its plight can be shared online in an instant. A newborn foal lost its mother? Thousands of social shares may well track down a surrogate. Horses in need of rehoming are given second chances, struggling owners can seek advice, and people can be brought to account if they fail to do right by their horses. This, I think we can all agree, is a very good thing.
The flip side, however, is the ease of pressing "share" with little thought or consideration. Take those 52 bloody Thoroughbreds, that get dug up (not literally, I hope) every few months and shared 'round the world. They're either long dead or long rescued, if they even existed in the first place.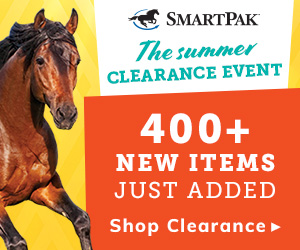 But it proves it's often easier to press "share" than it is to do some rudimentary Googling to verify a link or a photo is genuine. Therefore rumours spread, and so does outrage.
In top-level equestrian sport, social media also has its plus points and negatives. A rider makes a mistake, shows poor judgement or does something downright stupid or unpleasant, and they are the sudden focus of a social media storm. It starts with a rumble, turns into a deluge as the story gets shared and discussed, and then it tails off, and eventually whatever they did is pretty much forgotten. Sometimes the rider's crime is pretty reprehensible, other times it's a minor transgression or a simple misunderstanding, but the social media storm follows the same pattern whatever the case.
Take show jumper Ben Maher, for example. A few years ago, he was enjoying a bit of a golden run – he was a team gold medallist at both London 2012 and the European Championships in 2013, he'd won the Longines King George V Gold Cup and the London leg of the Global Champions Tour just a few weeks apart in 2013, and he'd had a spell as the world No. 1 show jumper. Then came October 2014, when he was competing at Horse of the Year Show. His horse, Wings Sublieme, refused and ran out to the right at the second part of a combination. Ben halted the mare, reined back quite suddenly, and the horse fell over in a quite dramatic fashion.
And the horse world imploded.
Ben, the Olympic hero, was suddenly a master villain who had deliberately and harshly pulled his mare over backward. Videos of the incident began spreading and everyone had a comment to make. His reputation was trashed, his riding torn to shreds, and there was an outpouring of hate on social media.
Two months later, he won the Grand Prix at Olympia in front of a cheering home crowd, and by that point the furore was pretty much forgotten.
The story comes up if you search on Google, so it will never disappear completely. No doubt Ben lost some fans for good that day back in October 2014. Did he deserve all the hatred for that incident? I say not. I've followed his career since he was a young rider, I've always thought of him as a quiet, sensitive rider who cared about the well being of his horse. I also know the sums top level show jumpers sell for and I refuse to believe he deliberately pulled her over and risked injuring her. I think he checked her a bit too quickly, I think she overreacted to his rein back, and I think he more than paid the price for it.
Read this next: Olympic Dressage Rider Tackles The 'Good, Bad And Ugly' In Equestrian Sport
A shocking amount of diatribe was directed at event rider Laura Collett a few years ago. Racehorse Kauto Star was a megastar here in the U.K., the winner of two Cheltenham Gold Cups and five King George VI Chases amid many others, and a national hero. When he retired from racing, the owner decided to send him to Laura for retraining. Laura was delighted – which upcoming rider would say no to the most famous horse in Britain?
Everyone had a view on the matter. Kauto should have stayed at his trainer's yard. Kauto should have been a hack. Kauto should have been turned out in a field or taken hunting. Kauto should not do dressage. Some vehemently agreed with the decision and saw no reason why he shouldn't do dressage. Heated debate ensued, and went on, and on, and got horribly personal.
Some star racehorses have gone on to win at a decent level in dressage or eventing in a relatively short space of time but as it transpired, Kauto never excelled at his new career. An appearance at Olympia Horse Show in 2014 was widely criticised, and the situation ended disastrously when the horse was badly injured in the field in the summer of 2015 and had to be put down five days later. Everyone who'd felt the horse should not have gone to her for retraining felt vindicated in their opinion. The online hatred towards Laura stepped up a pace.
Like this article? Try: How A Pony Club Sign Sparked An Outrage
Laura admitted in a TV interview that she'd had to stop reading online comments because it was so upsetting. She recalled people would say to her, 'Oh you won't believe what they're saying about you now,' and then go ahead and relay it to her. However much she tried to avoid it, she was constantly reminded.
Laura has a new yard and is quietly progressing with her eventing career, and the storm has all but blown over. The same happened to Ben Maher, and the same will no doubt happen to the next subject of a social media outcry. Top riders must be held accountable for their actions, and they must set a good example to others. But people are not infallible, they will make mistakes or show poor judgement, and while others are entitled to express their dismay about any aspect of welfare, this should not automatically become an online witch hunt.
Now, has anyone got space for 52 Thoroughbreds?