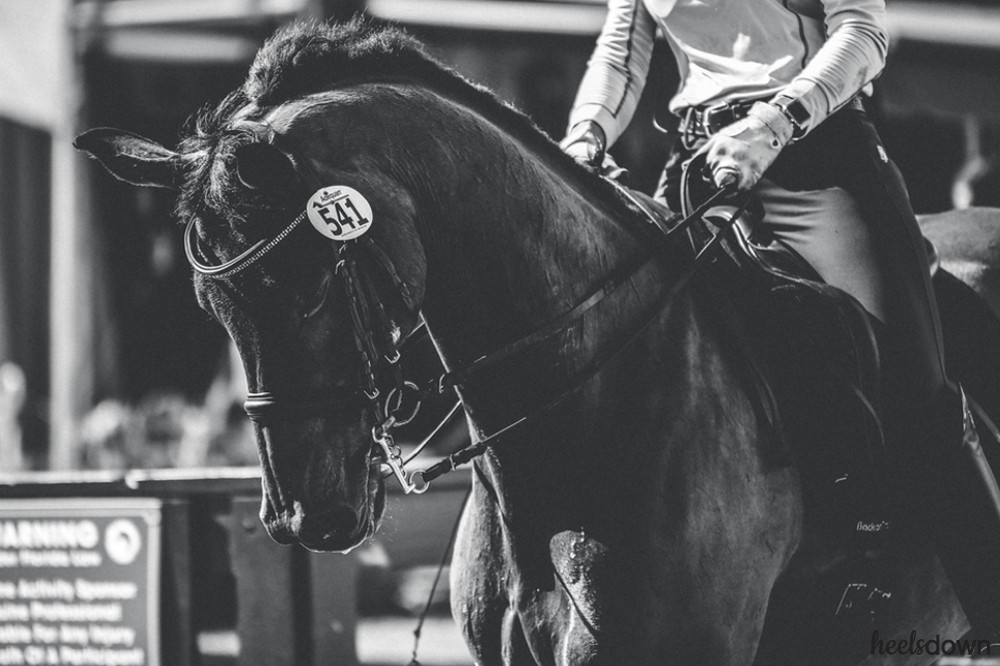 It takes a brave man or woman to stand up in front of a room full of equestrian experts and analyse what's good, bad and ugly in our sport – but that was the challenge facing British dressage rider Richard Davison earlier this week. Davison was one of the invited speakers at the annual World Horse Welfare conference in London. The theme for the conference was Changing Times, and indeed Richard had to answer the question 'and where next?' as part of his brief.
Richard, a four-time Olympian, is no stranger to plain speaking – he had a long running column in an equestrian magazine, and he's a respected author and dressage trainer as well as a Trustee to the WHW charity. His wife is a professional rider too, and his two sons both showjump, so he's a good person to give an overview of the current state of equestrian sport, at least from a competitive rider's point of view.
The title of the speech pulled no punches, and Richard started by questioning his decision to agree to talk about the 'bad and the ugly' of his sport, adding: 'it's too late now' as he stood in front of a sea of knowledgeable equestrians including a member of the Royal Family (Princess Anne, in case you were wondering).
He illustrated his presentation mainly with images of himself, telling everyone that he'd hoped to use lots of lovely Olympic images, but realised that none of his colleagues would want to be associated with a presentation with either 'bad or 'ugly' in the title.
"The rules need to be clear and unambiguous, and relevant to modern times."
The good parts are obvious, and Richard did not need to dwell on all the positives to a room full of people who, in general, will be massive advocates of our sport. Equestrian sport brings enjoyment to hundreds and thousands of people, and Richard reflected on recent highlights of WEG and the London 2012 Olympics.
"But what about when things go wrong?" he asked. "What about when we riders step over the line, and our competitiveness gets the better of our horsemanship?" Several hundred ears would have pricked up even further at this point. Was a pro rider about to tackle that dreadful elephant in the room… Hyperflexion?
Well, sort of. Suddenly a series of news articles flashed up behind Davison, covering several of the hot welfare topics currently troubling our sport: rollkur, tight nosebands, blood rules and whip misuse.
He was quick to remind everyone that we, as humans, are all fallible and prone to poor decision making in the heat of the moment. "Generally, that's how we learn – we learn from our mistakes. I think if it is nipped in the bud, then hopefully the damage to horse welfare is minimised. But what about repeat offenders? And what about those future riders who might believe that ever-increasingly forceful riding techniques will deliver the success that they yearn for?"
He questioned whether the amount of FEI rules and regulations protecting our sport was enough, and he found that there was plenty already in existence, some which are discipline specific and some general. "Do more laws stop crime?" he questioned, reminding us that rules rely on enforcement. "The rules need to be clear and unambiguous, and relevant to modern times."
If you think stewards are not doing their job, collect the evidence and file your protest. That will be far more effective than any online forum or Facebook group.

See Also
Next, he wanted to find evidence of abuses in our sport. He listed some of the FEI sanctions given across the three Olympic disciplines – showjumping had less than 20, eventing had a list going into several pages, and dressage had one sanction. "That was for a tight noseband at a European championships. There's one sanction."
But did that steward get heralded for his brave stance on tight nosebands? No. One equestrian magazine headline seemed to suggest that instead of a steward cracking down on an welfare issue, a good rider had been caught out by "bad rules".
Some cynics, he told us, might say the lack of sanctions are down to a lack of stewarding, or stewards turning a blind eye. "As an international dressage rider, that is not my experience. The training areas at big shows are often located in prime public areas, with at least one if not two or three stewards for every training session. So whether it's stewards or members of the public, there are many eyes watching."
Like this article? Try: How A Pony Club Sign Sparked An Outrage
Richard also explained that the FEI has a system in place for any member of the public to make an official protest. "But all that must be done in a formal process, and there must be evidence. It must be based on justice and fairness. If you think stewards are not doing their job, collect the evidence and file your protest. That will be far more effective than any online forum or Facebook group. Use the democratic processes."
Slightly half-passing the issue of hyperflexion, Richard chose to focus on the issue of tight nosebands, but he suggested the research behind measuring nosebands is all a bit vague or contradictory. One gadget that fits down the front of the noseband has been put forward to standardise measurement of tightness, but the recommendation of where to measure pressure conflicts against some other research.
At this point, the presentation veered more towards negative reinforcements in riding and allowing our equine athletes to be, well, horses. While very true and very interesting, it didn't quite pack the punch of the title. And where next? Will the ideals of horsemanship be passed down to future generations of riders? In these changing times, it's hard to know.
Richard made some very good points and touched on some of the bad elements in equestrianism during what was always going to be a restrictively short presentation, but when it comes to the ugly truths and the changing future of our sport, we walked away with more questions than firm answers.