Riders Are a Different Breed

Tennis player Andy Murray has announced that he'll be retiring soon, and I'm gutted. He's the best British player of all time, he's won multiple Grand Slam titles during the highly-competitive Federer-Nadal-Djokovic years, and he's a fellow Scot, so I'm a huge fan. Some dislike him for his on-court temper and his reticence during interviews, but I love his dry Scottish wit and his passion for the game.
At the tender age of just 31, Sir Andy (he was knighted in 2017) has announced that he is coming to the end of his career. This year's Wimbledon is going to be his final tournament, though he may have to bow out earlier, depending on his ongoing struggle with a hip injury. He has been in pain for 20 months, he says, and he can no longer play at the level he wants to.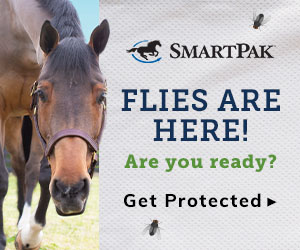 It's something nearly every sportsman and woman must go through – that tough decision when to call time on your sport. In the majority of sports, few professionals will continue to compete at the highest level past their 30s. Equestrian sport is obviously very different in this regard. Many riders take up the sport as children, and plenty continue into the 50s, 60s and even 70s. How many other sports boast such longevity?
Like This Story? Try: The Unstoppable Golden Oldies
Andy Murray's hip injury has brought on the premature end to his career, but the unique nature of equestrian sport means riders can often keep battling on or bounce back from incredibly serious injuries. They often don't adhere to medical advice to stop riding, and nearly every top rider will have a story to tell about a serious riding accident or an ongoing niggle or injury. In our sport, there is always going to be fresh horses to exercise, youngsters to break, novices to bring up through the levels.
Remarkably, two members of the British showjumping team who won Olympic gold in London 2012 had both returned from breaking their necks in riding falls. One of those riders was Nick Skelton, who initially 'retired' in 2000 at the age of 42 because of that broken neck, only to return to riding the following year. He was 52 when he won Olympic team gold, and at 56 he added the individual gold in Rio, where he famously had to get on Big Star using a step ladder as a mounting block. On the ground, Nick bore the physical effects of more than four decades of competing; in the saddle, he was untouchable. Only after completing his mission to win another gold did he finally call time on his riding career.
Nick and Big Star had a remarkable partnership, and this is what it all comes down to. Once a rider has reached the highest echelons of competition, they understand what it takes to find a raw talent and produce horse after horse to the top. While their strength and fitness may begin to decline as they get older, they still have that depth of knowledge, that talent, that skill and understanding in training and looking after equine athletes, combined with a sheer will to win that never seems to diminish. A talented horse can keep a rider competing at their very best, making age almost an irrelevance.
So while I'm disappointed to say an early farewell to Andy Murray, at least many of my favourite equestrians will continue in the saddle for many, many years to come.