Home » Poultice, Ice, Liniment Or Fabrics: When To Use What
Poultice, Ice, Liniment Or Fabrics: When To Use What

There are so many recovery remedies out there aimed at keeping soreness away and helping horses bounce back after a tough performance.
But with so many options, how is a rider supposed to know when to use what product? Heels Down Mag sat down with Courtney Carson, barn manager of Payne Equestrian, home of professional eventers Doug and Jessica Payne. Outside of five-star eventing, Courtney is also responsible for caring for a fleet of show jumpers in the barn, too.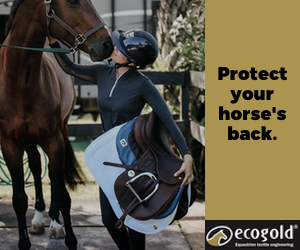 "You can definitely go overboard," says Courtney, when it comes to poulticing, icing, liniment – you name it – post work out. And one barn's program for recovery might not work for everyone. "If you look at the horses that go around the five-star at Kentucky, one horse may be iced just one round after cross-country. And then a different horse might get four-to-five rounds."
So her first piece of advice is to find a protocol that works for you and your horse. And if you think you're overdoing it, you probably are.
Poultice
Poultice is a wet clay, sometimes mixed with minerals or epsom salts, which has long been used to draw out inflammation. The dampness of the clay adds a cooling effect to the horse's legs when applied. It dries overtime, and can be used underneath a wrap or left unwrapped.
Courtney admits that she hasn't used poultice on the horses in some time.
"When you look at all the technology now, from ice boots to no-bow wraps, there's less of a reason to use it," she says. "There's nothing wrong with going old school. You would see poultice a lot on race horses and in eventers for the old long format, which was just so much harder on the horses' bodies back then."
Poultice can be pretty messy to apply, and does come with some draw backs, Courtney explains.
"The biggest issue is to make sure the poultice doesn't get into any open cuts or sores on the leg," she describes. "If you cover that with clay, it can lead to infection pretty quickly and it doesn't allow the cut to heal."
Mineral-Infused Fabrics
Names like Welltex and Celliant have become popular in lines of therapy products for both horses and humans. These polyester fibers come infused with minerals which aid in blood circulation and decreasing inflammation.
Courtney says the Payne Equestrian horses use these types products in the form of no-bow leg wraps fairly frequently.
"No bows offer more support than standard pillow wraps," she said. But she is careful not to use them in warm weather.
"We jumped in 90 degrees at 8 a.m. last weekend. So after the grand prix, I iced the horses' legs and put them in plain standing wraps," she explains. "But then Saturday night, the temperatures dropped to 65 degrees. It was cool enough that I could use the no-bows knowing his legs wouldn't overheat."
Liniment
Most commonly seen in liquid or gel form, liniment is a topical treatment that is rubbed into the skin for a soothing effect.
Courtney says she tries not to use liniment unless it's really necessary.
"In extreme circumstances, like a horse who is jumping big three or four days a week or just ran a long format," she says about when she'll consider it. "But the more you use it, the more you'll have to continue to in the future."
With that in mind, she tries to only use when a horse is sore at a competition just to get him through to help him perform to his best ability.
"I want to get the most of out it," she says. "Once we come home, the horse will obviously have time off or be adjusted if they are sore, or whatever they need. Deciding when to use liniment is really situational."
See Also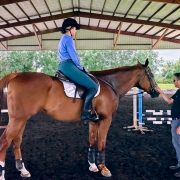 Home » Poultice, Ice, Liniment Or Fabrics: When To Use What
Courtney will sometimes apply a liniment like Sore No More under the leg wraps of a horse after a tough jump or show day. But again, this depends on the horse.
"Some horses can be quite sensitive," she warns. "The best way is to test a new product on your horse, with just a small sample size while at home and not at a horse show. That way you know what works best for them."
Icing
Any horse in the Payne Equestrian barn that is jumping 1.20 meters or higher or doing gallop sets at five minutes or more during the week is going to have their legs iced, Courtney says.
Want more icing tips? Check out the benefits of cold therapy here.
"It's all situational," she repeats. "If we have a horse coming back from an injury, we're going to ice him every time. If we have a young horse who had a hard school, we're going to ice that horse."
Icing has been proven to help reduce swelling after a hard workout. Horses can stand in ice boots or buckets of ice for several minutes, and sometimes for several rounds of icing after one ride.
All of these methods discussed are used to help keep horses sound and comfortable during their athletic careers. But Courtney stresses it's easy to do more than is really necessary.
"If you treat horses like china, they'll break like china," she says. Horse owners should use common sense when applying these methods.
"But save it for strenuous work outs," she describes. "There are a million different ways to do this. Find a method that works for you and your situation."