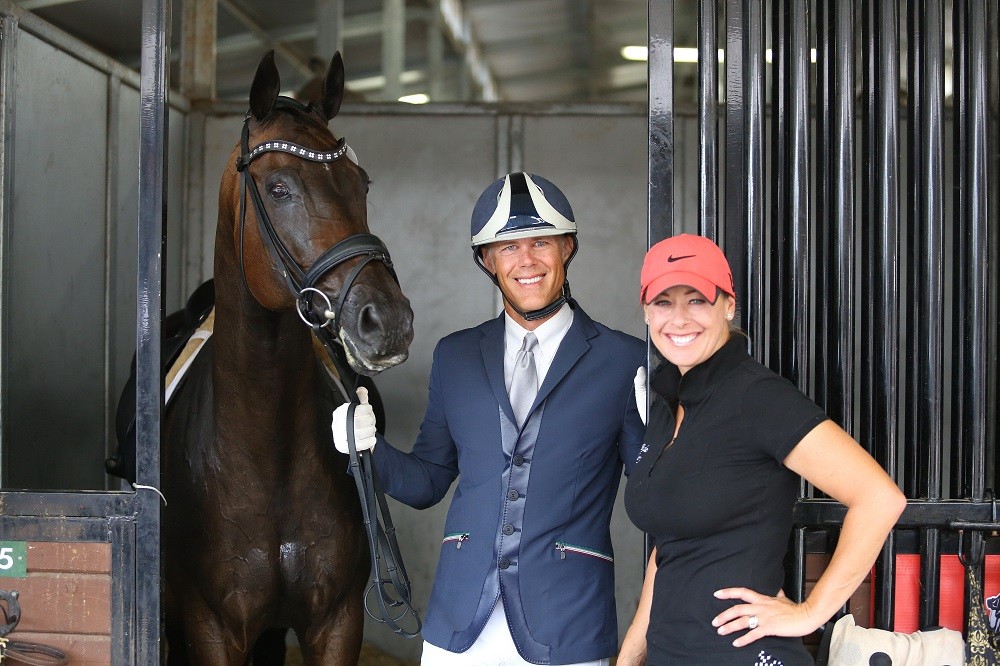 Story and photos by Amber Heintzberger 
The Tryon International Equestrian Center is less than a mile down the road from Eric and Trayce Dierks' Renovatio Farm, but Eric, a seasoned upper level competitor, is competing in an eventing competition here for the first time during the 2017 USEA American Eventing Championships Presented by Land Rover and Nutrena.
In February, Eric tried to make a seemingly minor repair to the hot water heater in the log home he shares with wife Trayce at their farm Mill Spring, North Carolina. The pilot light had gone out, and as he tried to clean it to keep it lit, a faulty part was not regulating the flow of gas; when Eric tried to relight it the resulting flames exploded upward, engulfing his face and burning his hand and arm.
"It's one of those things, where you hear that pop, and when it first hit me was thank god I can still see – when I saw the flames hitting my face. Then there was the smell of burnt hair and skin. Trayce was out teaching a lesson and I didn't really look in the mirror, it just felt like a really bad sunburn and I knew my hair was coming out so I just hopped in the car to drive to the emergency room."
On the drive over, his face began to swell and his eyes were swelling shut. Even then, Eric thought they'd put a little salve on his face and send him home. But doctors quickly assessed the situation and Eric was airlifted to a burn unit in Augusta, Georgia where the burnt skin was peeled off and cadaver skin placed over the burns to promote healing. After a week in Augusta he was able to recuperate at home, spending two month isolated away from sunlight, people and pets to prevent irritation and infection. He joked that he felt like a vampire who couldn't leave the house during the day.
It was about two months before Eric could get out to teach, with his skin completely covered up to protect him from the sun. He started riding about three months later, usually on overcast days, taking trail rides in the shady woods.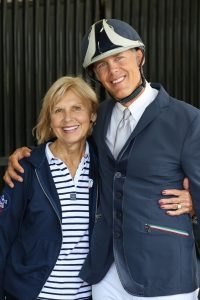 Seven months later Eric is completely healed and competing again at the American Eventing Championships (AEC), just down the road from Renovatio Farm at the Tryon International Equestrian Center.
While he is completely recovered, his skin is sensitive and he still has to be very cautious with the sun.
"I'm wearing a lot of sunscreen and hats and scarves," he said. "It's one of those things I never paid much attention to, but now I pay a lot of attention to it. It's amazing, you wouldn't know anything happened. My hand got the worst of it and it's a little bubbly but not terrible. My hand coordination came back quickly and with my face, you start working your lips and stuff and everything comes back."
Initially Eric had wanted to keep things quiet until he knew his prognosis. But he recalls that after surgery Trayce did a social media post to let friends who what had happened, and the community support was overwhelming.
"Trayce had just had back surgery and I had horses in training and all of a sudden our business came to a slamming halt," said Eric. "We have so many expenses and a farm to run, and so many people came out and helped us keep things going, it was really quite a blessing."
On a more personal level, he said the experience has changed his outlook on horses and life. "The biggest change for me is you get so stuck in the monotony of getting results from people and horses and scores and shows. I'm the first to get self-absorbed, but with an experience like this you see how so many people in your life have so much to offer, and I really value that. The hardest lesson I learned was to receive graciously. I'm always one to do it myself, and if it doesn't go my way I work harder – but it doesn't always work that way.
"To receive was the hardest thing for me, because I always felt like that was a weakness. You learn that people genuinely care for your well-being as a human. I'm very grounded to my faith and God and Christianity and I feel that God has his hand on it, and to receive graciously is something I think even a lot of Christians wouldn't even admit is difficult, and we have to learn to accept with humility. I feel like it's important to talk about it, too.
"I'm a much stronger person than I ever thought. I don't like to say it happened for a reason, but I don't think I'd be the person I am today without what happened, and witnessing the love of everyone and the lesson of graciously receiving.
"Even in riding I think horses are a vehicle to how people should treat other people. I think people are often either chasing a score or have a one-dimensional picture. If you do things on the horse's time it teaches you empathy and a love of the horse and the partnership with the horse. I've always brought this to my training, but learning to receive graciously has also taught me to become a better teacher."
This Week at the AEC

At the AEC he's riding one horse, Magical Monte, and coaching a few students. He said that he's been riding Monte, who is competing in the Training Horse championship, for a while now and feels like he is getting more mature, though the horse was tense in his dressage test at the Championships.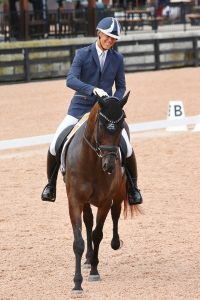 "He's a bit of an anxious horse and I think since the accident I've become more aware of his needs and it's strengthened our bond," he said. He also pointed out that it's not a dressage show, and Monte really enjoys galloping and jumping.
Eric's brother Kenneth came down from Illinois and is also competing this weekend in a preliminary championship.  
Though he galloped around the cross country track to test out the footing when it was installed (with a drone videoing from overhead), this is the first time Eric will get to ride the cross-country course at TIEC in competition.
"I'm treating this year as quite special because I haven't been able to do their event course yet; I didn't ride at the AEC's last year and I missed The Fork this spring because of my accident. This is my first time competing in an event at TIEC and it's a unique circumstance. We bought our farm nine months before they proposed the equestrian center and then the AEC's followed up. Of course we'll also have the World Equestrian Games next year and it's really phenomenal to have it right here in our back yard."