Story and photos by Amber Heintzberger
When Jen Garutti broke her hand earlier this year, she had a typical eventer's response: ice it, wrap it up with vet wrap, take an extra ibuprofen, and get back in the saddle. The adult amateur from Flemington, NJ was competing her 15-year-old Connemara/Quarter Horse mare, Labras Leannon or "Anne", at Flora Lea Horse Trials when she jammed her finger in the show jumping phase. She still rode cross country after the injury, then drove herself and her pony home.
"She jumped big and I did what I was supposed to do, which is get forward and brace my hands on her neck and not hit her in the mouth, and somehow it broke," she recalled. "After I took Anne home and showered at the barn we went down to Devon that night to watch the Arena Eventing, with my hand wrapped in blue vet wrap like the typical horse person."
The next morning her hand was swollen and painful, but did Jen had other plans besides hanging around the ER that day.
"I'd promised my daughter Devon that I'd take her down to the Horse Park of New Jersey for a little cross-country school. So I drove her down there and by the time we got back it was late in the day and I went to the ER, like 27 hours after it had happened," Jen recalled. "I was still in riding clothes and the triage nurse looked at me and said, 'When did you do this?' and I said yesterday, and she said, 'You horse people are insane!' I hadn't even had an X-Ray yet but she looked at it and knew that it was broken."
Initially she was told that she would need surgery: the top half of the bone split the bottom half of the bone and then the top was driven down into the bottom half of her finger. But upon advanced rider Clarissa Wilmerding's recommendation, Jen found a great hand surgeon who was able to set the finger without surgery.
"At first I was excited because the cast only came to here," she gestured, "but he was like, no, no, no! He splinted it to the next fingers so I had a claw. I didn't ride for the first week just to make sure everything was set, and I had to hold the reins between my other fingers because any pressure sent pain shooting down my arm. But I was lucky that (my daughter) Devon could ride (my horse), my best friend/ground person/groom rode her, and instead of taking dressage lessons I had my instructor, Lauren Chumley, ride her. I have a good village."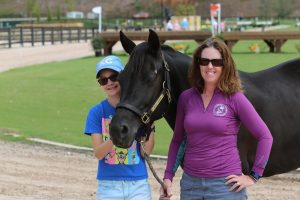 For the past two months she's been cast-free and riding on her regular schedule in preparation for the American Eventing Championships (AEC) in Tryon, North Carolina.
Last year at the AEC Jen and her pony claimed the Avery Dudasch Memorial Trophy, dedicated by Vicki Dudasch in memory of her 11-year-old daughter who died of cancer for the top-placing pony ridden by an adult in the Beginner Novice, Novice and Training Championships at the AEC. Garutti said that her daughter Devon, who also rides, was 11 last year, which made receiving the trophy even more poignant.
Over the past three years the pair have been USEA Area 2 Amateur Novice Champions twice (2015 and 2016), earned their American Connemara Pony Society Silver Medal in Eventing, and were twice the ACPS Novice top-placing Halfbred (2015 and 2016). Jen recalls, "The second I threw my leg over back I knew, this is my pony!"
But Jen's broken finger was not the only obstacle the pair has overcome in their three years together.
During the pre-purchase exam Anne tested positive for Lyme disease. Jen says that the sellers agreed to treat her for Lyme with doxycycline and Legend, then re-vetted her before Jen took her home on trial.
"The flexions weren't perfect but she was already 12 at that time, so we took a chance and she's been amazing," says Jen. "She had a great brain, she's a really classy mare and she's been fine. She's so easy, she loads herself in the trailer, she'll stand tied to the trailer, she just walks into her stall here and she's like, 'Okay, fine, here we are.'"
A mother of two and District Commissioner of the Amwell Valley Hounds Pony Club, Jen also works full time as an IT Project Manager. She said that a flexible work schedule, with the ability to work from home two to three days a week, helps her balance riding with her already busy schedule.
This year's AEC is a family affair, with Jen's mom and daughter both helping her out in the barn.
"I've been part of the USEA since it was the USCTA, in the mid-80's. I feel like they're trying to recognize all the levels and give everyone their own 'Olympic Experience' of sorts," she said.
Just as her broken hand didn't slow her down, Jen is focused on making this her best competition yet.
"It's fun to be here, and it's an accomplishment to be able to qualify and get down here. Last year didn't go quite as I hoped (with rails down in the show jumping), but we won the pony award and our team won first place. This year I'd like to improve our individual score."