April Fools
US Equestrian (USEF) has announced a new status option. A "Promateur" division will be added as a designation on USEF membership applications and renewals as of December 1, 2018, according to a press release. The decision has been positively received by riders who, up to this point, have been limited in their competition and income options due to their amateur status.
The new rule, the final version of which will be officially released at the USEF Annual Meeting in 2019, reads as follows:
GR1307-b: Promateur Status
A rider can declare Promateur status if they meet any of the following criteria:
Is not considered a Trainer or Coach and does not receive primary income in exchange for lessons or clinics
Works for trade at their facility
Receives product free or at discount as a "brand ambassador"
Promotes product with discount codes for social media followers
Riders will now be able to choose between declaring Amateur, Promateur or Professional status. Declaring as a Promateur will allow riders who have the financial means to campaign a string of horses, who have accepted brand ambassador contracts or sponsorships, or who have other "side hustle" types of income to compete on a higher stage. Promateur status can also be used during a transitional period between Junior and Professional.
"The Promateur designation made sense to us, as we saw that the amateur/professional divide had truly become antiquated in the age of the internet," John Collins, Director of Communications for US Equestrian, said.
The decision to add a new designation as another choice or a "stepping stone" to becoming a professional comes after general discontent with the US Equestrian decision makers for continuing to uphold outdated rules.
"There are a lot of amateurs who have nice horses – strings of nice horses, and they want something more," Chloe Astor-Huntington, a current amateur show jumper said. "The Promateur divisions will be great for those riders who want a higher level of competition but want to still win ribbons".
Additionally, the Promateur status is ideal for current amateurs who work multiple jobs to afford entry fees. As it stands now, some of these side jobs may put their amateur status in jeopardy – the Promateur status is the new answer for this issue.
"As much as we want to promote the professionals and juniors, we also want to promote the hard working amateur," John said in the press release. "The Promateur status is a step forward into millennial culture for US Equestrian, and we are proud to be on the forefront of a new era for equestrian sport."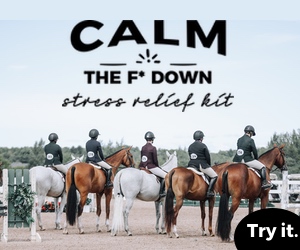 ---
Editor's note: Don't believe everything you read on April 1st.