Photo and story by Mackenzie Pearce 
McLain Ward sprinkled a bit of his infinite wisdom over the participants in his clinic at the Royal Canadian Riding Academy in Cedar Valley, Ontario from August 18-20. The groups ranged in jumping height from 1.10m-1.60m, and each day of lessons built on the last.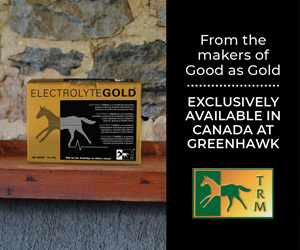 Here are some of the take-home lessons from Saturday's sessions:
At his home barn he always has one ring set up for gymnastics. He uses it especially with horses he's having trouble with. He doesn't change the course in that ring more than once a month.
He was not a fan of rising trot w/o stirrups, and only does no stirrups in sitting trot. Uses a horse that doesn't need a hard workout and says no stirrups should be done twice a week.
Change up the horses' workouts daily. Take a day for a 45-min workout, do gymnastics another, hand walk another. You'll burn your horse out or make them too hot if you work hard every day.
McLain was very in-tune with all horses and riders in the clinics and was helpful on an individual horse basis. He got on one of the horses to see exactly what he needed to tell one of the riders to do to correct her ride. He also said it was a good way for him to make sure the course was fair to the riders.
He keeps the gymnastic courses low, and believes you need to teach your horse to jump "good fences" – not always big fences.
The knee and foot should be in line with your seat to stay balanced.
He said you have to create good habits of looking to the next jump in training so it becomes innate. You always need to set your horse up for success at every jump. It seems simple, he said, but is very important.
He is not a fan of a broken pelham. Pelhams, he said, are meant to give support and leverage and the broken pelham doesn't do that in his mind. He had a rider in the clinic switch her bit on the second day of the clinic, and she had better success – proving his point!
He took the time to give feedback to each rider to give them an overall report. He gave each rider something to take to prepare for the next session.