Max Corcoran has groomed internationally at the highest levels of equestrian sport for nearly two decades. She worked for the O'Connor Event Team for 11 years and has served at multiple Olympic Games, World Championships, Pan American Games and countless CCIs across the U.S. and Europe. She now lives in Ocala, Fla., with her partner Scott Keach, who competes Grand Prix show jumpers.
Max explains why keeping things consistent and simple at a horse show is important for your horse's success.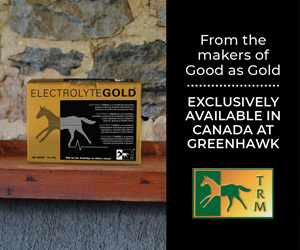 "Most of the time, the biggest thing we have to remember when we come to a competition like this, is that we have to keep the horses' schedules as much the same as we possibly can. We don't want to try anything new here. What's gotten us here is what's worked. A lot of times people say, 'Oh, I have this new blanket or this new grain!' Don't try anything different. That's a really big deal –  keeping things the same.
We try to bring our own hay and grain with us, everything like that. I try to keep their schedules the same at a show as they are at home. That means that if we feed at 6am at home, we feed at 6am at the show. Obviously it can change a little bit with show schedules and what time you compete, but it should be a priority. Most of these horses are used to being turned out a lot at home, and then you get to the show and toss them in a stall. It's important to get them out at the show as much as possible, walk them a lot, get them out for grass as much as possible. Keep everything simple. Don't try anything new. You know what works, it's gotten you to the show in the first place. Your plan has clearly been successful."