Level Up: How Catch Riding Makes You Better

Riders who compete in college usually do so as members of their school's intercollegiate equestrian team. Within the ranks of hunt seat collegiate riding, the competition is equitation-based, and team members are tasked with riding an unfamiliar horse. Whether or not the setting is a college team, though, the skills to be gained from catch riding are useful in any arena.

Meghan Boenig, 41, from Powder Springs, Ga., has been the head coach of the varsity equestrian team at the University of Georgia in Athens, Ga., since the team was formed in 2001. She's led the team to multiple southeastern conferences and national championships. Catch riding, Meghan said, is one of the most versatile skills for any rider.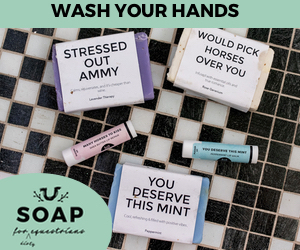 "In the (National Collegiate Equestrian Association) format, riders are given four minutes with their coach once they draw their horse for the meet," she described. "In those four minutes, you're not going to fix anything or learn anything new. This is where all of your skills get called in to play."

Learning how to ride an unfamiliar horse requires a good set of foundational skills, Meghan explained. If a rider is presented with the opportunity to try a new horse, the first thing to do would be to take the time to watch it go from the ground.

Read this next: Incorporate Classical Dressage Into Your Everyday Riding
"In our format, one thing we do get is the opportunity to watch the horses being schooled," she said. "With catch riding in any scenario, it's important to be a great observer, both on the ground and in the saddle. You need to be watching – is the horse moving off the leg? Is he sensitive in certain areas? Does he have clean changes? These are all things you can see."

In those four minutes, you're not going to fix anything or learn anything new. This is where all of your skills get called in to play.



Being observant is a good skill that serves well during the grooming and tacking up phases, too. Even studying these little moments can give the rider a small piece of the big picture.

Once it's riders up, Meghan advises prioritizing connection first and foremost. "Don't rush. Even with four minutes, the priority is to gain a connection. Right at the walk, test the brakes and the turning. Just that minute or even 30 seconds of walking, bending and turning can tell you a lot and give you more of a connection."
Like this article? Try: How Bruce Davidson Starts Young Horses
From there, Meghan said it's about establishing rhythm and maintaining connection. "You're not going to fix single problems," she reiterated.

But where most riders find success is when they're confident.

"At the end of the day, you can't feel like you have to test every button, to run through every scenario," Meghan said. "The confidence that you pull off is very powerful. You have to have the confidence that you'll know how to react when things come up. There isn't enough time to go through this exhaustive list."

One of the greatest skills catch riders have is the ability to find a horse's asset and show it off well, Meghan said. "Some get too focused on the step they missed in the warm-up, rather than instinctively calling on their skills to get them where they need to be."

Even for riders who aren't in a college team situation, those who are looking for new ways to improve their skills can find opportunity in catch riding. For situations as simple as trying out a new horse to buy, calling on catch-riding experience can be useful. Having the ability to confidently assess a situation and make the most of it is an invaluable skill – particularly with horses, who are infamous for their unpredictability.