Kyle Carter is a CCI4* event rider who has represented Canada at the Pan American Games, World Equestrian Games and Olympic Games throughout his international career. Together with his wife, Jennifer, Kyle runs Carter Eventing out of Citra, Fla.
---
An innocuous comment made by a fellow rider several years ago has been on my mind recently. I was walking back from show jumping after the two-star at Ocala on a mare who could be quite a pain to sit on. I was walking with (fellow eventer) Will Coleman, who had his reins on the buckle as his horse walked calmly along. Meanwhile, my mare was backing up and going sideways and all-in-all causing a fuss. I knew her well enough to know she was all talk, so I carried on my conversation as if I weren't sitting on a powder keg.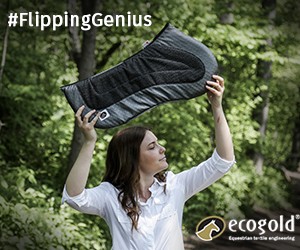 "That's what I like about you, you can ride anything," Will said.
Ordinarily, that's a compliment, and Will meant it as such. But I got to thinking about the difference between being able to ride anything versus being able to be competitive on something. I think the culture in the U.S. of late, particularly with eventing, has gotten to be so focused on the scrappy "jack of all trades", and until very recently it was something I was also proud of. But where are the medals hanging on my wall that were supposed to appear after all of this hard work I'd put in, riding anything and everything someone would send me?
In order to be competitive in this sport, you have to ride horses that you'll be competitive on, end of story.
There is a lot of merit to be given to riders who can truly ride any sort of horse. It's become the foundation of many riders' businesses – they ride the horses no one else can or wants to ride, because they want the saddle time and because it often helps them feel a stronger sense of legitimacy. And I used to fall into that boat. But what I think I've concluded – after a lot of trial and error, and probably a lot more to come – is that in order to be competitive in this sport, you have to ride horses that you'll be competitive on, end of story.
Read this next: "The System That We're On Isn't Working"
My point is this: the skills that teach you how to ride a rearing horse or get a dirty stopper over the fence are not the same skills that win you medals. Not to say the difficult ones can't be good – I've had my fair share of horses who I've had the privilege of competing after I achieved that breakthrough – but don't spend all of your time being good at riding bad horses.
Madison Park, my 2008 Olympic horse, was not an easy horse and was, for all intents and purposes, quite a pig on the flat. By the time we made it to the Olympics, he was a much better version of himself – but I'd watch the people in the warm-up on the long rein who didn't need to work through that difficulty to access the rideability. These were the people who were consistently competitive. I remember walking around in the warm-up at the World Equestrian Games in 2010 with Michael Jung and Sam, who looked like he was about to set off to collect scores rather than go around cross-country. And that is the mindset that allowed Michael to train that horse to a gold medal that year. He chose a horse who he was able to channel that calm mentality in a stressful situation – which is much better than having to reassure the horse that the world is not, in fact, ending.
You don't have to ride the strong, hot horse to be considered legitimate. That's just what you've been taught to think.
Of course, your argument may be, "Well I haven't got enough money to go and buy myself a nice horse, so I have to ride what I can get." And while this is absolutely true and applicable – you are still allowed a choice in the matter. When you watch these riders go around in Kentucky, you more often than not see them kick to the fences – and I can tell you, kicking is a hell of a lot better of a feeling than holding the horse back as he drags you to a maximum jump. You don't have to ride the strong, hot horse to be considered legitimate. That's just what you've been taught to think.
Like this article? Try: Don't Give In To Doubt. Keep Fighting.
My strongest advice is not to fall victim to your own success. If you've found you're particularly good with the difficult horses, don't let that be the only part of your success. Find horses you can work on riding correctly with – people underestimate the value of riding a nice-tempered horse who won't try to dump you three ways from Sunday. It doesn't make you a lesser rider just because your horse is sensible and kind.
So yes, by all means, use your skills to further your riding. But don't just be good at fixing problems. Fixing problems doesn't win medals – the trainable horse does.