Justine Dutton's New Priorities: 'That Fall Scared Me…I Knew Something Had To Change'

Photo by Nicole Severino
Nearly five months ago, event rider Justine Dutton was attacking the three-star cross-country course as the trailblazer for Team Great Britain at the Nations Cup at Great Meadow in The Plains, Va. Justine remembers her horse, Kathleen Cuca's Jak My Style, jumping quite well – until he wasn't.
That day, she suffered the worst fall of her life.
Justine still has no memory of the rotational fall that landed her in the Intensive Care Unit at Inova Fairfax Hospital in Alexandria, Va. with a concussion, a collapsed lung, several broken ribs, and a broken collarbone. Miraculously, Jak My Style was unharmed in the accident.
In the aftermath of the fall and coping with a laundry list of major injuries, Justine found herself struggling with vision loss in her right eye – something both she and the doctors thought was related to her concussion. Her concussion has since cleared up, but her vision has not. Further testing revealed that she suffered severe damage to the optic nerve in her right eye, meaning that recovery of the vision was not likely.
Now, settled in at her Ocala base with her boyfriend, show jumping course designer Chris Barnard, Justine is getting back to her routine of riding professionally. She runs a successful training and sales business, Sport Ponies UK, and has several horses in work. In the past weeks, she's started jumping again, adjusting to her vision changes, and only recently jumped her first cross country jump since the fall.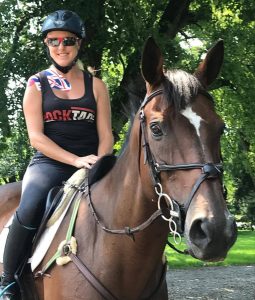 For many riders, getting back in the saddle as soon as possible after a fall is the top priority. News stories constantly cover the rapid recovery from seemingly devastating injuries to top riders; mere weeks after an injury, they're back and aiming for a top-rated event again. For Justine, the path to returning to riding has been a bit different.
"I wasn't sure what I wanted to do. The fall scared me. And that was my second serious fall at the Advanced level, so I knew something had to change," Justine said. "I never doubted I was going to ride again, but the daily routine of even just getting out of bed and showering was difficult enough that it was not at the front of my mind right away."
For many riders who aspire to represent their countries internationally, it's a mad dash to obtain qualifications and make a statement to team selectors. Justine was one of those riders just a few months ago, hungrily ticking away events and making her second team appearance during that fateful weekend at Great Meadow.
"If I'd fallen just inches to the right, the consequences would have been much worse, my doctors said," Justine recalled. "When someone tells you that, you kind of have to step back and rethink your priorities. It may have been a freak accident, but I want to go out confident and happy. So I don't know where I'm going to end up. I don't have an agenda right now, I'm just taking things one day at a time."
Why this crazy race to 'make it'? I know there's a sense of urgency to take advantage of a sound horse and a sound rider, but at what cost?
For an athlete participating in a sport defined by grit and bravery, there might be pressure for riders to resume competition following an accident before they're truly ready. But Justine says she hasn't felt that – and her experience has even encouraged other riders to check in with their own safety.

"I can't tell you how many riders have reached out to me to tell me that I've made them take a step back and think about what's best for them and their horses," she said. "Why this crazy race to 'make it'? I know there's a sense of urgency to take advantage of a sound horse and a sound rider, but at what cost? Why do I need to be on the fast track?"
Even jumping her first cross country fence – a Preliminary sized brush fence, which was small and simple relative to her experience – was a mental milestone for Justine.
"I jumped it on three different horses, and for the first time I had to tell myself that it was Prelim-sized, something I'd done a million times, and battle those thoughts of 'I could fall, I could flip over,'" Justine recalled. "That was new for me. I'm glad I did it, but I don't want to go out scared. That isn't good for me or my horses."
Now that Justine is in a better place both mentally and physically, she's taken time to reflect on her life.
"There is so much more to life than just chasing qualifications," she said. "Do you know how many weddings or other big life events I've missed – that we've all missed – because of horse shows? I know they're important, but there are always more horse shows. There are so many terrible things happening in this world, so much more than horse shows."
Justine credits her boyfriend, Chris, for being by her side throughout the entire process, as well as her many friends and supporters who did everything from flying in to keep her company to simply sending a text to check on her every day. She also credits fellow British rider Laura Collett with her help. Laura experienced a similar vision injury in a fall and has since returned to the upper levels of competition.
"Laura had an accident where she lost 90% of her vision in one eye, and she has returned to the four-star level," Justine said. "My team coach put me in touch with her, and I really didn't even know her but she never hesitated to reply to my messages and give me advice. She wrote me paragraphs and paragraphs sharing her experience and how she coped. She would check on me and made suggestions of things to try – I owe her everything. Having someone who could relate was huge for me."
Justine is also quick to give credit to her safety equipment that helped save her life.
"My sponsors for all of my safety equipment – Soteria (which, among other things, provided Justine's air vest) and Uvex Helmets – who also are good friends of mine, have been amazing," she said. "I cannot thank them enough for the equipment that very likely saved my life."
Justine is taking it day by day, and trying not to hold herself or her horses to any agenda as she continues her mental and physical recovery.
"I am really taking the pressure off and going at my own pace," she said. "I would be a fool to carry on blindly – literally – at this point. As a professional, I have to assess where I want to go from here. For me, it's important to reduce risks as much as possible and make myself as good as possible – for my own safety and that of my horses.
"I do understand that when you have a good horse, you go for it. I would rather go and learn to be really good at the three-star level than chase a four-star qualification. I didn't feel like I'd made enough improvements on the flat, and that's where the problems start, right? As you go up the levels, mistakes become more expensive. So it's my job to fix those problems and make myself better."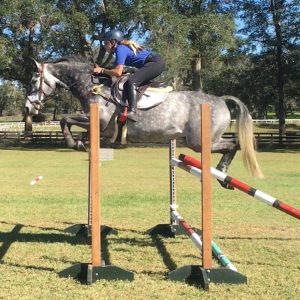 As for Jak My Style, he's continued on to compete at the upper levels with Buck Davidson, most recently coming eighth in the CCI3* at Fair Hill International.
"(Buck and Jak) just had a great finish at Fair Hill, and I think they may aim for Kentucky next year," Justine said. "His owner, Kat Cuca, wants him to continue on at the upper levels."
In the meantime, life goes on for Justine, who is looking forward to getting back in the swing of things with her veteran partner, Huck Finn, as well as several promising young horses. It's been a journey of adjustments, one that won't soon be over, but Justine feels more at ease now. "My vision is something I've been able to get accustomed to. Chris says he doesn't mind because it makes him better looking," she joked. "So I'm just taking things one day at a time, and it feels good to be doing it on my terms."