Home » How To Ride Confidently On A Horse With Scope
How To Ride Confidently On A Horse With Scope

Watch any video of Show Jumper Brittni Raflowitz cruising around on her gelding, Hilton Van De Breepoel, and you know that horse has got some serious scope.
But effectively riding a horse with a big jump and that scopey "hang time" over fences isn't for the faint of hart. Brittni, who rides for Israel and splits her time between Wellington, Fla., and Tryon, N.C., sure does make it look easy. But that's because she works hard at it in between horse shows when she's training at home.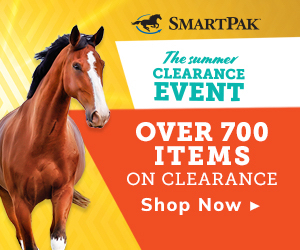 Heels Down Mag caught up with Brittni while she's in Florida for the 2020 Winter Equestrian Festival to learn how she's mastered riding a horse with tremendous scope.
Fitness
"The first thing is: definitely be strong," Brittni put it plainly.
She spends hours in the saddle, but also hours in the gym. Brittni trains as a boxer. Aside from fight training, she does yoga and has a membership for OrangeTheory.
"You need leg, core and upper body strength. That plays a huge part," she said on riding a horse with a huge jump. "It takes a lot of out of you if you're not strong. We have to be athletes too. I have to be as fit as my horse. The worst thing you can do is be worn out halfway through the course."
Brittni suggests finding a work-out routine that works for you, and stick with it.
Find Your Position
While training her horses at home in between horse shows, Brittni is constantly finessing her jumping position. For a horse with a big jump, she said it takes time to find the right position that works.
"You want to stay a little behind them, so when they jump, they come up to you," she explained. "That's what helps me with scopey horses. Shoulders back, head tall, and I open my chest. The worst thing I can do is get too far in front of them."
Finding that balance is key, she said.
"There isn't one exercise or gymnastic for that," Brittni described. "It's muscle memory and training. It's really about sinking into your stirrups and staying open with your upper body."
One way to do this is to jump without stirrups. She doesn't do it every ride, but Brittni said it can be helpful when trying to find your balance over fences.
"It really allows you to put your leg around the horse and just feel it," she said.
See Also

Home » How To Ride Confidently On A Horse With Scope
Keep The Pace
It's easy to get nervous when riding a horse with a big jump. But Brittni learned finding the distance makes all the difference.
With her horse Hilton, a 13-year-old bay Belgian Warmblood, she tries to take the longer distance instead of the shorter one.
"Because he's a big horse, I want to give him a nice gap to jump," Brittni said. "If I'm getting in there deep, he's going to have to really work hard to get himself out."
She finds the bigger distance is smoother to ride.
"Don't be afraid of keeping the pace. The rhythm is really important," she said. "If you get nervous, try to remember that more pace is always better than none."