Whether you're a weekend warrior amateur rider or making a serious go at it trucking to horse shows all over, finding a safe and suitable trailer that fits your needs isn't always an easy task. No matter your trailering experience, hauling horses should be treated as a serious endeavor. Ensuring that your truck and trailer are "road ready" and will arrive safely is most important, given the precious cargo you're towing, after all.
Heels Down Mag put together a checklist all horse owners should consider when purchasing a horse trailer.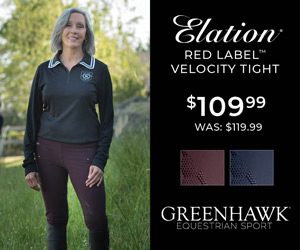 Assess your needs: Before you can start shopping or even hit the road, you should have a good idea of what kind of trailer makes the most sense for you and your horse. You should know the answers to these simple questions: How much weight can my vehicle realistically tow? How much room will my horse require?
If he's a tall Thoroughbred or Warmblood, a standard 6-7 foot tall trailer probably won't work. Measure and know for sure. Check the owner's manual or call your dealership to ask about your truck's towing capacity. Also select a hitch that is rated for the total weight you plan to haul (empty trailer weight + weight with horses in it). This information will also give you an idea of what trailer brands and models to begin researching before you start making calls or planning a trip to a dealer lot. It's also vital to consider your own personal towing experience. If you're comfortable pulling a lightweight two-horse bumper pull trailer, it's reasonable to believe you'd transition to a three-horse bumper pull fairly easily. But a six-horse gooseneck? Maybe not.
Get down and dirty: When it's time to go out and see some trailers for yourself, make sure you're looking over every nook and cranny. Check for rust on the roof. Keep an eye out for missing or protruding screws and bolts. But more importantly, examine the underside of the trailer to make sure its frame and foundation are in good shape. For this, you'll want to bring a good flashlight. Take note of any signs of rust or dents, any weak or neglected spots in the frame and wheel axels. Also look for signs of leaks, like oil or packing from the axles. If you can convince the owner of the trailer to raise it on a jack, you'll be able to check the suspension and for cracks in the springs.
Don't miss the obvious things: Make sure there are no exposed or dangling electrical wires in the horse cab. Do all the lights work? Are the bulbs easy to pop out and replace? You'll want to inspect the hitch where your truck will connect to the trailer. How old are the emergency chains? Take note of signs of rust or hard-to-work pieces that may require some grease. What's the ventilation like inside the trailer? Do all windows work and have appropriate screens? Are open-and-close vents in proper shape? How easy is it to connect and disconnect the rear and front bars in the horse stalls? Does every door or ramp open, close, latch and/or lock how it's supposed to?
Like This Story? Read This Next: Everything You Need To Know About The New Horse Hauling Requirements
Consider any and all replacements: There are plenty of parts on a trailer that will require general maintenance and replacement over time. One of the big ones is the trailer floor. While you're below the trailer examining the under carriage, take a minute to assess the age and shape of the floor boards. If the trailer is aluminum, check for cracks, dents or corrosion. If the floor is made of wood, look for rot, wet soft spots or splintering. Does the trailer have brakes and if so, what shape are the pads and discs in? How about the tires themselves — do they appear to be dry-rotted? Is there a road-ready spare tire? You can do the "penny test" to check for appropriate and safe tread.
Don't be afraid to ask questions: It's always helpful when the previous owner was organized and kept records of routine maintenance. But owners like that are few and far between. Ask questions to get a good timeline of care for the trailer. When were its last repairs and why? It also never hurts to ask to take it for a test drive. Even empty, it'll give you a good idea of how it hauls with your truck.