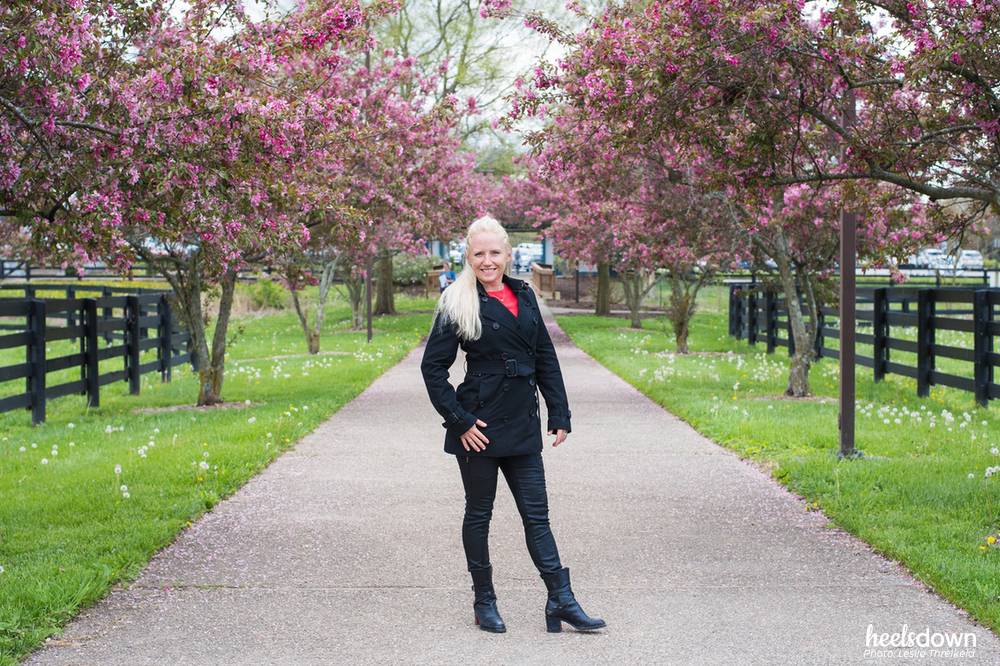 From once-in-a-lifetime wins on the podium and jaunts around the most prestigious cross-country courses in the world, to the sobering heartbreak of injuries, Hawley Bennett-Awad has experienced it all.
The 42-year-old Canadian eventer is a two-time Pan American Games and two-time Olympic Games contender. She's rocketed around for Canada at two World Equestrian Games. She's tasted sweet victory before and knows how crushing it feels to be sidelined with a broken bone or to have her top Advanced-level horse pulled out from under her. But long before she set her sights on becoming one of the best event riders for her home country, she learned that to get what she wanted, she was going to have to work harder than anybody else.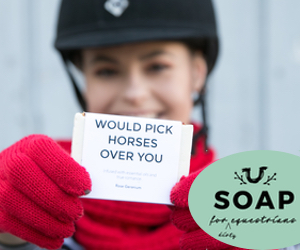 "I've had lots of people tell me I couldn't do it and that I wouldn't make anything of myself," Hawley says. "That lit a fire in me. I set out, and I've proved a lot of people wrong. Hard work and determination pays off."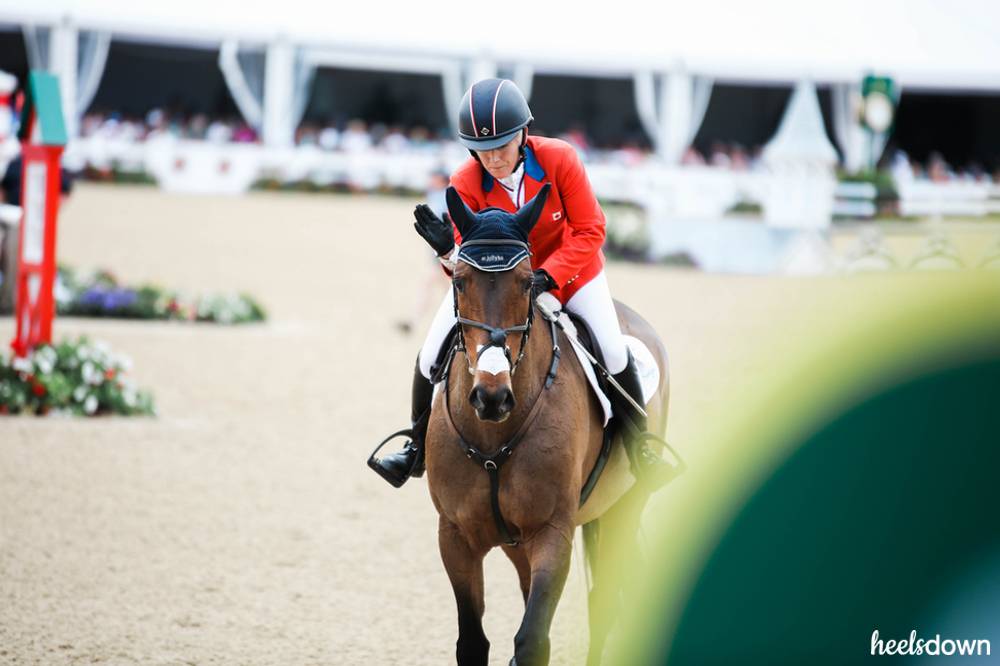 In 2014, the owners of Hawley's longtime four-star mount, Gin & Juice, chose to part ways and seek another professional ride for the veteran 14-year-old Thoroughbred. The decision shocked the eventing world, as Hawley had ridden the bay mare to much success over their 10-year career together, which included nine CCI4* competitions during that time frame.
"I'm only doing eventing because someone told me I couldn't do it. I'm a fighter and yes, I'm a little stubborn. But I'm also very realistic about what I do."
But Hawley came back aboard a new fleet of horses, again at the top level of the sport. The rise and falls throughout her storied career detail the grit and resolve she's developed not only as a rider, but also as a person. It also shows just a glimpse into Hawley's character: instead of fading into the background and accepting defeat, Hawley taught herself how to take a hit, learn from it, and come back stronger.
'Just a girl from Langley'
Hawley grew up riding in Langley, British Columbia, a suburban town outside of Vancouver, where she rode in the 4-H Horse Club and the local Pony Club chapter. Like most pony-obsessed girls, Hawley dreamed early on of one day riding in the Olympics.
She didn't take a formal riding lesson until she was almost 18 years old. Instead she rode horses on a local hobby farm, and her mother was the one who taught her how to ride in those early days.
"I used to do the jumpers. But the first time I tried cross-country, I was addicted. Going into the start box and leaving the start box, that adrenaline rush is just amazing," she describes.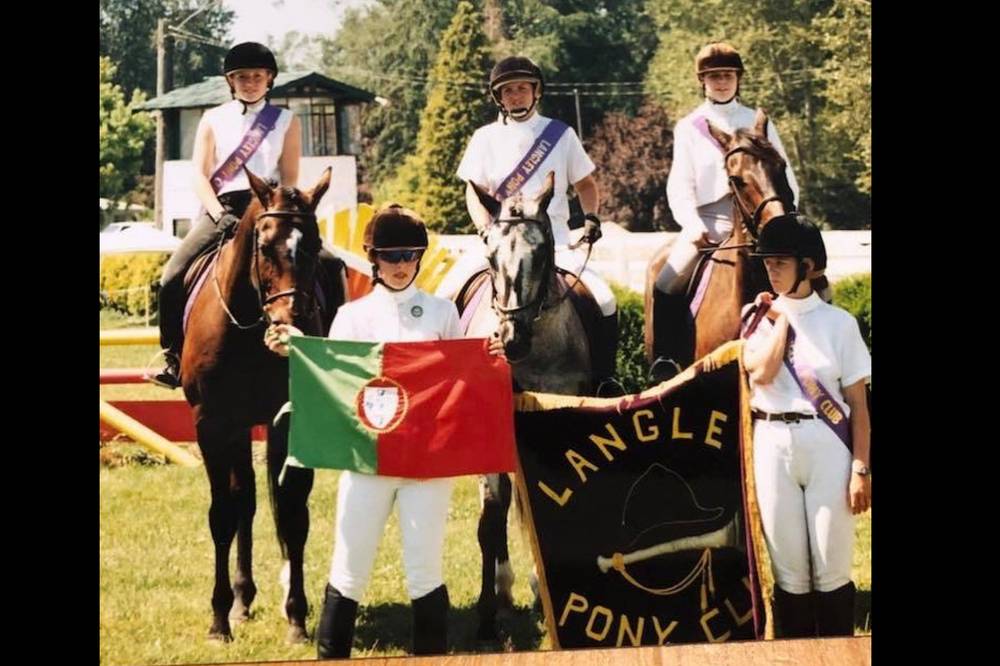 Despite her humble beginnings, Hawley was on the fast track to rise the levels of the sport. She began to ride seriously in the show jumping arena, but by 16, she had competed through Training level on her Arabian gelding, Ibn. Not long after, Hawley's first life-changing partnership would begin when she took on a four-year-old off-track Canadian Thoroughbred gelding, Livingstone. It was her mom Gerry, who was recently divorced from Hawley's father at the time, who bought the horse for her.
"My mom stepped up to the challenge to buy Hank (Livingstone). He wasn't that expensive of a horse, but my parents were getting divorced and she re-mortgaged the house," Hawley explains. "She made every sacrifice to help me chase my goals and dreams."
Within four years, Hawley took the bay gelding to a fourth place finish at the North American Young Riders' Championship.
By 2003, Hawley headed to the Dominican Republic to be a part of the silver medal-winning team at the Pan American Eventing Championships. The following year, her childhood dream came true when she rode Livingstone at the Olympic Games in Athens, Greece.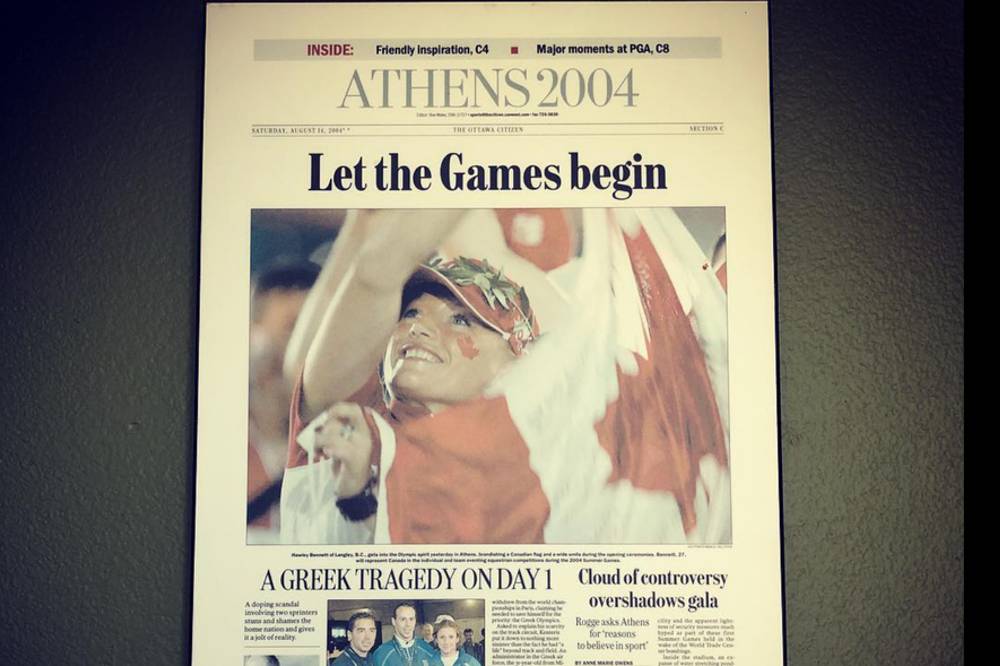 "I'm in this dream world where all of my heroes, all the people who I look up to, I'm literally watching them ride. It was a little surreal," Hawley says of her time competing internationally for Canada at the level of legends like Andrew Nicholson, Mark Todd and Mary King.
In 2005, Hawley and Livingstone placed 15th at the FEI World Cup Final in Sweden and in 2007, they completed the Badminton CCI4* for the first time to cap off what was truly a Cinderella story.
Over the next decade, Hawley would produce and compete a slew of talented horses, continuing her reign at the top level on Gin & Juice. It was aboard this mare that Hawley would make history as a member of the silver medal team for Canada at the World Equestrian Games in 2010, and make a return trip to the Olympic Games in 2012.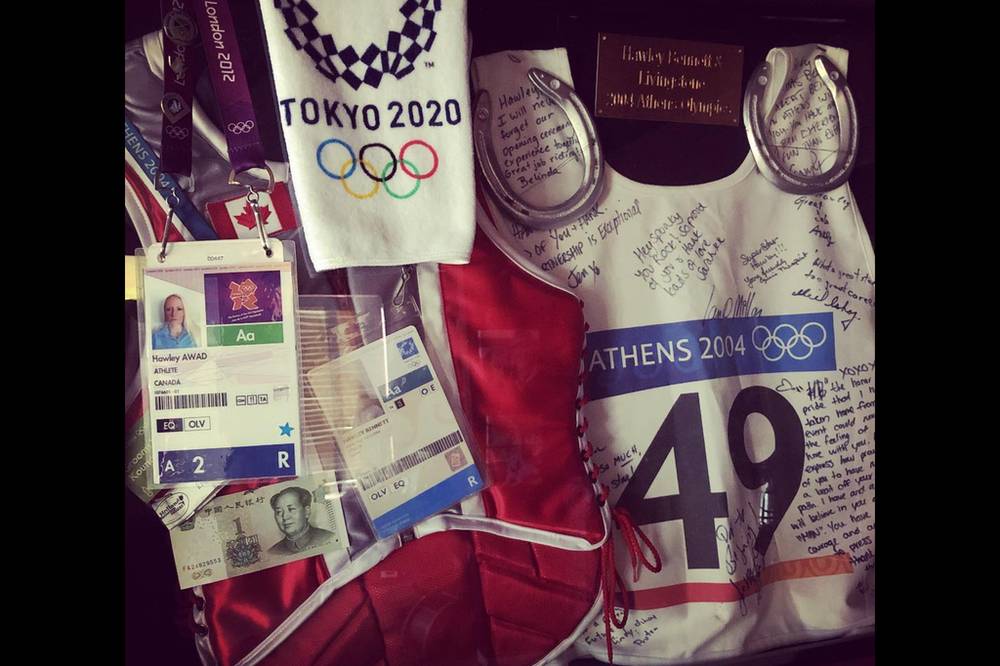 "She's taught me patience. She's the feistiest horse I've ever had to ride. But hard work and perseverance pays off," Hawley explains. "There were many low times when I've been like, 'why am I doing this?' But she's a blast to ride."
After Gin & Juice left Hawley at the end of 2014, she took a few years to invest in young horses and rebuild her fleet. Despite this blow, Hawley kept on with new goals in sight. She competed mostly at the one-star and two-star level, until she made a comeback in 2016 on a new and exciting upper-level prospect.
"I'm only doing eventing because someone told me I couldn't do it. I'm a fighter and yes, I'm a little stubborn. But I'm also very realistic about what I do," she says.
New Beginnings
It started with a phone call from Hawley's coach and mentor, veteran event rider Buck Davidson.
"Jollybo is for sale. This is your horse," is what Hawley recalls him saying back in 2016. "I was like, 'that's great but I have no money to buy her.'"
Jollybo, a 15-year-old British Sport Horse mare, was formerly campaigned up to the three-star level by English rider, Justine Dutton. Buck convinced Hawley to take a trip out to Pennsylvania to see the powerhouse bay mare.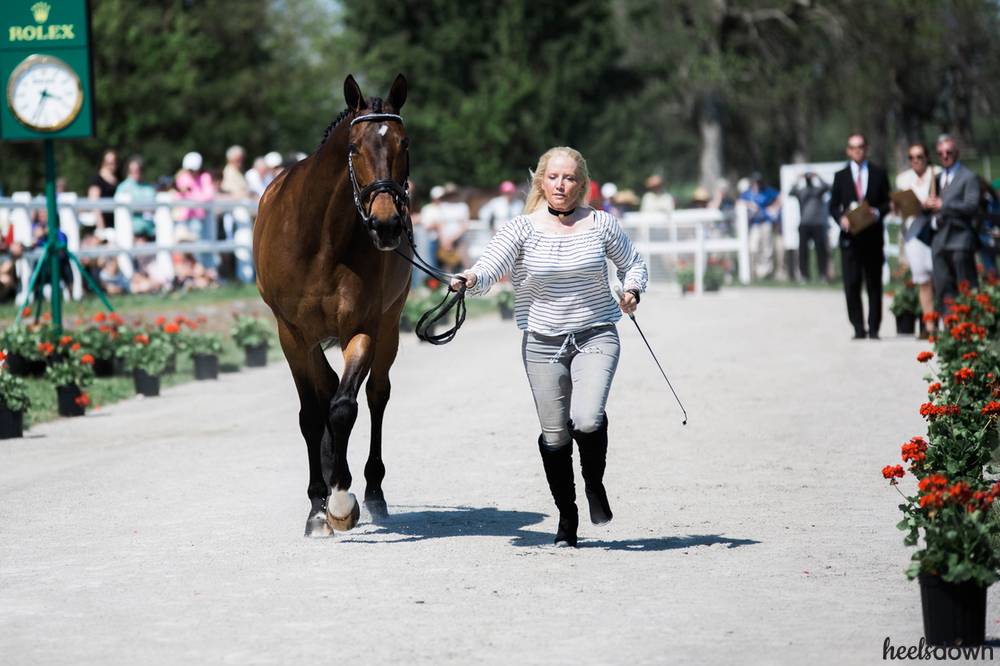 That summer Hawley and Jollybo finished third at Rebecca Farm in the CCI3* even though Hawley says she hadn't jumped an Advanced-level fence since the World Equestrian Games in 2014.
"By fence two, I was like, 'OK, we can do this,'" Hawley remembers. "She hasn't put a foot wrong since."
Jollybo brought Hawley back into the top levels of the sport. The pair have competed at the Land Rover Kentucky Three-Day Event twice since then, among many other upper level events. And while Hawley still has competitive goals, including dreams of just one more trip to WEG or the Olympics in her, she says her perspective is evolving.
"I've been doing this a long time now, and I've had some injuries. I don't want to be 70 and still…" her voice fades as she considers her next words. Hawley says her outlook changed after her father passed away two years ago. "That was a big wake up call for me."
"I'm very passionate still, but there are other things in my life now. I love my friends and family, but I only go home twice a year. I have a brand new niece and my mom is getting older. If my mom wants to go on a four-day holiday, I want to be able to go with her," she explains, noting how thankful she is to her husband, Gamal, and all his support over the years, too. "It would be nice to spend time with my family because they've always been very forgiving and supportive."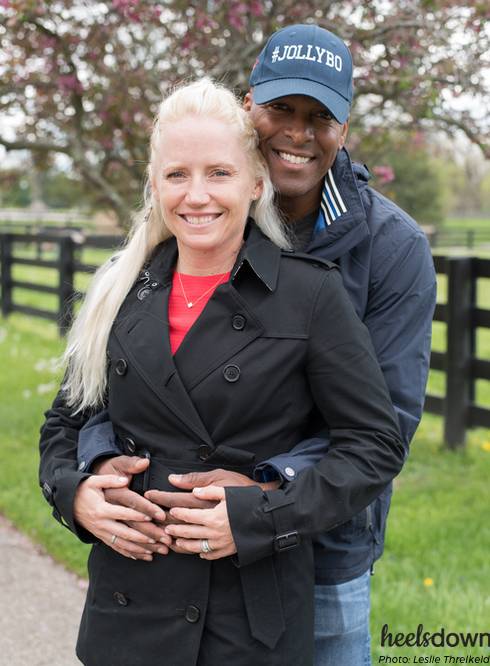 She enjoys other aspects of the sport and her business, outside of campaigning events, much more these days. Like bringing along young horses, which she sees as a big focus of her career through the next five years or so. And continuing to coach riders and host clinics. Hawley says she'd love to have the chance to coach a team one day.
"I'm old enough and I've done enough," she says. "If I get to go again, awesome. But it's not the end all, be all, anymore."