Home » Grooming Hacks: Sun-Bleached Tails Be Gone
Grooming Hacks: Sun-Bleached Tails Be Gone

It's summer, which means those glorious dark coats fade and bleach out. The struggle is real.
Sure, you can keep your horse penned up all day, and fly sheets can help some. But the oppressive sun always seems to find a way to dry out and bleach something.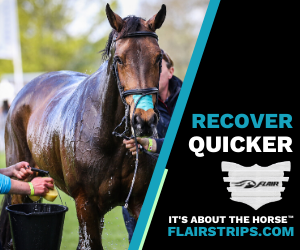 Courtney Carson, the barn manager at Payne Equestrian, home to professional eventers Jessica and Doug Payne, has a hack to bring those bleached tails back to life.
And it's simpler than you'd think. Courtney uses hair dye she buys from the grocery store.
Here's her process:
Courtney mixes the dye and applies it to the top of the tail. The rest of the tail she puts into a trash bag.
She applies the rest of the dye to the bottom of the tail, and pulls the bag up to the top of the dock. There she wraps the tail bone and the trash bag with vet wrap.
Courtney recommends doubling the recommended time on the box for the best effect. It usually takes about an hour, to an hour and 15 minutes to set.
After wrapping the tail, take a sponge and with warm water clean up any areas where dye may have touched the horse's coat. She reiterates this is very important when dying a bay horse's tail black.
Courtney suggests using ample amounts of conditioner when rinsing out the tail.
Also be aware of dye hazards. Find something to do for that hour where you can be close by to the horse, just in case they shake the bag loose and cover themselves in dye.
Hair dye, too, will fade, so Courtney suggests only applying this a few days before a major horse show or event. Also be careful of how you wash the tail after you've applied the dye.
Be mindful in applying if you have a horse with sensitive skin. It helps to do a "patch test" on the the first try, which means applying the dye only to a small area of the tail first to see if it triggers any kind of skin reaction.
See Also

Home » Grooming Hacks: Sun-Bleached Tails Be Gone
Read more:
As Heard On Heels Down Happy Hour: Confidential Grooming Secrets