Home » As Heard On Heels Down Happy Hour: Confidential Grooming Secrets
As Heard On Heels Down Happy Hour: Confidential Grooming Secrets

The head groom and barn manager behind professional eventers, Doug and Jessica Payne, joined our Heels Down Happy Hour Podcast hosts to share all her pro-groom secrets.
Courtney Carson, 27, works for Payne Equestrian in Aiken, S.C., where she runs the barn and cares for all 27 horses within the Paynes' keep. Courtney, a former event rider herself, has picked up all kinds of tools of the trade along the way. She shared some of her favorite "barn hacks" with the hosts on episode 40.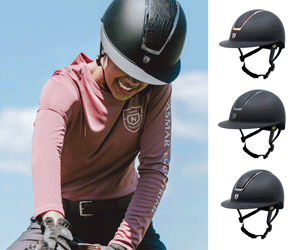 Listen to Heels Down Happy Hour Podcast Episode 40: Tacky, Classy, or Just Right?
Don't Buy Horse Shampoo: "I do not let Doug and Jess spend money on the expensive equine versions of shampoos," Courtney put it bluntly. Instead, she says the cheap stuff from the Dollar Store or the grocery store is just fine. "We wash tails and legs every day, and if it's warm enough, they get full baths," she said. She prefers the "knock-off" version of Head & Shoulders to treat dry skin. She also goes through "a ton" of Ivory soap to help prevent leg funk. She also loves cheap conditioner to sit and soak in grey horses' tails.
And she can't get enough of cheap towels just to have around the barn.
"If you think you have enough, buy five more," Courtney said.
Grocery store picks: Vaseline and petroleum jelly tops her list in place of Bit Butter. Vaseline also helps for boot rubs on legs. But she's also a huge fan of BB Super Gro, which she uses when she forgets her Shapley's M-T-G behind, especially to treat blanket rubs and itchy spots in manes and tails.
"You can get all of this stuff at Walmart," she said. "I also stocked up on Desitin and Vagisil, which I never thought of to have at the barn. Doug (Payne) isn't going to buy those himself."
See Also

Home » As Heard On Heels Down Happy Hour: Confidential Grooming Secrets
The Famous Dust Buster Spray: Courtney uses a "dust buster spray" as a finishing spray to get rid of last minute dust and shavings clingings from the stall. It's a dry spray, which means you can use it without water in cold weather.
The recipe is: 1:1 rubbing alcohol and witch hazel (she uses the 16-ounce bottles), and then 2 tablespoons skin so soft or baby oil.
Courtney's Top Product Picks: Shapley's Color Coat Touch Up Spray, Shapley's Hi Gloss Finishing Spray, and Bivi Tomorrow (cow product) for wet hooves.