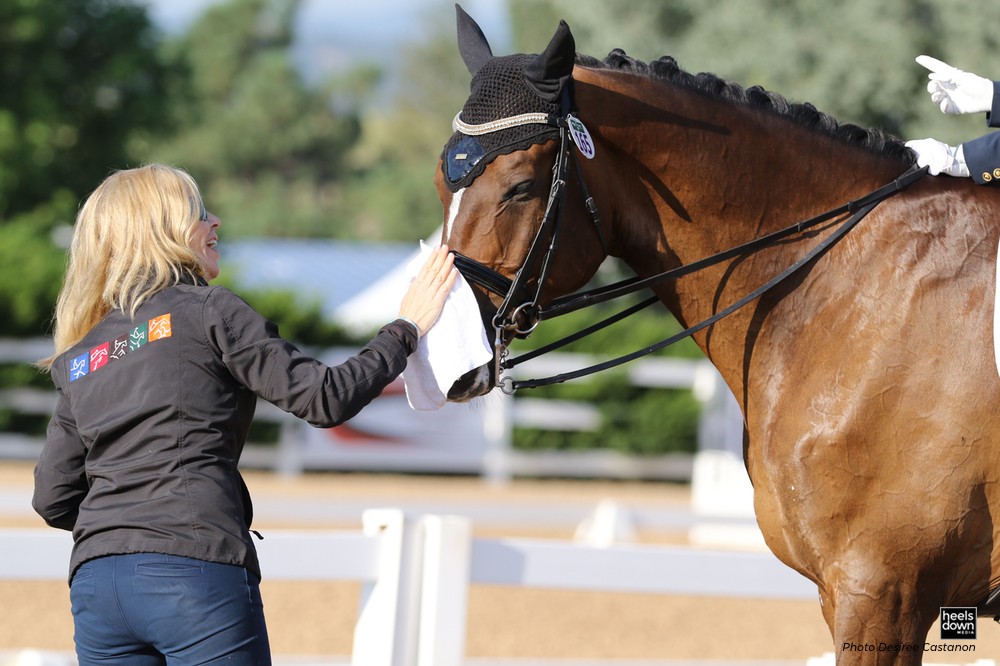 By Liv Gude of Professional Equine Grooms, special contributor to Heels Down Magazine
You made it to a show. You are nervous. Your horse has pointier ears and wider eyes than normal. You are trying not to forget your pattern, test, or course. That's a lot to think about.
Instead of freaking yourself out, you could channel your energy into touching up your horse so that you can be seen from space (in a good way). This allows you to focus on something in the moment and gives you a boost of confidence knowing that your horse will really stand out in the crowd. Again, in a good way.
Get an extra set of hands to help you as a matter of convenience and safety. A handy bucket of tools is a smart thing to assemble before show day.
Be sure to include these items:
Damp towel and dry towel. To be prepared for all circumstances, this is a prime way to see Murphy's Law in action if you only bring one towel.
Sweat scraper. Depending on the weather.
Hoof pick with attached brush. Who knows what your horse might have picked up between the stable to the warm up to the ring. Use the brush to get rid of any stubborn dirt on the hooves.
Hoof polish. Optional, but nice to use after a hoof picking and cleaning.
Extra braid elastics. For last-minute wrangling of escaped hair.
Bottled water. Doesn't hurt to stay hydrated.
Horse treats. Treats can be used for an after-ride reward, but horses don't really understand bribery. However, your friend that is helping you definitely understands bribery, so maybe include a human treat for those extra hands.
Lip balm. There's no need for any "horse show cotton mouth" happenings to spread to your lips.
Body brush. These are great for removing big chunks of warm up ring from rider's boots and horse boots.
Have a plan of attack and hit these areas:
Foamy, bubbly and otherwise slobbery lips. Especially if the foam is green from a nice hay lunch, wipe with a washcloth or rag. Follow up by tending to foamy wads of slobber on legs and boots and other horse (or human) parts.
Sweat. Using a sweat scraper or towel to buff away obvious sweat or foam helps your horse shine.
Braids. Wrestle the unruly ones back in place.
Tack. Double check your girth (yikes) and saddle pad placement. Be sure that reins are untwisted, that the noseband and bit are level, and that stirrup leather ends are tucked away.
Legs. Depending on the discipline, boots may be removed. It's a good idea to give your horse a quick glance to check for any nicks that may have happened in warm up, especially on chrome!
Hooves. Pick those tootsies, brush 'em off, polish 'em up.
This whole process takes but a few minutes, and it gives you the chance to focus on your horse and leave all of the other show day stuff behind. Your horse will appreciate the calm attention, and you will definitely blow the socks off the judge. Happy showing!