Home » Frankie Thieriot Stutes is the Hero Amateur Riders Need
Frankie Thieriot Stutes is the Hero Amateur Riders Need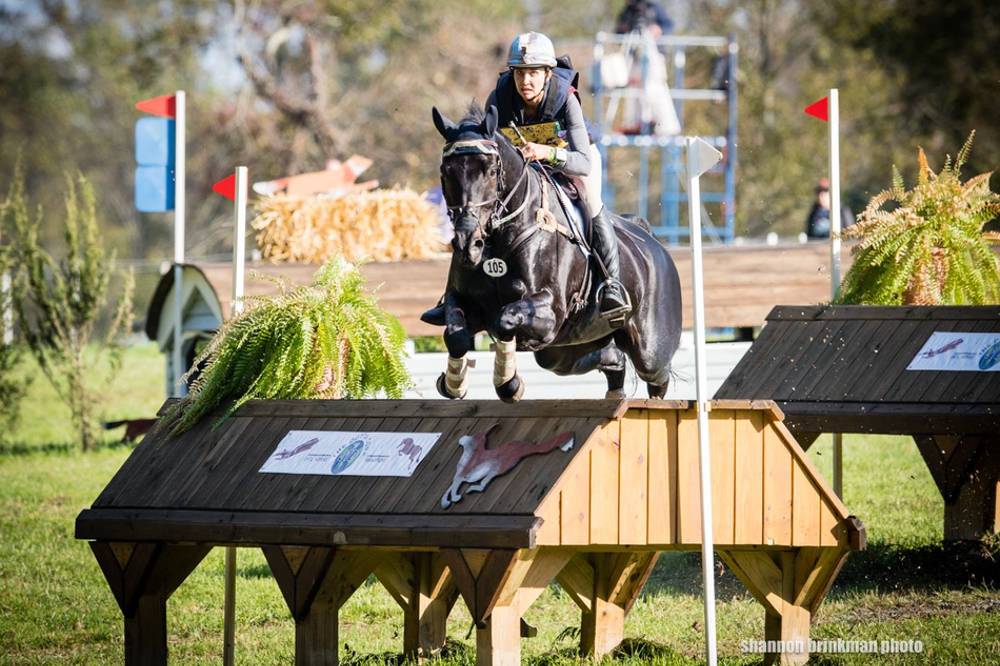 Frankie Thieriot Stutes' three-star winning horse, Chatwin, lives in her backyard.
It's mid-day, and Frankie finds herself with a rare gap in between meetings and calls for her marketing and retail companies, Athletux and Frankie Cameron. Her two kids are spending the afternoon with Frankie's mother, Bridgit, and she glances toward the field where her prized eventing partners, Fric Frac Berence and Chatwin, spend their days.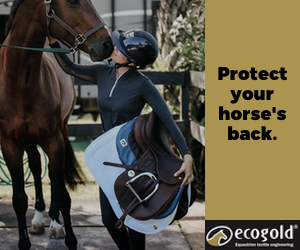 An hour later, Frankie and Chatwin are alone, just down the road where Frankie uses a local arena and facility – but where there are no boarders, or even other horses, around. Frankie puts her black 10-year-old German warmblood gelding to work, stretching his legs in the cool Northern California air.
2018 was a big year for this dynamic duo. They won the Dutta Corp./USEF CCI*** Eventing National Championship at Fair Hill, after all, besting professional riders and Olympians. And 2019 promises to be even bigger.
But life looks a little different for Frankie, 32, who simply grins when asked how she does it all. How she balances motherhood, entrepreneurship, marriage and a riding career. You see, what it all comes down to is this: for Frankie, there is no settling. There is no "aspiring". For Frankie, there is simple the act of doing. And in the process, she's showing adult amateurs – the riders who juggle the constant demands of parenting, career and marriage – that there is no reason why they can't do it all.
Like This Story? Try: Lessons From The Live Stream – Jim Wofford On Cross-Country Riding
"I think people have this misconception that you can't ride and work," Frankie says as we chatted on the phone. She was running errands, using her time in the car between stops to catch up on her calls. "I don't really know where that came from."
Indeed, it's been a matter of nurture in this case. Frankie played basketball and volleyball while riding full-time through high school. She took two horses to college with her. After that? Adulthood. Frankie, like many other adult amateurs, found herself working a demanding corporate job that left her no time for two horses. She reduced her string to just one, Fric Frac Berence.
While the high school sports, college education and corporate job wrangling were happening, Frankie was also moving up the levels of eventing. Suddenly, she found herself preparing for her five-star (formerly four-star) debut at Kentucky with "Fric". But with what time?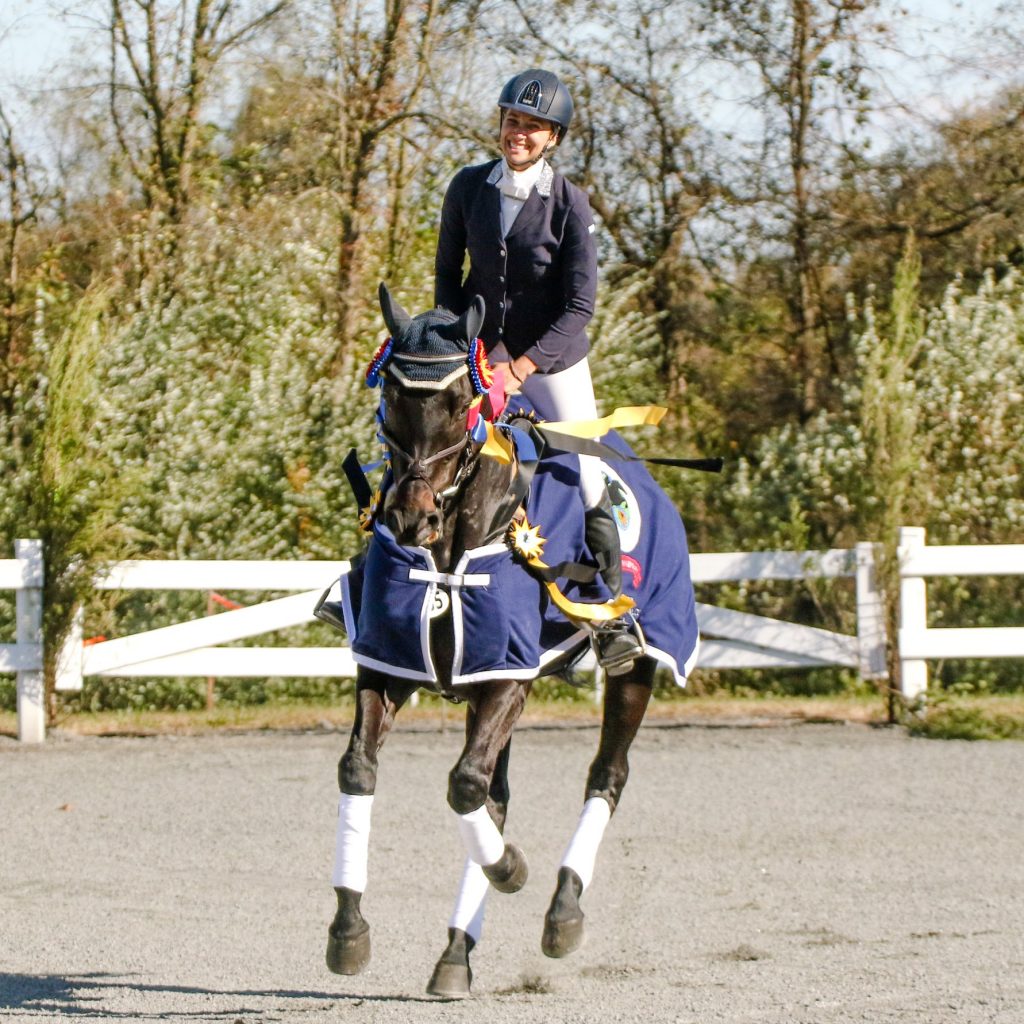 "I used to joke that I didn't know what Fric looked like during the day," Frankie describes. "I was trying to get ready for Kentucky, so I'd ride early in the morning before work and then again after work in the dark."
Sadly, Frankie and Fric would have a setback that would keep them from getting on the trailer to Kentucky. That was in 2011. Now, eight years later, Frankie is ready for another shot at the coveted five-star level.
But even now, not much has changed. If anything, Frankie now finds herself with even less free time to dedicate to riding. She's added a husband, Mike, and two young boys, Drake and Kingsley, to her busy family.
Chatwin, who was sourced by Clayton Fredericks and purchased with the help of The Chatwin Group, which consisted of Frankie's cousin, Elizabeth Thieriot, and her late surrogate uncle Eric Brandenburg, has been one of the most consistent performers in recent eventing history. Together, Frankie and Chatwin collected two CCI4*-L (formerly CCI3*) wins at Rebecca Farm and Fair Hill last year. Those, coupled with other successes, earned Frankie the Adult Amateur of the Year award for 2018, a $50,000 Rebecca Broussard International Developing Rider grant and a coveted spot on the 2019 USEF Developing Potential Training List.
Perhaps the biggest award out of those, however, is the spot on the USEF Training List. So often, each year, the developing rider lists and grants given out are to professionals. Riders with strings of talent, riders with bustling training programs. Not an amateur. Not until this year.
"At what point did it become this assumption that people who have a normal job can't compete at the upper levels?" Frankie said in an interview with Eventing Nation recently.
Amateurs, Frankie says, have gotten a bad rap for being less "dedicated" to their riding. It's a concept she's set out to prove wrong, even as a rider with just one horse.
Indeed, the proof is in the placings that it can be done. Not easily, Frankie acknowledges, but she prefers to think of the concept not as an impossibility, but as a challenge. No settling.
Read This Next: Never Underestimate The Power Of Instinct
Frankie spends most of her time in the saddle alone, having moved Chatwin home to have more time with him rather than spending an hour driving to and from the barn each day. At the barn down the road, Frankie finds solace and peace of mind.
"When I got Chatwin, I felt really safe on him," Frankie recalls. "That was really important to me since I knew I'd be riding alone a lot. But the nice thing about where I am is I can make all the decisions. I can decide based on what my horse needs and nothing else, and that makes it an easy decision to keep him where I do."
But even with her painstaking planning and execution, there still are days where Frankie questions it all, much like the rest of us.
See Also

Home » Frankie Thieriot Stutes is the Hero Amateur Riders Need
"There have been many days over the years that I have asked, 'what is the point?'" she says. "I'm away all the time, I'm having to juggle all this and drag this baby to this horse show and breastfeed in between rides. What the hell am I doing?"
"I think people have this misconception that you can't ride and work. I don't really know where that came from."
She credits her husband, Mike, for helping bring her back around when it becomes too much. "He reminds me that I need [the horses] to be able to be present at the rest. And I think that is true…" she hesitates here.
"But there are days where I wonder whether this is fair to my kids. And that's hard."
The key, the between the lines of her success, Frankie says, is truly her support system. Speaking about her husband and her mother, Frankie's voice betrays a bit of the guilt that each of us feels regularly as our horses demand more and more of our time.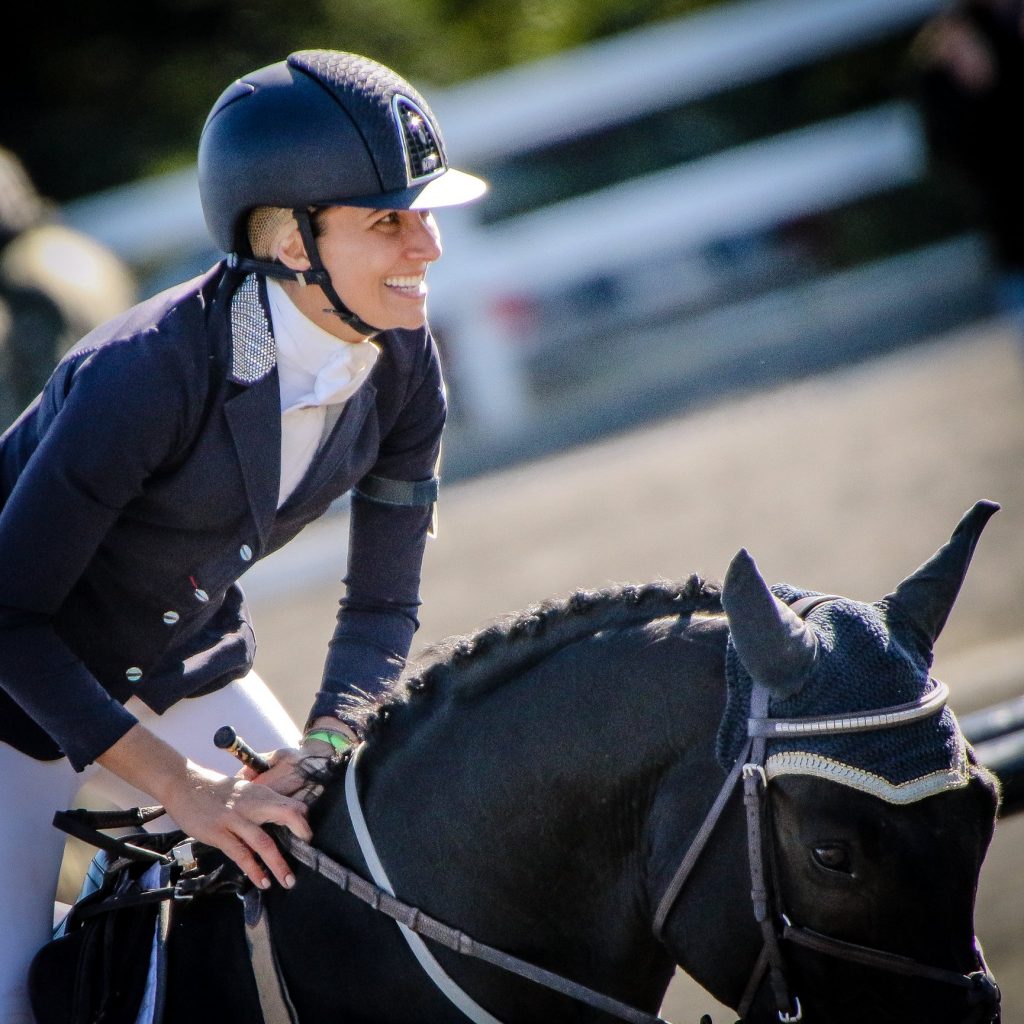 But it's true. "I think anyone who has any success, who is really good at what they do – look really closely, and you'll see those people who really are the support system. And that's what I have. I have that with my company, Athletux, I have that at home, and I have that in my riding. I know we all say that we couldn't do it without these people, but I really, really could not do it without them."
Frankie doesn't quite know what the upcoming season and its fresh promise brings. She's eyeing her goal of finally cantering down centerline in Rolex Stadium come the last weekend in April. She's in the midst of raising two toddler boys. She's entering spring season and its corresponding demand for her handcrafted line of purses, Frankie Cameron. But despite it all, she hold to one thing she knows: no settling.
"This year (in 2018), I feel like I've figured out what I need to do mentally to be successful. Last year, I went out East and trained and all I could do was look around me in warm-up and think about how good of a job everyone else was doing, and feeling like I didn't belong."
"This time, I'm not going to look at what everyone else is doing. I'm going to stay in my zone and do my best. I don't want to feel like I left anything on the table. If I can do that then no matter what place I finish at any event, if I have been what I feel can be my best at that time in every event, then I feel like we succeeded."
As for her role as the hero all amateurs need? "I just hope that my winning Fair Hill shows people that just on one horse you can be good, and you can do it. But you have to be willing to put the time in. It'd be a lot easier to not have to get up at 4 a.m. to go to a dressage show with two children, answering emails from the road, but how else are you going to get better?"