We all know it isn't safe to text while driving. But what about riding?
This week, officials with the U.S. Hunter Jumper Association are considering proposed changes that would limit riders from using their phones while in the saddle at sanctioned horse shows.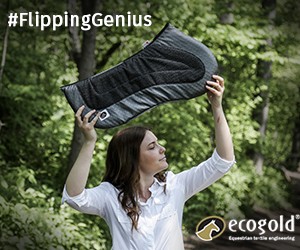 Three proposed rule changes related to banning cell phones while riding drummed up some contention among USHJA members.  Many praised the USHJA for the change, citing safety as the utmost importance for horse and rider. But some saw it as problematic, especially for trainers who rely on their phones for business and to stay organized throughout a busy show day.
"Trainers and professionals use cellphones throughout the day, as well as for emergencies, so I'm not sure if this rule is really fair to people who rely on cellphone use as a huge part of their job," said USHJA member, Danielle Duryea.
Like This Story? Listen To: Amateurs Against Distracted Riding – Heels Down Happy Hour Podcast 19
One proposal says (rule EQ105.7 Tracking #287-18) "no mounted exhibitor may wear or carry an 'electric communication device' (i.e. cellular telephone, etc.) while in the competition ring." And two additional changes (rules: HU App A Tracking #286-18 and JP103.9 Tracking #285-18) bans cell phones and other devices, like iPods, in schooling areas "with or without earphones while mounted".
Currently, the rules say any device with earphones are not allowed in schooling areas.
Some members shared stories of scary close calls in sign of their support for the change.
"Long overdue," said member, Dana Frank. "Should be passed without question. I would also extend this to people unmounted in the schooling ring. I recently had a person walk into a schooling ring while texting and proceed to walk in front of a horse, then walk in front of an active jump while totally oblivious to the fact she almost got run over twice."
Other members expressed concern about newer devices, like the Apple Watch. Could riders be penalized for looking at their watch?
It was also unclear what would happen if a rider was caught on their phone while riding too many times. In the rules, it outlines that riders will be given a verbal warning by competition stewards, which will be recorded in the Stewards Report.
"Unrealistic," Archie Cox said about the proposed rules. But he added, "must be necessary to enforce."
Some called for stronger enforcement than just a verbal warning. Like Helen Holzcheiter, who said she believes show officials should have the right to eliminate a rider. "Spectators and competitors should be able to notice and mention to the steward and have this addressed," she said.
Read This Next: The Blood Rule & A Flood Of Controversy
"I do not believe that these changes are strong enough," said member Ilissa Loewenstein Meyer. "There needs to be actual fines for anyone mounted at a horse show or on the show grounds on a cell phone. These devices have become a major nuisance and I believe that someone is going to get seriously hurt very soon. Monetary fines must be enforced on the property of the show and not left until years later."
USHJA committees and the board of directors will vote to take action on the proposed rules during organization's annual meeting this week. If approved, the cell phone rules would go into effect Dec. 1, 2019. The USEF would also have to vote on the rules in order for them to pass and be enforced. (The USEF annual meeting is in January.)