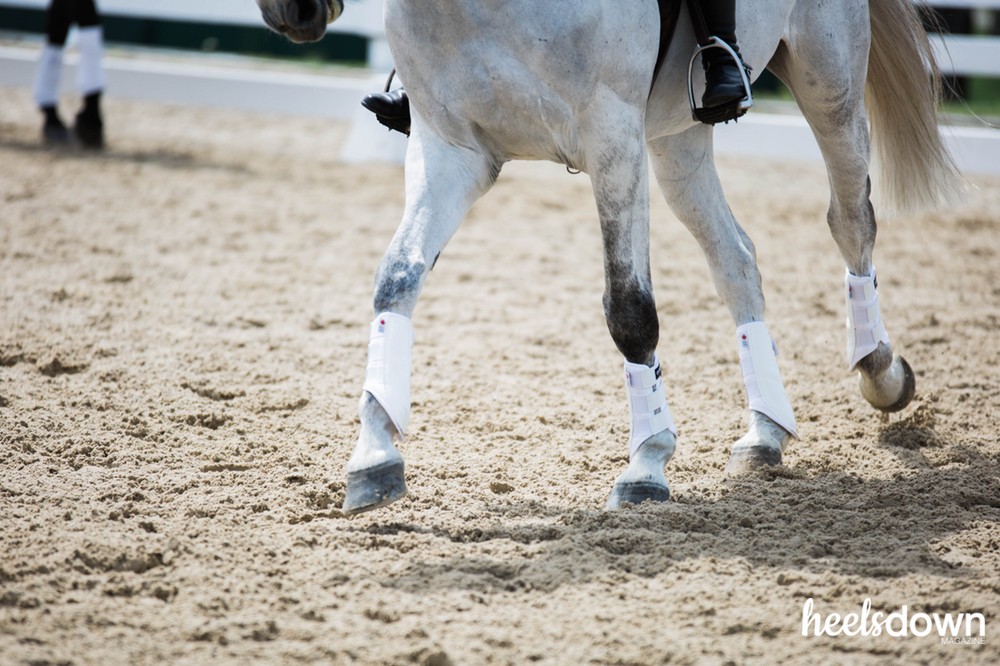 Bobby and Danica Meyerhoff are professional riders based at Eight Bells Farm in Statesville, N.C. Bobby is a CCI4* level eventer, and Danica is an international grand prix show jumper who also coaches and competes in the hunters.
While the two compete in different disciplines, there's a lot of crossover when it comes to keeping horses sound. Aside from the obvious tools for soundness, like fitness and a training program that alternates and doesn't over-work the horse, they are adamant that while it's tempting to ride only on that primed, level, synthetic footing, it could cause more harm than good.
"Keeping a horse sound is mainly just working him and keeping him going on different surfaces," they agreed. "The more you change the surface, the better, because you're concussing and putting strain on different parts of the body. If your horse gets an injury, if could be because you're training too much on the same surface so you're putting all the strain on the same part of the leg, over and over, day in and day out."
While some riders may think that riding in an undulating grass paddock may put soundness at risk more than always riding on perfect, level, professional footing, Bobby and Danica explain that in the long-term, the opposite is true.
"If you ride in a grass paddock too much and the footing is a bit hard, the horse is going to get foot sore," said Bobby. "If you ride in the jumper ring too much, even if the footing is amazing, you're just going to pound the same area – probably the tendons – of the horse."
"If I do go to Tryon for the week and their synthetic surface is quite sticky, I come home and make sure my next jump school is on grass or in the sand," Danica explained.
I think a lot of tendon injuries in the hunters and jumpers come from always going on the synthetic footing and nothing else.
While sticking to a schedule of conditioning and training is important, Bobby warns riders against sticking too firmly attached to a daily plan.
"Sometimes you have to scratch your plan for the day if the footing is too wet or too hard or too sticky," said Bobby. "It's more important to ride on appropriate footing, than it is to keep to a specific schedule of hacking, galloping, jumping and flatting."