For Mark Leone, riding has always been all in the family.
The international grand prix show jumper began riding at five years old, alongside his older brothers, Armand and Peter. He rose through the ranks of the hunter/jumper circuits, collecting accolades such as "Best Child Rider" at the Devon Horse Show and winning the AHSA Medal Finals at the Pennsylvania National Horse Show at 17, on his way to the grand prix ring. His brothers, too, rode their way to the top levels of sport.
Now more than 40 years later, horses are still the lifeblood of the Leone family. Mark operates the family farm, Ri-Arm Farm in Bergen County, N.J. Peter still competes and runs his own business, Lionshare Farm, in Wellington. And the oldest brother, Armand, is an attorney who specializes in equestrian law.
The passion to ride doesn't stop with this generation of Leones, either. Mark is training his own sons, Mark and James, who show in the junior equitation divisions at the Lake Placid Horse Show and elsewhere.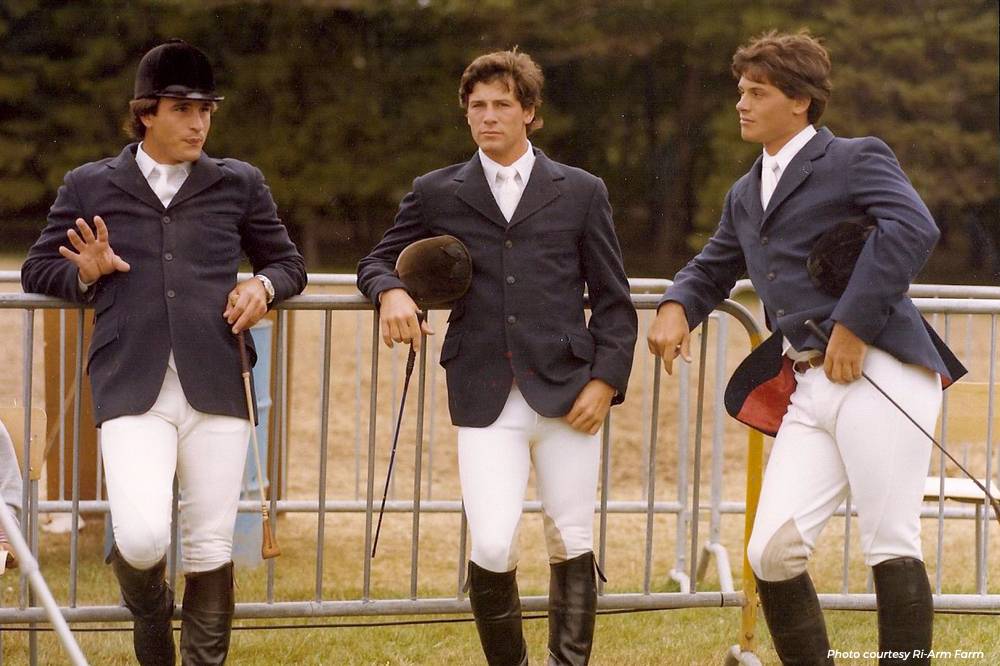 "We've been so lucky to do this together and for our whole lives," said Mark, 56. "We're just getting back from Lake Placid, where I showed with my sons and my wife and my brother. It's something we do as a family. The tradition continues with this next generation."
Taking A Stand
Mark is also the president of the North American Riders Group, which works with a counterpart organization in Europe to advocate for riders in the sport. In recent years, including under Mark's leadership, the NARG has taken firm stands on the controversial blood rule and horse welfare.
Like This Story? Try: The Evolution Of Modern Show Jumping
"No one wants to see animal abuse," Mark said about the blood rule. In show jumping, a horse and rider pair can be eliminated if a horse is bleeding on the flank(s), in the mouth or nose, or has marks that indicate excessive use of spurs or the whip, according to the FEI rulebook. "Most of the people in this sport treat their horses better than humans. There's a few rotten ones every now and then, but overall I believe we're a clean sport."
Mark advocates for a logical procedure where instances of blood can be investigated on a case-by-case basis.
"What is abuse?" Mark asks. "Sometimes you see a bad rider hanging on a horse's mouth, but they're trying to do their best. I've seen some barbaric lunging practices at horse shows before, that are not at all productive, but that's allowed."
The Future is Bright
With more than 29 Nations Cup teams and 10 World Cup Finals under his belt, Mark knows a thing or two about American show jumping. And boy has it changed over the years, he says.
"The caliber of horses and riders these days is the best it's ever been. They are faster and better," Mark describes. He trains many young riders at Ri-Arm Farm in the hunters, equitation and jumpers. "Forty years ago, there may have been 12 good horses in the grand prix class, now they're all good. The kids are stronger and faster than we were. They've upped the mental part of this game and their competitiveness is at an all-time high."
And while the skill level is there, Mark wishes the old school work ethic from his generation would carry over, too.
Read This Next: The Blood Rule And A Flood Of Controversy
"The big question about the future of the sport is making it more affordable," Mark begins. "But what I've seen is that if you have a will, there's a way. There are plenty of young riders coming to America from places like Ireland and South America willing to ride a bad horse and do what they need to do to get into the sport."
It's something we do as a family. The tradition continues with this next generation.
It's something Mark hopes this class of up-and-coming American riders notice and take to heart.
"Are they willing to the work and get dirty?" he asks but doesn't immediately have an answer to fall back on.
Mark may have his hand in many things, but his heart these days is in the coaching and developing riders and horses.
"Watching my son ride is an experience. He's tasted winning before, and now he's learning the tools to do the job well," Mark explains. "The future is strong for our sport. It's exciting to see the growth and the interest in horses I feel lucky to still do what I love after all these years."