You've got the clippers and the shaggy horse – what do you need? Super groom Courtney Carson of Payne Equestrian – home of professional riders, Doug and Jessica Payne – shares three products she uses every time she starts clipping.
The Famous Dust Buster Spray – Often used before clipping to help make sure the horse is clean, Courtney uses a "dust buster spray" to get rid of last minute dust and shavings clingings from the stall. It's a dry spray, which means you can use it without water. The recipe is: 1:1 rubbing alcohol and witch hazel (she uses the 16-ounce bottles), and then 2 tablespoons skin so soft or baby oil.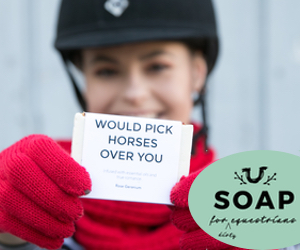 Witch hazel – "I give them a break (from clipping), brush all the extra hair off, and I'll take witch hazel on a sponge and go over their whole body," says Courtney. "If their skin has become irritated because the clippers got hot, it's going to settle down all of that."
Cooling spray – Hot clippers can hurt the horse and leave marks, so make sure you're taking regular breaks and using a cooling spray to ensure your clippers stay cool and lubricated.