Grand prix dressage rider Silva Martin coaches a number of eventers in the dressage phase including her husband, Olympian Boyd Martin. We asked Silva what the Kentucky riders are focusing on in their final moments before heading down the ramp into the atmosphere of the Rolex arena.
-You're not going to teach the horse anything new once you arrive at the show. Typically, if the horse's test is in the afternoon, she advises the horses go for a hack, or a stretchy, easy flat school or maybe a canter in the morning to get them to relax and stretch. Then, in the warm-up before the test, the riders should be riding mostly in a competition frame but not practicing the exact test. She often advises just riding certain movements or pieces of the test before heading into the arena, but not the test in its entirety.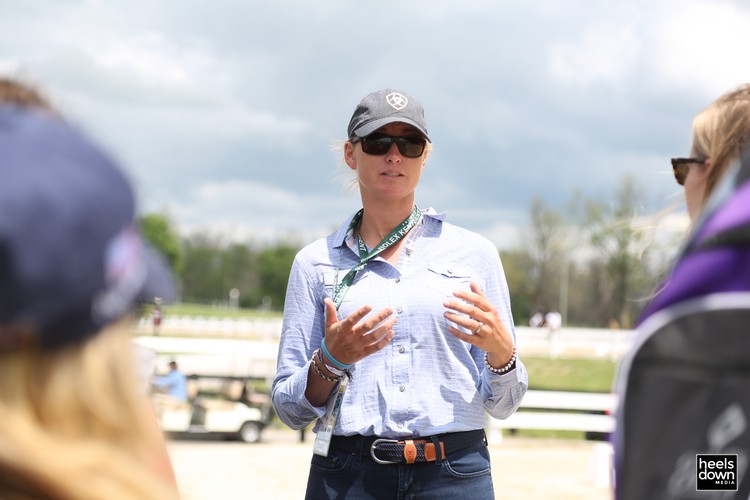 – The most difficult movement for event horses in the 5* dressage test, Silva says, are the flying changes. There are four of them in the test, so they add up to a lot of marks. She says she isn't sure why the flying changes are consistently one of the more difficult dressage movements for event horses. "I've thought about it for several years now and I'm really not sure why that's the case. It seems to be a source of anxiety for these horses. Don't wait too long to teach the flying change. With Boyd's horses, I start teaching it at the Training/Preliminary level."
– The length of warm-up depends on the horse and how long it takes the horse to relax. Some horses might need 45 minutes or an hour, but Silva says that mostly the horses that she rides and coaches for don't need long warm-ups – usually about half an hour.
– Contrary to popular belief, Silva says that she often finds the Thoroughbred eventers more rideable than the warmblood eventers. "I love riding Thoroughbreds," she said.
– One of the main challenges of riding eventers in dressage versus dressage horses, Silva says, is fitness. "Event horses are so incredibly fit and they don't know when you get on them whether you're doing to do dressage or they're supposed to gallop around cross-country. They have to do three totally different jobs in a weekend and they're so fit, so doing the dressage first when they're fresh is usually just a matter of keeping them relaxed."
– The key to keeping the lid on a fit horse in a big atmosphere? There's no secret. "It's just a matter of doing it over and over for years. If there was a magic secret, we'd like to know what it is!"