When it was announced that eventing would be making its debut (in an abbreviated form) at the Central Park Horse Show earlier this month, riders scrambled to find suitable mounts on which to compete for the $50,000 prize money. The star-studded roster included some European riders, including Great Britain's William Fox-Pitt.
The horses were required to have competed at the Intermediate level to be considered for competition, and the riders were looking for horses that would be handy and quick over a twisting and turning abridged course consisting of both show jumping and cross country jumps. It was Prince Rehan, a 14-year-old Thoroughbred/Holsteiner gelding owned by Rodney and Gina Oakes and ridden by Anna Loschiavo, who would be tapped as William's ride for the evening.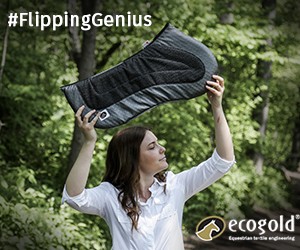 "I have been riding 'Renan' for nearly a decade now and we have competed through the CCI2* level," Anna said. "He has been quite a quirky horse to bring along; in the beginning he was so spooky we had his eyes checked because we thought there must be some sort of problem!"
"Renan", as he is known around the barn, was not the most obvious upper level horse, but he proved his prowess for the job over and over again, and the Oakes and Anna's pride and joy was about to be on full display under one of the world's best.
"He has always had strange undertones of arrogance in his personality, which I believe has always led to his ultimate success in eventing," Anna said of the quirky horse that William would be taking on.
"It was quite random how Renan was chosen as William Fox-Pitt's mount," Anna explained. "The show was put on fairly last minute; William needed a horse and Buck Davidson was helping him look through qualified horses to help him find one and gave me a call."
"First off, I am incredibly appreciative of Buck for thinking of us as it led to quite an incredible weekend and experience for Renan, his owners and myself. Renan is not a horse who his owners and I would otherwise loan out for any reason given how quirky he is and how spooky he can be, but William was an exception and the experience that the venue would give Renan was hard to turn down."
Handing your horse over, especially one as quirky as Renan, is never an easy task, but William quickly reassured Anna and Renan's owners that he was up for the task, asking questions to get to know the horse and easily taking him through a jump school.
"William was incredibly humble and asked me loads of questions about him, although I could tell that he would figure him out perfectly without me saying a word!" Anna said. After the first round of competition, Anna asked William if Renan was what he had pictured as a catch ride, to which William responded that he was "quite an eccentric ride."
William Fox-Pitt, a member of Team Chelsea with fellow Brit Oliver Townend, went on to finish third overall on the night, taking home a chunk of the prize money. It was an experience for the memory bank for Anna and the Oakes.
"One of my favorite moments of the weekend was actually having Renan's owners there to see him perform," Anna said. "They have incredibly busy work schedules and put in so many hours behind the scenes in support and development of Renan and I that it really means the world to me when they get to see Renan in live time at any sort of event — let alone in the middle of New York City with William Fox-Pitt competing him. It was pretty incredible to see one of the sport's biggest legends riding the horse that you have put so many years into training. It was icing on the cake to hear William call Rena such a good jumper with quick feet and applaud him for how businesslike he was for the second round."
"William might be one of the nicest and most humble people I have ever met, which made the whole weekend even more fun and put me at ease to hand over the reins of my prize partner."