Lexi Campbell grew up riding horses competitively. She showed on the hunter/jumper circuits, took regular lessons, and catch rode as many horses as possible for years, which helped keep her fit.
But still, as she aged out of her junior years and into her early 20s, she noticed she kept gaining weight. It didn't matter how many horses she rode or how often. Not even a summer spent working tirelessly for American show jumper, Anne Kursinski, slowed her weight gain.
"It was after (high school) graduation and just before I bought my Thoroughbred mare that I was putting on a ton of weight," said Lexi, who is now 28. "By the time I was 20, my family started to notice. I always thought riding was enough to keep me fit. That was, until I started doing more."
Lexi tried out a few different fitness regimes, like OrangeTheory, before settling in at her local CrossFit gym. There was something about the community and commitment of the coaches she met at her local gym that really drew her in.
She started in a "boot camp" program that helped her safely learn the workout styles of CrossFit, a high-intensity fitness program that incorporates techniques from gymnastics, weightlifting, running, and rowing, among others. Once she got the hang of it, she couldn't stop.
Read This Next: Alexa Ehlers On Why Crossfit Makes Her Stronger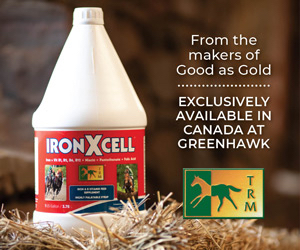 "It wasn't just the work outs, which are awesome because there's so much variety, it was the people. I fell in love with the community there, which is really supportive and all about helping each other reach individual goals," Lexi explained.


Lexi admits that she's a competitive person. So she began to see CrossFit as a great avenue to set her own goals and work hard to reach them with the support of her coaches and other gym members.
"The first time I went in to the gym, I didn't want to be competitive. I was just there to lose weight," she said. "But after working out there for a while and feeling the difference it was making in my life, my goals started to change."
She did lose weight: an impressive 70 pounds. And she hasn't reached her goal yet. Lexi is hoping to lose another 10-15 pounds to reach her ideal weight.
Lexi is now a certified CrossFit Level 2 Trainer, and she teaches classes at the gym that changed her whole mindset about healthy living.
"I never thought I was overweight," Lexi said. "But I didn't realize how many breaks I had to take to catch my breath while riding or how easily tired I became. When I started to feel better because of CrossFit, I became more competitive."
Her nutrition changed too. While Lexi still splurges on meals out with her boyfriend and the occasional afternoon at a local brewery, she said her work out routine helps her recover quicker from a few "cheat" days.


"When I'm off the (Paleo) diet, my joints hurt more and it's harder to keep up my stamina," she explained. "Being healthy and making those choices makes me feel better. Once you feel that, I think it becomes clear that it's worth the sacrifices to feel better."
Lexi is aware of the naysayers out there. CrossFit's culture is often described as "cultish" or intense to the point of being dangerous. For example, Lexi's riding instructor worried that CrossFit would hinder her ability to ride because she'd be too sore or injured too often to ride.
If You Enjoy This Story, Don't Miss: Equestrian Fitness: Your Size Doesn't Determine How Fit You Are
Lexi says every gym is different, and CrossFit isn't right for everyone. But it works for her and her lifestyle.
"For me, I knew my goals had to be bigger than what I craved in moments of weakness," she said. "I step back and look at the big picture. And that's why I work out almost every day of the week."
Her slimmer, fitter body has changed how effective she is in the saddle, too.
"We're having the best year of progress," Lexi described of bringing along her chestnut OTTB mare, Chamonix. "My trainer will ask if I need to stop for a water break, and she's always surprised when I say 'nah, I'm good.'"