This is the lovely time of year where we get together with our fellow riders at our respective boarding facilities and local associations. At our holiday events, we share food, gifts and good times, and perhaps meet each other's families.
Well, we would do all of these things, if only we recognized each other.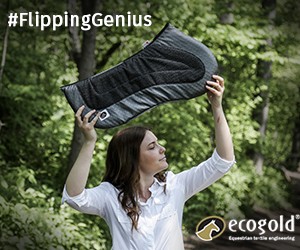 Holiday and end-of-year social events require proper attire, so this is the maybe one time per year some of us don a dress or real pants, and we even think about washing our hair. We might even be wearing shoes that aren't boots (MAYBE. DON'T PUSH IT). At the barn, we usually see each other in breeches and a helmet, or with epic post-ride hair that looks like the beginning stages of Armageddon. Perhaps we're even adorned with shavings and arena dirt, as if we've been blessed by the Barn Gods with their magic fairy dust. But at holiday parties? We look so…. unrecognizable.
With our local riding association friends — the folks we tend to only see at shows — we awkwardly stare at nameless faces at banquet tables, squinting shamelessly. Without the visual assist of their horses underneath or beside them, we suddenly find ourselves bereft of clues regarding their identity. So we sit around making small talk, hoping someone says their horse's show name out of context so we can figure out just who the heck they are.
Read this next: Gift Ideas For The Coach Who Is Always Cold, And More
I think we should all have descriptive name tags to help out our fellow attendees. Perhaps with photos of our horses, or with phrases such as, "I ride that big grey horse with no tail." Or, "My horse is the little chestnut who always rears in the warm-up precisely three times." Or, "I'm the one who is always crying on the ground in the fetal position." Or maybe even, "I'm the mom who jumps for my kid by the in-gate."
Once we actually recognize each other in our normal-people attire and hair, then we find ourselves trying to awkwardly act like civilized people. Well, most of us, anyway. I won't name those who don't (COUGH me COUGH). We can't yell at each other in boisterous voices across the arena/room or sit on the ground like usual without appearing feral. We can't yell out at others' dance moves, "Oh that was UGLY. Go do it again."
We're expected to have clean hands before eating, unlike that sandwich you ate at last week's show with hands still covered in leather balm and other questionable substances. People act like utensils are necessary, and there's even a freaking napkin right there instead of wiping whatever on your horse/breeches/boot rag/saddle pad after your ride.
Basically, we're expected to not be the loud, gross, insane people we usually are. It's so difficult.
Like this article? Try: Gifts For The Rider Who Has To Match Everything, And More
So we suffer through acting human and even start to enjoy it. We laugh, dance, celebrate. We talk about non-horsey things a little. We listen to non-instrumental music and let our families talk. For just a night, we're "normal." On a sliding scale, that is.
But don't worry. Soon enough we'll be ourselves again, eschewing real chairs for makeshift ones, eating questionably and living in breeches. And loving every minute of it.
And that dress? See you next year.