Home » The End Of Hurry Up And Wait
The End Of Hurry Up And Wait

By Erin Gilmore
So far, 2020 seems like it has been nothing but unexpected surprises, most of them the not-so-good kind in the face of COVID-19. But among the many, many turns this year has taken, there are a few silver linings to embrace as horse showing slowly begins again.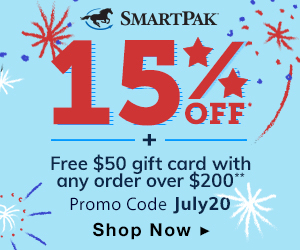 Last year, I endeavored to show my horse at the Morven Park Summer Show Series, my local schooling show circuit in Leesburg, Va. It was a great time, except for one thing. Long story short, myself and my long-suffering team fell victim, over and over, to the dreaded "hurry up and wait." You know what I'm talking about: when you work backwards from your class time to prep your horse, put your show clothes on, make a plan to arrive at the arena with the precise amount of warm-up to help your horse peak in the ring and then. . . you wait.
I detest this part of showing: standing around while calls for the division before mine go out on the loudspeaker, again and again, circling the arena at the walk, trying to decide whether to just dismount and hold my rather bored horse. Approximately 30 minutes or three hours after the originally planned start time, the division finally comes up. A few times last year, my 5 p.m. division ran at 7:30 p.m. Once, I was jumping at 8:30 p.m. due to fluctuating class sizes throughout the day that made sticking to the time schedule impossible.
But that was the Before Times. I do believe that with every ill effect that the coronavirus has brought into our lives, it has also put a stop to some things we will not miss. At the top of my list is the end of hurry up and wait. Health and safety guidelines that are required to run an event now, in the Corona Times, limit the size of the show, dictate that people not congregate around the rings, and make it priority number one to keep things moving. That necessitates set class limits and an order of go. Even for the hunters! At a schooling show! It requires all riders complete entries in advance of arriving to the show, and stick to their class choices. No same-day adds. No arriving on the fly. And no more delays.
These things are all de rigueur at a rated show, but would people follow these new requirements for a schooling show? The answer is, of course, because not doing so now means you are simply not allowed to show.
See Also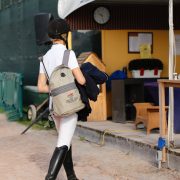 Home » The End Of Hurry Up And Wait
When the Morven Park show series returned after much covid delay this past weekend, it was to sold-out entries and a 50-horse waiting list. Entries were more organized than ever before, as every single one of the participating riders proved that it is possible to submit all paperwork, payment and entries in perfect order, days before the show. Orders of go were set and sent out before show day so every rider knew just how to plan out their day.
With everything set in advance as no schooling show had ever been organized before, the 8 a.m. to 5:30 p.m. show day ran on time in all three rings, and it was glorious. While I'm not riding this year, I am attending the Morven Park series as official photographer, so in a way I appreciate this silver lining that COVID-19 has brought us more than the riders. Do you know who watches every. Single. Round. of the day? The judge, the announcer, and me, your photographer. We LOVE the end of hurry up and wait. We love it.
So along with the many, many things to complain about in these Corona Times (wearing a mask all day in the heat was a necessary challenge, but that's a subject for another time), take the time to appreciate the things you really won't miss. May "hurry and up and wait" forever remain in the past.