I don't know about you, but I feel naked when I forget to run a belt through the loops in my breeches. Everything just feels off without one.
Belts have become a hot accessory when it comes to equestrian fashion. And there are more choices than ever these days to add a little pop of color or flair with a belt to your riding getup.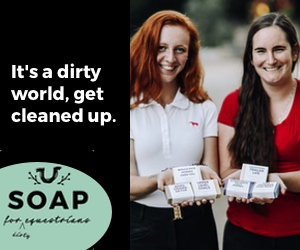 Heels Down Mag polled our staff to come up with our five favorite equestrian-inspired belts to ride in. Enjoy.
The Derby Belt By Hunt Club
Hunt Club's collection of Derby belts offer a look and style that fits in any arena, no matter your discipline. You don't have to worry about fit with these woven, stretchy belts. There are no holes to latch in to. They are tastefully designed with leather accents and are professional enough for the show ring, but eye catching enough for schooling. They come in every color combination you can dream of. They're so fun, you can't have just one. Pricing starts at $34. Shop here.
Unbelts
I got my first Unbelt as part of the Cavalli Club equestrian subscription box, and have bought two more since. These stretchy, soft fabric belts work with literally every outfit. I wear them almost every week at my office job, because they work beautifully with a pair of jeans. The clasp comes in a variety of colors (silver, rose gold or gold) but the best part about it is it lays flat, so there's visible bulge in your untucked shirt. Unbelts really did think of everything, because I wash my pants with the belt still in the loops. Plus, they're built to last – Unbelts guarantees 500 days of wear with free replacements and repairs. They're priced at $39.
The company also makes an eco-friendly belt called the "Intrepid," which is made of recycled water bottles & comes with a lifetime guarantee. Get one today for $59. Shop here.
Mane Jane
Come for the spectacular spur straps, stay for these gorgeous belts. Mane Jane makes a handful of thick, beautiful leather belts which come with interchangeable buckles. There's a leather combination to meet you fancy. Personally I drool over these to use in the hunter ring. But there's a style and color combo for just about everyone. Mane Jane also sells heavy-duty stirrup design belt buckles. They come in colors like silver, gold and rose gold. Belts are priced at $64 & buckles are sold separately for $65. Shop here.
Ruespari
Stretchy fabric for the win. Ruespari's elegant fabric belts come in different width options and a variety of color combinations. But it's the buckle designs that really make it sing. From equestrian-inspired surcingle clasps to the bold and big gold and silver fastenings, you can dress up your show clothes with this statement belt, or even try it in the real world by pairing it with a dress or pair of slacks. Either way, you can't go wrong. Ruespari belts range in price from $75 to $90. Shop here.
Coach House Caitlyn Belt By Greenhawk
Everyone needs a dependable brown leather belt. The Coach House line of belts, and especially the Caitlyn model, offers a classic look that works with any pair of breeches. The Italian leather is thick and soft, and I really admire the fashion-forward double-prong buckle. This belt is sold by Greenhawk and it won't break the bank at $38.45. Shop here.