Olympian and superstar show jumper Beezie Madden wasn't a stand out rider as a junior.
Her brother-in-law, Frank Madden, will be the first to tell anybody that.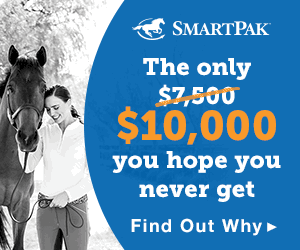 "Beezie had talent, but it was her drive that got her where she is today," said Frank, who is arguably one of the most decorated trainers of young and developing show jumpers in the United States. "She had the passion to keep going, and that's what made her the international star she became later on in life."
Frank trains dozens of young riders every year, teaching them the basics of American equitation and watching them move from the A-circuit hunter and equitation rings to Grand Prix level show jumping. He prides himself on cultivating the next generation of all-star American riders, including Brianne Goutal and Sloane Coles.
He's always on the lookout for the next Beezie.
"The young riders that are out there today are extremely proficient at what they do," Frank explained, adding that their flat work and equitation is much better than what riders looked like from generations before. "They far surpass what young riders were doing 20 years ago. These are the very best junior riders we've ever seen."
But it takes whole lot more than talent to get to the top of the sport.
"The most important thing is attitude," Frank said. He bragged on Jessica Springsteen, a former student of his, whose enthusiasm, talent and brawn he says has helped shape her successful career. "Burn out can be high in this sport. They need the passion to stay at it."
Frank cautioned that many of the young riders he sees today are too impatient. They want to move up the levels as fast as they can, and that's where he sees promising riders lose interest or burn out completely.
"A lot of these riders aren't privy to how long it takes to do this. It can be intense. I do my best to try to pace them and their parents," Frank said.
"These are the very best junior riders we've ever seen."
While financial backing can remove a lot of barriers for young riders in this sport, he said there's still a handful scrappy young ones who do it on their own that come out ahead.
"Some of the best riding kids we see in the ring aren't necessarily the best riders. They're just the best riders who can afford to be there," Frank said. "People are attracted to the lifestyle of all this, like showing in Florida in the winter. Often times all that boils down to ego."
He added that trainers in the sport today are pretty good at helping out young riders who have exceptional talent, but may not have the funds to get there. Like Tori Colvin, whose parents are a farrier and a groom. She had a successful career in the pony hunters and has worked hard to stand out in the jumper ring.
"Most of them are picked up by the better trainers," Frank said. "There are more opportunities for young riders today because there are so many better trainers out there than there were 30 years ago."
He credits the depth and the growth of the sport and the American style of equitation-based riding to George Morris.
But beyond the ego and the money and pressuring parents, there's a lot more serious riding happening at a young age for riders in the U.S., according to Frank.
"If you want to make it, you've got to make yourself available," Frank offered. "Come to Florida, where you'll be in a hot bed of trainers. Expose yourself to the A circuits. Work hard and take every opportunity you get."