By Victoria Goff
If there's one sentence that is bound to wind up my friend Pippa, it's "he's a typical Thoroughbred". Just a 'typical' Thoroughbred, cheap as chips, with poor feet, impossible to keep condition on and a mental deficiency, right? Wrong.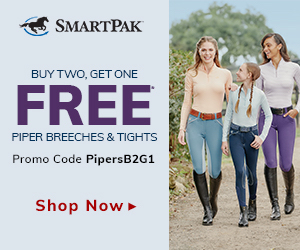 Pippa knows more than most about the dangers of lumping all Thoroughbreds into one 'typical' bracket. She's married to a racehorse trainer, so she's known hundreds of horses during their racing careers. She's worked in racing all her life and ridden a wide variety of Thoroughbreds. She's also matched many retired racers to new owners for ridden careers. And she's heavily involved with the U.K.-based charity, Retraining of Racehorses (RoR), helping to devise competition series, organising training clinics and an annual camp full of ex-racers. When it comes to this breed of horse, there's not a lot she doesn't know.
Pippa's known sharp horses, lazy horses, crazy horses and everything in between. She's had ones that can put on weight at the mere sight of grass, and others who need careful feeding and management to keep weight on. She's had ones that spook and others that are totally unflappable. She's known racehorses that are steadier than Cobs, ones that you could put a total novice on, others you might need your brave pants on to ride and some that are downright dangerous. But ex-racehorses are just like every other type of horse, with their own quirks, habits and varying levels of behaviour, and that's why she hates to hear them dismissed as 'typical'.
I got my first ex-racer when I was 16. When I told people about my new horse, I might as well have told them I was planning on taking up skydiving without the parachute for all the reaction I got. No one in my Pony Club had an ex-racer back then. There were no books to read nor websites to scour for more information, and it would be another four years before the RoR charity was born.
Despite all that, we muddled through with him, making mistakes along the way. Like the first time we took him to a clinic and he came off the horsebox shaking and sweating, expecting to run in the 3.30 instead of trundling round in circles. Or the day I went for a first gentle canter and ended up at a flat out gallop across the middle of the field, finishing up a good half mile away before I could pull up. Or that time I first attempted to jump a double and he stopped dead, not understanding the notion of jumping two obstacles in a row without three furlongs between fences.
Despite being a former steeplechaser, his prowess lay in the dressage arena, and he was incredibly trainable. But one day I made the mistake of taking him to a dressage competition held next door to our local race course. He saw the white rails of the track and his two worlds collided. He bronched through his test and for the first and last time in my life, I scored 2s and 8s in the same test.
But despite the ups and downs, I adored him. He was sharp and spooky to ride out, he could be a handful to rug, groom and tack up, and he had a bad habit of taking off when being led, so if you'd asked me back then, I might have agreed that yes, he's a 'typical' Thoroughbred. But what about the rest? What about the fact he moved like a warmblood, picked up new dressage movements with ease, and had the biggest, most hilarious personality of any horse I've ever known? I could never call him 'typical'.
"There is nothing typical about ex-racers, just as there isn't a one-size-fits-all method of retraining them."
He was my first chestnut ex-racehorse, and as it happens, I've had nothing but chestnut ex-racers ever since, but the colour of their coat is where the similarities end. The next one was sweet, easy going, loved jumping and was a lamb to handle. My current one is a sensitive lady, who demands to be ridden 'just so' and will have a meltdown if you get anything wrong, but she doesn't know the meaning of the word spooky and is bombproof in traffic. Same former career, but different personalities, talents, likes and dislikes.
All three of my ex-racers have turned their hooves to various disciplines but preferred one in particular – dressage for the first, jumping for the second and the show ring for my current mare. They've all been blank canvases and it's so fun figuring out what they might be good at.
There is nothing typical about ex-racers, just as there isn't a one-size-fits-all method of retraining them. Some are out winning in their new careers within days, others can take years to retrain. As Pippa says, you can put 50 children in a room and expose them to the same diet, education and exercise and each one will react differently. They may all have Thoroughbred genes in common, but they are truly individual.
"I love their versatility, their ability, the downright thrill I get going for a gallop on the horse world's answer to a Lamborghini."
Twenty years since I first went skydiving with a dodgy parachute – sorry, I mean since I got my first ex-racehorse – things have changed. There is a wealth of information about retraining Thoroughbreds, and it's grown massively in popularity, with thousands of owners choosing to give an ex-racer a change of a second career when their racing days come to an end. This versatile breed can be found dancing in the dressage arena or eventing at Olympic level, some go into show jumping, polo or endurance, others go showing, hunting or simply become happy hackers. In the U.K., there's a host of competition series designed to showcase the skill of these horses, in every discipline.
My addiction to ex-racehorses is showing no signs of abating. I love their versatility, their ability, the downright thrill I get going for a gallop on the horse world's answer to a Lamborghini. These horses can shine in many different sports or go on to have two or more different careers in their lifetime – and there's nothing typical about that.