Home » Spicer's Corner: I Need Professional Help
Spicer's Corner: I Need Professional Help

I want to tell you a story about a British dressage rider called Steph Croxford. She didn't start riding until her late 20s, then she bought a driving-bred gelding for a few thousand pounds to do a bit of riding club and cross-country. After an instructor suggested the pair give dressage a try, they did their first preliminary test, and within six years they were competing at Grand Prix. Steph (who has a PhD and had a full-time job) and her beloved gelding Mr. President ended up competing internationally, longlisted for the Beijing Olympics and wowing the crowds at the Olympia Horse Show.
Steph and her husband have two children, and when she was pregnant she temporarily handed over the ride on Mr. President to her trainer and British dressage team stalwart, Richard Davison. "It was like watching your husband go off with another woman," she reflected afterwards. "But knowing he'd come back being able to iron his shirts and load the dishwasher."
I've been mulling over this story of late, because I've recently moved my horse to a professional rider's yard. Georgia has won at Hickstead and the Horse of the Year Show before switching to eventing, and she's ridden round Badminton and Burghley. She has a small string of horses to campaign this season, including a couple whom she hopes to step up to four-star this season. And luckily for me, she had a spare stable for my mare, Rosie, to move in.
Read this next: Should My Trainer Get On During a Lesson?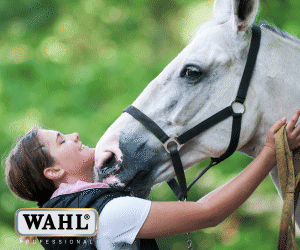 It's my first time keeping a horse on a professional yard, and some things take a bit of getting used to. Like the time an Olympic rider rocked up at the yard one day just as I was leaving, or when I had my first schooling session, where I was struggling to get Rosie to canter like a dressage horse instead of a demented giraffe. Georgia rode in on one of her top horses and floated round the arena in the most immaculate trot. In other stables I've been at, I can tell myself I may not be the best rider there but I'm probably not the worst, but here I am. Definitely the worst. By some margin. Georgia is planning which autumn four-star to aim for, while I'm struggling to get my horse on the bit. Spot the difference.
Putting my burgeoning inferiority complex to one side, there are obviously plenty of perks to being on a pro yard. I know my mare is being brilliantly looked after, with top-notch farriers, vets and other professionals on hand. Georgia is a wealth of knowledge and advice about every aspect of horse management, meaning I have someone who really knows their stuff to bounce ideas off of (i.e. pester incessantly with questions). What with work and having a young baby, I'm lucky if I get to ride three times a week, and Georgia hacks or lunges her for me a further three times, and I know she's in the best hands.
I've started having more regular lessons too, which is brilliant. And when I hack out with a pro rider, who coaches me as well, I'm less inclined to slop along on the buckle end, Rosie staring off into the distance. I'm improving almost by osmosis. Last week I went on vacation, and I asked Georgia to give my mare a couple of additional schooling sessions. The day I returned (note to self: do NOT enter competitions the day after a week's holiday) I went to a dressage show, and I noticed an immediate improvement. TWO SESSIONS and Georgia had made more progress than I had in six months.
Like this article? Try: Why Do I Do It?
See Also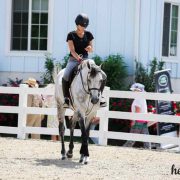 Home » Spicer's Corner: I Need Professional Help
It's wonderful, and it's terrible all at the same time. I want the badge of honour of having produced her all by myself. I don't like the feeling that Rosie sees me coming and thinks, 'Oh no, not her again. Can't the other one ride me instead – the one who actually knows what they're doing?' It must be like being a contestant on Dancing with the Stars when you're paired with the best professional dancer on the show, then suddenly being lumbered with a complete beginner again and getting all the steps wrong. Poor Rosie.
But equally, I'm tired of being stuck in a circle of riding badly, making my horse go badly, which makes my riding go badly. Rosie is the most unforgiving horse I've ever owned – if I don't ride correctly, she has a meltdown and it all falls to pieces. So if Georgia can improve her basic way of going, I can focus on my own riding, and hopefully we'll get past this eternal blockade and start making serious progress. I mean, we won't be choosing which four-star we should head for any time soon (ever), but at least we should be able to walk, trot and canter with some semblance of self-carriage.
So I'm swallowing my pride and handing over the reins, albeit occasionally. And if my horse ends up being able to iron shirts and load the dishwasher as well, I won't be complaining.