I remember the moment I first witnessed the rose gold Samshield helmet on my Instagram feed. I could feel myself salivating excessively, and a shoulder-drooping sigh escape my body. Luscious, I thought.
As much as I enjoyed drooling over the ridiculously on-trend coppery headwear, I also experienced a sinking after-effect: the realization that I could neither afford nor justify purchasing it. It's a constant cycle of admiration, want, and then disappointment.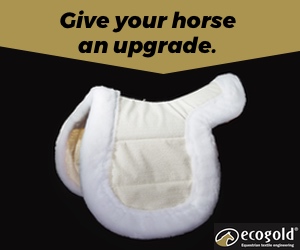 Form a style perspective, social media offers a wealth of inspiration, as well as spreading the word of new products all over the world before you have the chance to say "vegan riding boots". However, there is a shady underbelly to this world of scrolling through glossy fashion images: the pressure to buy.
Social media makes us more connected to others, and also more connected to what we can't have. That aspirational, desperate feeling of need that used to be reserved for trips to the tack store and flipping through print magazines is now constantly in our faces – while we're eating our breakfast or waiting in line at the checkout.
Read this next: Body Positivity in Equestrian Sport
When I think back to the "Land Before Instagram", also known as the Dark Ages, I contemplate my #ROOTD's. I remember a pair of black and pink pinstripe (!) breeches found on the sale rack of the tack shop. I would wear them with a yellow halter shirt layered under a green tank top. I was happily oblivious to the fact that I was not only off-trend but more than a little tacky.
The argument that social media turns us all into 'mindlessly following sheep' is a tired, old, and also true one. But as this relatively new phenomenon evolves, there has been a slight shift. The focus on labels and brand and price tags has lost its charm, giving way to more artistic and unique voices.
Social media makes us more connected to others, and also more connected to what we can't have.
Translation: You don't need ridiculously expensive clothing in order to make a statement. Imagination is trendier than adhering to mainstream styles. It's the different ones, the risk-takers, that are coming into their own and influencing others. The black sheep are being celebrated.
Like this article? Try: I'm Using My Horse Toys As Home Decor
So the next time you come across a prohibitively expensive product you want, remember this: being defined by your possessions has never made anyone happy. Perhaps we need to separate ourselves a little in order to return to that happy oblivion, when we weren't matching ourselves up to little photos on a screen.
If you come across any pink and black pinstripe breeches, let me know. But I might skip the tank top layering this time around.