Safety is of paramount importance around the barn – after all, we all know horses are perhaps the most accident-prone animals on this planet. As cool as your vet may be, we'd all like to cut down on emergencies and mishaps as much as possible. For this reason, picking up some everyday habits to help keep your barn safe will mean greater peace of mind for you when it comes to horse safety.
We put a query out to some savvy riders from all over, and we'll be bringing you safety primers regularly.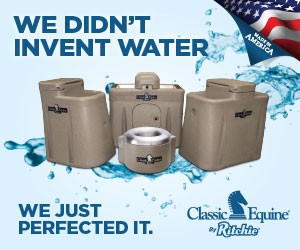 "Halters when taken off before bridling – hang them up. Left on the floor, they can be a tripping hazard or horse leg getting tangled." – Kaitlyn D.
"Always have double-ended snaps and anything else like that clipped (with the buckle) away from the horse." – Taylor M.
"Turn a horse away from you, never toward you – much safer and teaches the horse better respect for your personal space." – Amy K.
"Have the local fire department do a inspection/ drill out at the barn so they are familiar with the layout and how to handle horses." – Renee A.
"Jump cups! Don't leave them empty in a standard. They'll slice a horse's side. Take pins out, put in cup, and set on ground by post of standard (or in a bucket where it's safe and won't get lost)." – Lara K.
"When ducking between fence boards to go into a horses paddock, don't do it near a horse. #mindyourmelon" – Chelan K.
And just in case all else fails – because these are horses we're talking about, according to Ellen from Wildwood, Mo., "expect disaster."