Watching a show jumping round, the best riders often make the twists and turns look effortless. Walking your course at a show, it's easy to look at each fence individually, but how does each fence tie into the course as a whole? We chatted up course designer Chris Barnard to get his perspective of how a designer thinks when they're setting a course.
Barnard primarily designs for eventing show jumping, but he has designed for pure show jumping as well. In both disciplines, he says, the idea is to set a course that asks questions and makes riders think. The main difference is that in eventing, he wants to test the riders since they have two other phases in which their score is determined, while in show jumping his job is to determine a winner from that round.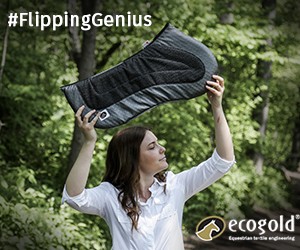 These ideas translate into designing courses that present unique challenges that both horse and rider can gain some education from when they complete.
"I want my courses to flow, to make sense," Barnard said. "You have the good pros all the way to the younger kids, so according to the level the course should always make sense."
"The organizing bodies give us some guidelines as far as the number and types of questions that can be at each level," he continued. "I will often take into account the area of the country as well. At some of the top events, I can push the envelope a bit at each level, but in some areas you want to take into account that these riders might not get to as many competitions in a season."
Elements such as terrain, footing, and placement of the jumps can all have an effect on how the course rides, so it is the rider's responsibility to formulate a plan accordingly. "Many times, you'll see an oxer set up to a related distance to a vertical, or vice versa," Barnard explained. "Now, many riders might just take that at face value and ride it like two jumps, but you need to think about what type of jump that oxer is going to create and how it will affect the ride to the vertical."
"I really just want my courses to flow but to also teach a lesson. I want a rider to come away wanting to learn. I use a lot of bending lines so that the rider has to think harder rather than just kicking down a straight line. They have to be ready to move up the levels, or to be challenged at the level they choose to stay at, and it's my job to make sure that gets done safely."